What to pack for festivals this summer – our eco-friendly, tried & tested list
The Mooncup Team
Your summer festival packing list essentials and our top tips for how to party plastic free
The tickets are paid for, lifts have been shared and your backpack is dusted off for another summer at least. Festival season is here and who knows, the sun may very well be shining!
Whether you're a first-time festival goer or an old hand, we're all a bit out of practice!
Here at Mooncup, we've been attending Glastonbury and other excellent events for two decades now. Along the way we've pretty much perfected the festival packing list. We are sharing it with you, so you can take the stress out of the prep and focus on the fun. And of course, we've popped in some zero waste and plastic-free festival essentials in there too.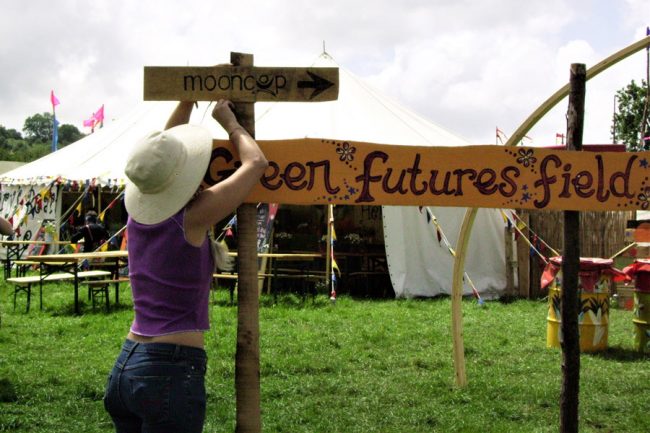 Our tried & tested summer festival packing list – everything you'll *actually* need
When you're gearing up to spend up to a week in a field, you have to come to terms with the fact you'll need to relinquish some of your home comforts. However, there are a few items you simply mustn't leave off your festival packing list. (NB: we've omitted the likes of sleeping mats, tents etc. from the list and skipped straight to the less obvious items and the ones you're more likely to forget, and regret!)
Your festival ticket
Lightyears of anticipation, months of planning, weeks of packing, and hours of queueing, only to reach the gate and realise you haven't got the one and only thing you actually needed.
4G is more often than not non-existent at festivals, so make sure to download and save your ticket well ahead of time. Or set reminders and double, triple check you have your printed ticket and guard it with your life on your journey to the festival.
A reusable water bottle
Whether it's hot or not, you're going to be doing a fair bit of dehydrating – walking, talking, dancing, not to mention drinking… Water is key! Most festivals have free refill stations dotted about the place these days.
Take your reusable water bottle into the loo with you to rinse out your Mooncup menstrual cup if you're on!
Prepare for all weather
If British summertime is known for anything, it's its unpredictability. You can be burnt to a crisp one day and up to your knees in mud the next.
Wellies, sun cream (and hat, in whatever quirky shape or form) and a lightweight waterproof coat are must-haves.  And don't rely on the forecast on this one, some reckon Glastonbury for example has a microclimate of its own.
Don't forget a warm jumper too, for those late nights!
Toilet roll
Better to be safe than sorry! Keep a couple of rolls at your camp and take a few carefully counted sheets with you when you're moving around the grounds. Remember, showers are few and far between…


Unlike holidays, you can't decide when a festival falls, and it's never ideal if it coincides with your period. If you're on, due on, or you're irregular and there's a chance your period might come along for the ride, then best be prepared!
If you're at Glastonbury, we've got a stand in the Green Futures Field so pop by and say hi, or to get yourself a Mooncup®.
More on the reusable Mooncup® further down!

A tub for night-time wees, and a 'shewee' for the urinals
When there are thousands, tens of thousands or even hundreds of thousands of people packed into a relatively small area, 'wild weeing' simply isn't acceptable. Packing a tub for a sneaky tent pee will also avoid tripping over guy ropes or getting lost in the middle of the night. Ice cream tubs work wonders!
Many festivals sell cardboard 'shewee' devices on site now, but you might prefer to take your own reusable one that you can simply rinse and reuse. They're useful for avoiding contact with germ-packed toilet seats, and to use in urinals specifically designed for those of us with vulvas and vaginas, like those at Glastonbury.
Labels with your contact details
When you're packing down, walking miles every day, or dancing in a busy crowd, it's not uncommon for belongings to go AWOL. It's a good idea to mark valuables with your house name and postcode so if a kind soul finds them they can post them back to you.

Sleep (or ear plugs and face mask to be precise)
Wouldn't it be great if you could actually pack sleep? Ear plugs and a face mask are the next best thing. Some decent shut-eye is what you need to get up and do it all again tomorrow!
The festival app  
Many festivals these days have their own app, where you can access sitemaps, line-ups, and more. Some even allow you to make personal and shareable schedules and have interactive maps so you can see if you're walking the right way!
Some festivals put on secret gigs that aren't common knowledge. This happens every year at Glastonbury, head to Efestivals for all the gossip.
Other items to remember
Remember, not everything needs to be bought new. Before splurging on camping gear, reach out to friends and family asking if anyone can lend you a tent, sleeping mat or a trolley.
Medical info (if you have any allergies or medical conditions)
Simple first aid kit, including blister plasters and painkillers
A pocket-sized bottle of hand sanitiser – not just for Covid protection, but for general germs too, as we all know sanitation is a bit of a luxury at festivals…
Contraceptives
Torch or headtorch for those 2am changes and teeth cleans
Enough changes of clothes in case you get wet
ID if needed for entry
Bags for dirty clothes, rubbish and recycling
A trolley – you'll be thankful for having made space for it in the car when you're trekking miles across the grounds to your camping spot. Trolleys also double-up as awesome transport/mobile sleep cots for little ones.
BYOB to save money – and store it in the shade! Opt for cans over glass bottles as they'll likely get taken off you
Take a day bag, you don't want to be lugging all your stuff around. You'll also need somewhere for your valuables and that all-essential loo roll.
Portable battery bank! You don't want to be the only one without one of those terrible, blurry, slurry videos of your favourite song being performed live 'cause your phone ran out of battery! Consider buying or borrowing a solar one. They are super handy especially for longer festivals where you might need to charge your phone several times.

Our top tips for zero waste & plastic free festival fun
Unfortunately, despite all the good vibes, peace and love, festivals produce mountains of rubbish and environmental damage. Festival organisers have upped their sustainability game in recent years, but the real change can only be made by people attending.
1. Ditch the single use food and drink packaging
With a little bit of preparation you can avoid contributing to the huge amounts of waste generated at festivals every year. Here is a quick check list of reusable items we couldn't live without:
Reusable water bottle
Reusable pint cup*
 Cutlery
Reusable plates
Cloth tote for any shopping
*many festivals have schemes so you can use the same cup at all the bars, check this out before you go.
2. Own your period and pack your Mooncup
Whoever's on at the festival, you don't want it to be you. But if it is, you can be prepared.
The Mooncup® menstrual cup is your trusty festival companion. You only need the one, whether your flow is light or heavy. You can scratch stacks of pads and tampons of different absorbencies off your festival packing list! Using a reusable Mooncup also means you don't have to deal with carrying supplies around with you or finding a bin for your used ones. You just empty the cup, rinse, and reinsert!
Since the Mooncup® can hold three times more than a regular tampon, you can spend less time worrying about where to find a toilet and more time having fun!

The new 'female urinals' at Glastonbury also have two compost toilets complete with washing facilities to clean your reusable period products.
3. Self-care
Staying clean at a festival is tricky as showers are few and far between, often with really long queues; who wouldn't forfeit washing for a rare opportunity to see their favourite band?
Wet wipes are often at the top of people's festival packing list. However, they can simply be replaced with a couple of flannels and a wash bowl. If you feel you can't ditch the wet wipes, then biodegradable options are a runner-up to the trusty flannel.
4. Put the brakes on fast fashion
Check your wardrobe. Do you really need to buy a new pair of sparkly wellies?! Borrow items from friends or check out charity and vintage shops on and offline. Get creative and get planning!
5. Glitter is litter
With many festivals paving the way by banning the sale of harmful plastic glitter at their events, the message is thankfully getting out there that glitter is litter too!
Glitter is a microplastic that can easily pass through our water filtration systems and into the sea; inevitably becoming ingested by marine life.
When looking into biodegradable glitters try to find one that is sustainably sourced. These often tend to be made from cellulose film (mostly eucalyptus trees). Unfortunately, greenwashing is rife when it comes to the marketing of biodegradable glitters. In most cases, biodegradable glitters are not biodegradable in the natural environment. It needs industrial composting in order to break down. In the UK, 'Bioglitter' is one of the only biodegradable glitters to be certified to biodegrade in the natural environment, including in fresh water. It is 100% plastic-free too.
6. Take responsibility
In the words of Glastonbury festival 'Leave no Trace'! Everything you take to a festival should come home with you. Leaving your tent, one-wheeled-broken trolley and any other bits of camping equipment is not cool! Dispose of your litter in festival recycling bins where available or take it away with you to recycle when you get home.

Be festival period ready! Find out more and get your Mooncup® here.
Did you enjoy this article? Head to this page's footer to sign up to our mailing list to be the first to hear about our blogs!
Read more on the Mooncup Blog:
How is the Mooncup® menstrual cup environmentally friendly? 10 reasons
Top tips for sustainable, eco-friendly camping
Our tips on how to enjoy a plastic free summer
A Makeup Artist's cruelty free & sustainable beauty tips
How to choose the best menstrual cup for you
Make sure your Mooncup® is the Real Deal