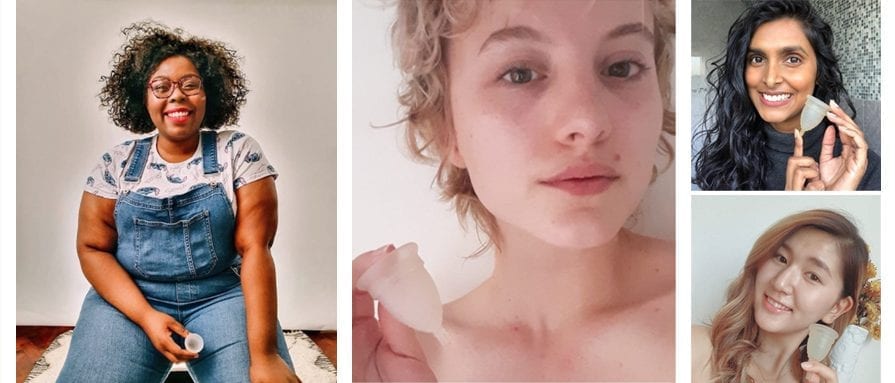 Read genuine Mooncup reviews from our loyal users 
We at Mooncup have 20 years of experience in perfecting a menstrual cup that works for most people. Over two million Mooncup® users around the world swear by their trusted cup companion. But don't just take our word for it, see what the #RealMooncupUsers are saying below in our Mooncup reviews!
You can find more Mooncup reviews from our Mooncup testimonials archive where you can also filter reviews by topic. We'd love to hear how you've got on with the Mooncup menstrual cup – please leave us a review. We welcome Mooncup reviews in all languages!
We're so sure you'll love your Mooncup® that we're offering all our customers a money back guarantee. No strings attached.
Sold by the Mooncup reviews? Buy your Mooncup here.
It is important to remember that these Mooncup reviews are personal experiences, they may not be valid for everyone and should not be used instead of professional advice. If you have a health or medical query, or are unsure about using your Mooncup menstrual cup, please visit How To Use where you will find more information and can get in touch with our support team.
Explore reviews from hundreds of Mooncup users 
Mooncup review archives – 10 questions you wanted to ask about the Mooncup® – answered
At Mooncup HQ we may well have heard every question in the period book. No matter how "TMI" you may think it is, chances are we've probably heard it. In fact maybe we could compile the "Period Book" if we needed to. We like to take pride in our menstrual geekiness in this business!
We could go on and on about why the Mooncup menstrual cup is the best period option out there, but we thought we'd dig into the Mooncup® reviews to see how our users themselves discovered all the answers to the very questions you're thinking of. Over to the Mooncup users!
1) I want to try the Mooncup but won't it be messy?
Check out how Charli got on…
"I bought one of these from Boots on Saturday. After reading a bit about them first, I was worried that it would take some getting used to. How wrong I was! These things are amazing, if you are reading about them, buy one! Don't put it off a minute longer! No mess, no leaks, it's easy 🙂 I can't say for sure after 2 days, but I'm pretty sure this might just be life changing! I have almost forgotten that I am on my period." – Charli
2) Won't the Mooncup be uncomfortable?
See what Abby had to say…
"​​I bought a Mooncup a few months ago after a ton of research and I'll never look back. It is so comfortable and easy to use once you're used to it (which for me was within a few days). Now when I have my period I nearly always forget I'm even on because it's such a hassle free experience! Also it is so nice knowing I am no longer contributing to the detrimental amount of waste sanitary products. Could not recommend this company and product more." – Abby
3) Yeah nice idea, but the Mooncup looks way too big?
Take it away Laura…
"I've only been using it for two cycles (never used tampons before, just pads) and I'm getting into the swing of things now. I've no idea how I coped with pads for so long, as this thing is amazing.
I should note that I'm a virgin and have never even used a tampon before, so don't worry that it'll be too big or that you need to try a tampon first or anything like that! l'Il admit that I wanted to throw it across the room at first attempt, but once I'd gotten it in for the first time, I knew I was onto a winner. (I use the punch down fold, I'd recommend it)." – Laura
4) I'm tempted to give it a go… but the Mooncup is expensive?
Chloe decided it's cheaper in the long run…
"I heard about the Mooncup and thought it was a horrible idea… But as I was allergic to all my sanitary products I was willing to try anything. And I'll never go back! It's so easy to use and you can't feel a thing!
l highly recommend this product. It's more eco friendly and person friendly !! Mooncups will most definitely be the next best thing 🙂 It sounds expensive at first but when you're spending approx 4 pounds each time on a box of tampons it costs next to nothing! Can re-use over and over… You most definitely need to buy one." – Chloe
 5) But isn't it tricky to use the Mooncup in public toilets?
Another common query. Becca shares her personal experience…
"Been using my Mooncup about 6 months now and love it, really easy to use and never had any leaks unlike with tampons. I have really heavy periods and used to need to change tampons regularly (1-2hrs!) which was difficult at work, don't have that problem any longer because the mooncup is definitely up to the job which takes away a lot of stress. I was nervous about emptying it in public toilets but you really only need a small amount of water to rinse it out and a little bottle of water takes up less room in my bag than a massive pile of tampons! I would recommend it to any woman, it really is amazing :)" – Becca
6) Can I use the Mooncup if I have heavy periods?
Good question! We're glad to hear that Nic found the Mooncup helpful with heavy periods…
"The last few months I have been plagued with really heavy menstrual cycles, so much so I would soak a pad every hour. As I never got on with Tampons I took to sleeping in the bath. Since I discovered Mooncup I have managed to get a good night's sleep! As the cup holds a lot more than a pad and for me has not leaked I can safely say these last 3 days have been the happiest I have been, not to mention well rested. I would recommend this to anyone with heavy periods." – Nic
7) Can I use the Mooncup if I have really light periods?
Another common question. See how Angela found the Mooncup for her light periods…
"I bought one of these after seeing a few adverts online and was curious so I had a good look at the website and FAQs and it sounded great. My periods are very light of late and this has been super annoying as I don't get on with sanitary towels, I get thrush, and I'm too light to use tampons for the recommended time at the moment. Anyway, the mooncup is easy to insert because it's mega squishy and once it's in I can't feel it." – Angela
8) Isn't the Mooncup smelly and gross?
We thought you'd never ask! Ann tells it how it is…
"Mooncups are so simple, effective and clean they make tampons and pads seem a bit antiquated by comparison! No more leaks, no more worrying about funny smells, no more itchy, sticky yuckiness on hot days, no more dryness and irritation, no more feeling gross and dirty down there, no more waste going into landfill! One of the best things I have bought for myself." – Ann
9) Is the Mooncup® hygienic?
Let's hear Nicola's review…
"A complete game changer. I can't believe it took me this long to make the switch! It feels so much more hygienic, my cramps have definitely reduced since using it, and it's better for the environment. I'm also saving money no longer having to buy tampons!" – Nicola
10) Can you use the Mooncup when you're scuba diving?
After extensive research, Lauren came to a conclusion…
"Just wanted to let you know that I wore my moon cup while diving several times a day for a few weeks, to depths of approx 18 metres, and it was absolutely fine 🙂 Cleaning it well on a remote island with no running water was more of an issue, but I managed! Thanks very much." – Lauren
Sold by the Mooncup reviews? Buy your Mooncup here.
Still got questions? Why not get in touch with our support team? There's no such thing as TMI – our team are always happy to help with any all questions. To start the conversation just email [email protected]
We're so sure you'll love your Mooncup® that we're offering all our customers a satisfaction guarantee. Give it a go for 3 months, and if you're not happy with your Mooncup we'll give you a full refund, or the other size if that's what's right for you!