Our tips on how to enjoy a plastic free summer
The Mooncup team
Longer days, balmy evenings, vitamin D, sea swims… There isn't much about summer that we don't love. But as crowds flock to the beaches, parks, and hills to enjoy the sun, it's no real surprise that this time of year was chosen as the month to raise awareness around reducing our plastic waste.
How to enjoy a plastic free summer
A report from WWF revealed that tourists and holidaymakers cause a 40% increase in marine litter in the Mediterranean every summer. And 95% of this litter is plastic.
As we spend more time in nature, it's important that we be respectful of it too, and leave no trace. So, here are some of our favourite hacks, products, apps and facts to help you get one step closer to going plastic free all summer long (and beyond, we hope!).
Have planet friendly parties
Unfortunately, it's not just people that get wasted at parties. Weddings, festivals and dinner parties are all guilty of producing a lot of throwaway waste. But it doesn't have to be that way.
Good old-fashioned rice or rose petal confetti, material tablecloths and bunting, paper streamers, the list goes on. There are plenty of solutions out there to help you decorate your party without damaging the earth.

A lot of our clothes contain plastics, such as polyester, polyamide, nylon and acrylic. In fact, up to 64% of new fabrics are made of plastic which, when washed, shed tiny microplastic particles into the waterways. They then flow straight through water treatment plants and into our oceans, harming marine life and upsetting whole ecosystems. That's quite the consequence for an outfit that you may only ever wear once… (more on that mindset in a minute).
Choose preloved outfits
Some of the most fabulous festival outfits are made from second hand or recycled materials. It might take a little more time to put your outfit together, but scouring the local charity shops for your festival get-up is the best way to go. It's helping people and our planet and you're guaranteed to have a unique outfit too! For those of you who can't festival without the sparkles, go for biodegradable, eco-friendly glitter that doesn't litter!
An old wedding etiquette states that you shouldn't wear the same outfit to two weddings. 
This is a mindset that, quite frankly, we simply need to scrap if we are to move anywhere in the right direction. However, if you do need a "new" outfit then, again, think preloved: charity shops, Depop and ebay are full of wedding attire that has plenty more party life left in it.


The same principle goes for all your summer outfits really, and there's probably something in your wardrobe that would do just fine!
According to Friends of the Earth, clothes are more likely to shed microplastics in the first few washes. Constantly buying new clothes just creates a constant stream of plastics being sent into nature.
Friends of the Earth have also created a useful tip list of ways to lower the amount of microfibres your clothes are shedding. These include using a GuppyFriend washing bag or Coraball, which claim to collect the microplastics shed by your clothes in the washing machine.
Clean up your beach act
Most of us are aware of the sheer amount of plastic that ends up in our oceans. So when you are heading to the beach this summer, make sure you're not adding to that.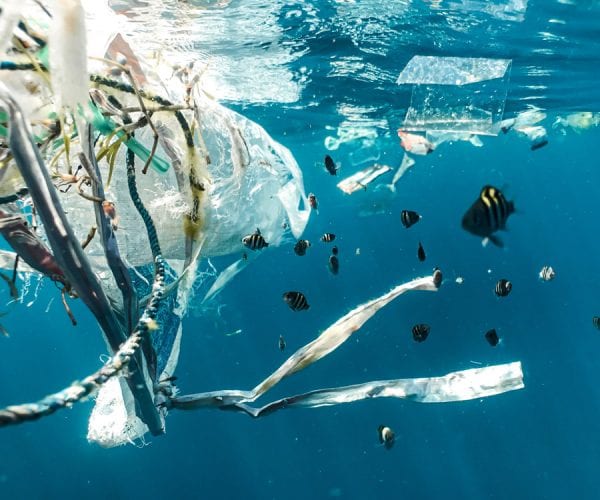 Switch to plastic free beach essentials
We spoke earlier about most new fabrics being made of plastic, but there are fabrics on the market these days that are seeking to tackle the plastic problem. British swimwear brands Davy J and Stay Wild Swim are creating swimsuits from recycled materials and marine plastic waste, including fishing nets (which represent a shocking one tenth of all marine litter!).
When it comes to drying off, opt for organic cotton rather than microfibre towels. Stop to re-think whether you actually need to buy a new towel especially for the beach, or whether just repurposing your bath towels from home would do?
We've all seen the oily sheen on the surface of the river, pool or sea when the water is full of bodies lathered in sun cream. The ingredients in your sun cream are directly affecting the water and aquatic life it's touching. So, it's worth doing your research into brands that offer SPF that is skin and sea safe, as well as looking for a zero-waste option.
Remember to take your reusable water bottle with you to the beach too – we certainly don't need any more plastic ones floating around our shores!
Add environmental books to your beach reads list
Knowledge is power, so whilst you lie on the beach soaking up the rays (with your sea-safe SPF on), why not get your head into a good environmental book? These are just some of our recommendations for great environmental books that will help you to delve into the issues facing our planet and empower you to activate and inspire change.
Greta Thunberg: No One Is Too Small to Make a Difference
David Attenborough: A Life on Our Planet: My Witness Statement and a Vision for the Future
George Monbiot: How Did We Get into This Mess?
Naomi Klein: This Changes Everything
Natalie Fee: How to Save the World For Free: (Guide to Green Living, Sustainability Handbook)
Mike Berners-Lee: How Bad are Bananas?: The Carbon Footprint of Everything
Jay Griffiths: Why Rebel
Take part in a beach clean or do your own
The one bit of plastic you could take with you to the beach is a bin bag, to do your 2 minute beach clean whilst you're there! 
As part of Plastic Free July, you could join thousands of others in cleaning up our shores by logging your efforts as part of the Surfers Against Sewage's Million Mile Beach Clean.
Disposable period products are actually the fifth most common item washed up on European beaches, so you might stumble across a used pad or tampon applicator along the way… Since 2002, thanks to those who have made the switch to the reusable Mooncup menstrual cup, we have saved over 3 billion tampons and pads from ending up on our beaches.
Summer is for simplicity – travel light with zero waste & eco friendly bathroom products
You know that feeling you get when you're packing for a holiday somewhere really hot (where all you basically need is a swimsuit), and you're delighted with yourself because for once your suitcase doesn't weigh a tonne?
Well, we can guarantee you that same feeling of pride if you swap out your wash bag essentials for eco-friendly bathroom products. With reusable, sustainable alternatives, whether you're away for one night or the whole summer, your wash bag will remain super light and you won't be creating plastic waste along the way. Win win!


When packing for your period, you never know quite how many tampons and pads you're going to need, let alone all the different sizes and absorbencies. You can skip all that angst, save money in the long run, and avoid filling half your bag with bulky spares, by using a reusable Mooncup®. No matter how long you're away for, or how light or heavy your flow is, you only need the one Mooncup.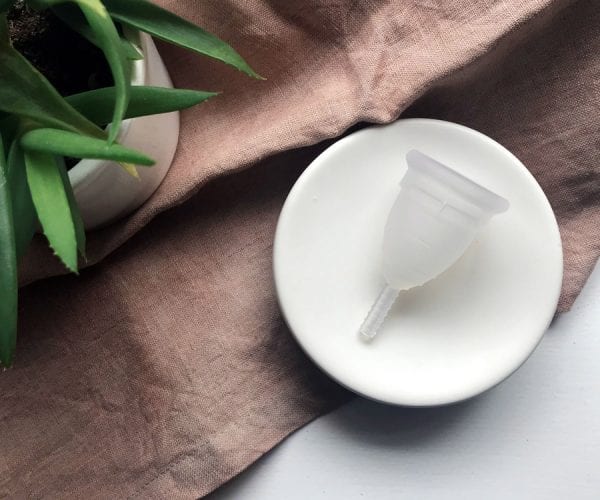 Shampoo & conditioner bar
Shampoo bars are a plastic free, zero waste alternative to your regular hair care. Many of the brands out there are also free from parabens, phthalates, and all those other nasty toxins that you don't really want to be rubbing into your scalp. Shampoo and conditioner bars tend to last far longer than the standard bottles too, keeping your travel bag light! It is worth investing in a little (reusable) tin to carry your bars in so that they keep for longer without going soft.
Refillable deodorant
Refillable deodorants, such as Wild, are a sustainable swap you need on your list. They come in a simple and sleek case, with refill packs that are compostable and plastic-free, plus free from nasties such as parabens and aluminium. There's a range of fragrances for you to choose from too. You can subscribe to get your refills when you need them.
Sustainable razors
Aphrodite and Upcircle sustainable razors will have you cutting your hairs while cutting out single- use plastics too.
Eco-friendly toothbrush & toothpaste
If you're looking to cut out single use plastic from your life, you might want to think about items you're putting in your mouth daily, such as toothbrushes and toothpaste.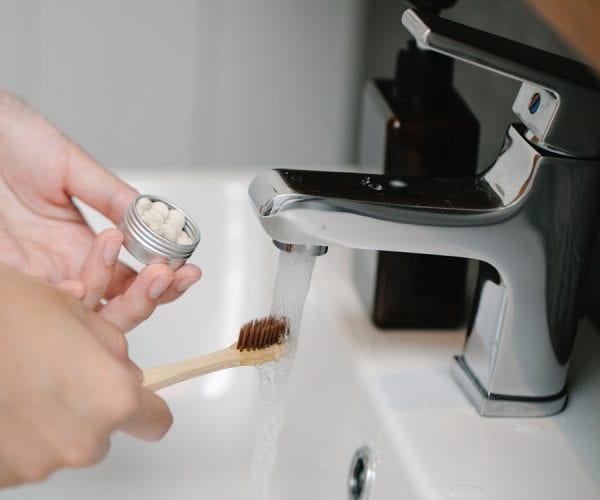 Georganics is one of the brands creating natural toothpaste with plastic free packaging, that is better for you and our planet. Their toothpaste powder is a great travel essential and will last you longer!
Just when you thought that small things such as toothbrush bristles could not be anything but plastic, charcoal swoops in and saves the day! Many brands are now offering toothbrushes with a bamboo stem and charcoal brush. And some are even creating more eco-friendly heads for your electric toothbrush, offering a return scheme for them to be recycled correctly.
Plastic free food: cut down on plastic food waste
Choose to buy loose
Summer rhymes with salads- well, it doesn't technically, but you know what we mean. Veg ones, fruit ones, grains and seeds… The crunch and freshness of a salad makes for the perfect accompaniment to your summer barbecue. Supermarket shelves packed full of easy takeaway salads, pre-chopped and ready for eating, can be hard to resist. But remember that you'll find yourself buying your food's weight in unwanted, un-recyclable plastic packaging too…
So, when prepping your meals this summer, see how much of it you can buy loose. There's joy to be had from wandering round a local farmer's market on a sunny Saturday. Or grab your tote bags and head to your local refill shop to stock up on seeds, grains, fruit and vegetables. Don't forget to pack some empty jars, pots, bags etc. to refill- brown paper bags still generate waste, even if they are recyclable. Our Marketing Assistant Ginny (big porridge fiend) reuses the paper bags she buys her oats in for refills of rice, pulses etc.
Pick your own or grow your own
From window boxes to vertical pallet wall gardens, there are solutions for turning even the smallest of outside spaces into 'grow your own' patches. There's something very satisfying in eating your own produce whilst knowing you're also reducing your environmental impact.
If gardening isn't for you, head to a farm to pick fresh produce. In the UK, the countryside is dotted with 'Pick Your Own' fruit farms- a relatively old tradition that has never really lost its charm and makes for a great day out. Just remember to bring your own containers!
Make your own ice lollies
If you have any leftover fruit, you can save it from going soft by blending it up into a summer smoothie and popping it into a reusable ice lolly mould in the freezer, ready for a refreshing snack.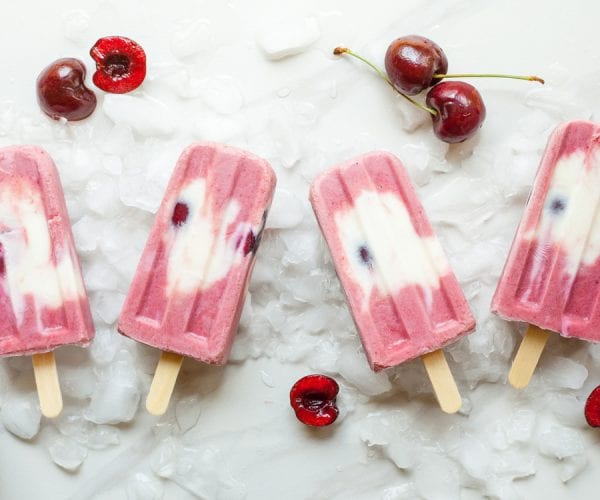 Rehome your leftovers
For any leftover food that you know you simply won't finish, but that is still perfectly good to eat, it's worth logging it onto a food waste app, like OLIO. OLIO connects individuals with each other and local businesses so that surplus food can be shared, not binned, saving both on packaging and food waste.
Have a plastic free picnic
We are tempted to say the golden rule for enjoying meals outdoors would be BYO everything. There are plenty of brands out there creating reusable tableware (or blanket-ware if we're talking picnics). Reusable cups, plates, bowls and cutlery come in all shapes and sizes these days. Many are made of sustainable materials that are both aesthetically pleasing and very practical and light.
The BYO rule for a plastic free picnic extends beyond your food containers to the food too. Much like the salads we mentioned before, most food and snacks that you grab on the go from supermarkets come in excessive packaging, most of which is non-recyclable. So the more food you can prep and bring from home, the better. When it comes to packing and transporting your picnic food, beeswax wraps are a saviour, avoiding the need for clingfilm.
And remember to take a rubbish bag with you to collect any waste you do create.
Start small, and make a big impact on your plastic waste
Taking steps toward plastic free living doesn't have to mean going cold turkey and immediately cutting out all plastics from your life. It's about spreading awareness and implementing small changes that will collectively instigate huge positive change. We hope our tips will help make it easy and enjoyable for you to live a plastic free summer.
Apps such as My Plastic Diary can help you on your plastic reduction journey. The app allows you to track and log your plastic consumption, and set yourself challenges to reduce it, while inspiring others.
Start small this summer. You could start with one room in your house and make a list of the disposable plastic items you can begin to phase out. Then use them up, recycle them, and start afresh with a reusable alternative. Think of plastics as budget items and reusables as an investment- pay it forward for our planet and your purse!
Switch to a plastic free period with the Mooncup menstrual cup. Find out more and get yours here.
Don't just take our word for it! Head to our reviews page to check out what #RealMooncupUsers have got to say about their experience with the Mooncup.
If you have any questions about the Mooncup®, please feel free to contact us here.
Read more on the Mooncup blog:
Top tips for sustainable, eco-friendly camping
How is the Mooncup® menstrual cup environmentally friendly? 10 reasons
A Makeup Artist's cruelty free & sustainable beauty tips
How to choose the best menstrual cup for you
10 bathroom swaps to reduce your plastic waste
Eco-friendly tips for a greener home
Top tips for an eco-friendly kitchen
What kind of person uses the Mooncup?