Top tips for sustainable, eco-friendly camping
The Mooncup team
Camping is a great way to have a local planet-friendly holiday. Swapping the Costa del Sol to a local campsite will obviously dramatically reduce your carbon footprint, but there are many other easy swaps you can make to have an even more eco-friendly camping trip.
The Mooncup team's 7 top tips for eco-friendly camping this summer
1. Choose a local campsite
You don't need to travel great distances to get away from it all. Holidaying locally will reduce your carbon footprint even further.
Getting to a campsite on public transport is not always the easy option we know, but as traffic seems to get worse every year, it might be worth considering a campsite with good public transport links. Or hop on your bike and cycle there. Hiking is an option too! There's plenty of lightweight camping gear available nowadays – second-hand too – or borrow from an active friend!
2. Champion eco campsites
There are loads of incredible places to camp out there with composting loos, solar showers and natural wild meadows to frolic in. Vote with your wallet and support genuinely sustainable companies. Choosing ethical brands or companies will not only have a positive impact on the planet, but also on the people and animals living around us.
3. Opt for eco-friendly camping gear
If you're an occasional camper, you may not own all the essentials needed. But before splurging on pristine camping gear, reach out to friends and family asking if anyone can lend you a tent, sleeping mat or those much-needed extra blankets. Some campsites also have facilities you can rent – eg. tents already set up or fabulous glamping options. London based folk should check out The Library of things or Fat Llama for all your borrowing needs.
If you camp regularly, it's worth putting together a reusable camping kit. Buy cutlery and crockery from charity shops or car boot sales rather than using disposables.
Eco-friendly tent
Check your tent before you go, and remember you can buy spare parts (pegs, ropes, repair tools and materials) instead of buying a brand-new tent.
If you do choose to buy a new tent, look for one made of sustainable materials and one that is free from toxic dyes (quite like your Mooncup menstrual cup😉).


Solar lights and other tech
You will need lights when camping, but the good news is there are plenty of solar powered lights available. Hang your solar lamp on the tree during the day to soak up the sun and you've got your evening light sorted.
When camping you might want to switch off completely and take a little break from social media, but if you need to bring a charger, consider getting a solar powered one.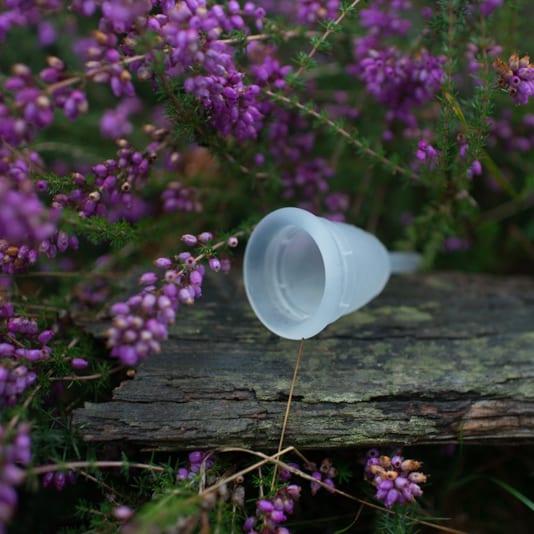 4. Zero waste camping swaps
Ditch the plastic of cling film and try beeswax wraps instead or reusable vegan food wraps. They're widely available online and in zero waste shops.
You can also replace foil needed for campfire meals with banana leaves. They can be used exactly the same way as foil. You can buy them from your local Asian food shop.
Using the Mooncup® menstrual cup when camping
Make sure to pack your trusty Mooncup! Simply rinse out your cup when out and about or when using communal campsite loos. If there's no toilet available, take a reusable water bottle with you to wash your hands before and after emptying your menstrual cup. Dig a little hole, empty your Mooncup, rinse it with clean water and reinsert. Give your Mooncup a good clean when you get home.

5. Plan your food and drink
Plan your food in advance to minimise your waste. Avoid bringing too many perishables and use them at the beginning of your stay. Try to buy local: many campsites have farm shops nearby.
As with other camping gear, look to borrow a cool bag before buying a new one. Use reusable cooling aids or freeze some of your food or drinks at home before your trip and use it as a cooler. Avoid bringing foods with excess packaging – and remove and recycle some of it before you leave home.
Opt for plastic-free campsite eats and ditch the disposable BBQs for reusable ones or consider an eco-friendly option like the biodegradable Casusgrill made from natural materials.
Get a larger water container to fill up at home and during your break rather than buying plastic water bottles. Bring along a reusable water bottle for hikes and walks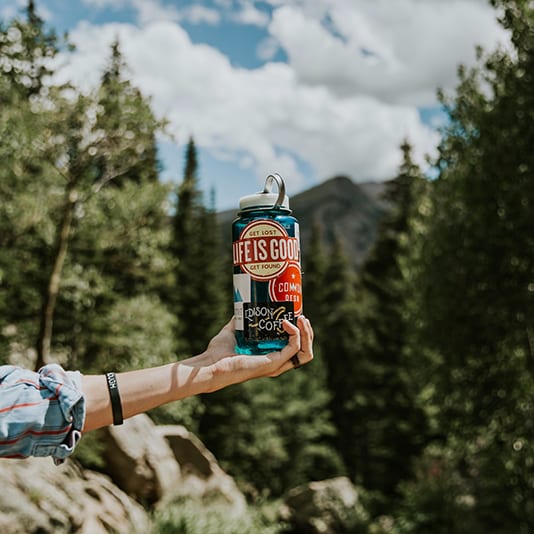 6. Go green with cleaning
If you're camping for longer than one night, you'll have to do some washing. Use biodegradable soaps or detergents for your washing. Empty your washing bucket on dry ground and never into a river or lake.
Bring along old rags or reusable dish clothes rather than paper towels or wipes for cleaning. Pack separate bags for recycling and rubbish – this way they're a lot less unpleasant to sort afterwards.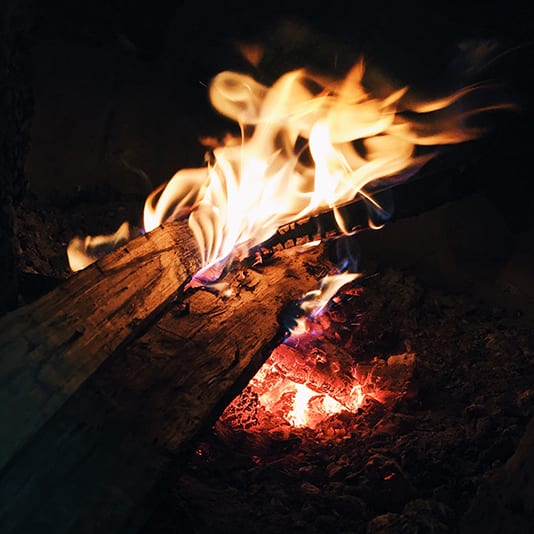 7. Leave no trace
Finally, a reminder to live by the legendary Glastonbury festival mantra: 'Leave No Trace'. Especially if you are wild camping or staying at the many sites with minimal facilities.
Build your campfire within an existing fire ring, keep the fire small and burning only for the time you are using it.
Camping is an excellent way for both kids and grownups to reconnect with the nature. Did you know that a recent study found a link between access to green space and a reduced risk of anxiety? Happy camping!
Find out more about the Mooncup menstrual cup and buy yours here.
Read more on the Mooncup blog:
10 bathroom swaps to reduce your plastic waste
Eco-friendly cleaning tips for a greener home
Pandemic is no excuse to give up our fight against single-use plastic
Travelling On Your Period – Why The Mooncup Is A Backpacker's Best Friend
Can you go swimming on your period?