How To Give Up Plastic – 5 Things To Keep In Mind
Jana Szczepaniak
How To Give Up Plastic – Takeaways from a talk with Will McCallum
Plastic waste is a pretty big topic here at Mooncup HQ. It's only fitting then, that we were all keen to get to see Will McCallum, Head of Oceans at Greenpeace, speak about his new book 'How to Give Up Plastic'.
He comes across as someone who really knows his stuff; his eyes light up with passion when he talks about all the remote corners of the ocean on our planet. It is lovely to see, that though he's in such a senior position at this global organization, he hasn't lost his inner activist.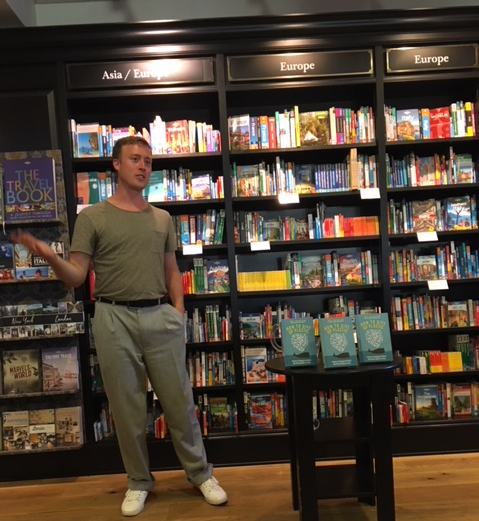 5 Key Takeaways from the talk – How To Give Up Plastic
1. Build up slowly to being plastic free.
A little bit like too many New Year's resolutions, going plastic-free is a major lifestyle change and can result in failure if we try and do it all at once. It was very refreshing hearing Will acknowledge that this change can be time-consuming and costly if we make this change quickly. Bit by bit it should totally be achievable though!
2. Focus on campaigning.

Any effort to live plastic-free or simply with fewer plastic items in our lives will be so much more impactful if we talk about it and spread the word. Fewer single-use plastics in the landfill or in the incinerator due to our own consumer habits are great, but multiplying this because we talked to friends and family or even to the shops we buy things from – that is awesome!
3.Remind our politicians of the green promises they have made and are wishing we forgot about.
In the UK, reminding our 'Secretary of State for Environment, Food and Rural Affairs', that his promises matter… can go a very long way. In Will's book, How To Give Up Plastic, which is available to order from Penguin Books, Will McCallum states that, 'Plastic is not going away without a fight'.
4. Don't trust the greenwashing.
Sure, biodegradable sounds great, but the pretty green and eco-looking packaging still breaks down into microbeads which can leak into the environment and cause harm. Even compostable plastics rarely ever break down in a home compost (as they don't get hot enough) and require industrial composting processes. Creating better plastics is good, but we should really use less, since, at our current rate of plastic consumption, our recycling infrastructure is never going to keep up – even with more innovative plastics and better recycling technologies.
5. Creating meaningful and lasting change will be much easier, once we find an economic argument that bites.
Convincing corporations to do their bit is easiest when they understand that excessive plastic waste is hurting them and the economy. Much like the Stern Review on the Economics of Climate Change served as a wake-up call for the international community about climate change, we should be well on our way to change our plastic habits when we know more about the negative impact of plastic. So far we know that plastic waste has caused costly floods, is hurting the tourist industry and can be expensive to recycle responsibly – painting a global economic picture of this is crucial.
Looking at the bigger picture
I was very happy to witness Will's nuanced exploration of sometimes conflicting debates of campaigns against plastic and more general climate change debates which focus on carbon footprint, nitrogen etc. rather than plastic pollution. Yes, there will sometimes be moments when a climate change campaigner has a different view on what the most sustainable material for bags and cups is – but the important message here is to find materials we reuse many times (50x) and create very long life cycles.
Will also repeatedly stressed the need for corporate campaigns on top of individual action, especially while the UK political situation is stagnant with lots of parliamentary time taken up by Brexit. Getting the corporate campaign rolling means that, once our politicians have the headspace for it, the public pressure will be much greater.  
Lastly, it was so lovely to see such an engaged audience. Some people at the talk had done extensive research on campaigns, such as plastic-free schools, and regional recycling rates. All in all, this was a very nice and inspiring evening. Let's have more of it please 🙂
Read more on the Mooncup Blog
How do five households manage to live without waste for one month?
Employee Ownership – How Mooncup Ltd is owned and run