How and why did Mooncup Ltd become employee owned?
Mooncup Ltd
Mooncup Ltd is an employee owned business, run by women. Our principle has always been sustainable growth, rather than profit at all costs. It makes perfect sense to us that a pioneering company manufacturing a sustainable product should adopt a more sustainable business model too – something which employee ownership is frequently associated with.
What is employee ownership?
Employee ownership is a business model where, instead of the "traditional" model of the big boss at the top unilaterally calling all the shots and retaining all the profit, all employees have a 'significant and meaningful' stake in the business where they work.

How does employee ownership (EO) work?
Employee owned businesses are totally or significantly owned by their employees. It's a model that is growing in popularity in the UK and elsewhere.
For Mooncup Ltd, shares are held collectively on behalf of all employees through an employee benefit trust – a similar model to that operated by the well-known UK EO business John Lewis.
Another key requirement for an employee owned business is that employees must have a say in how the business is run. In this way employee ownership puts a business in the hands of those that work for it.
Mooncup Ltd has always been run in a very collaborative way, with all the team being involved in the decision-making process. Employee ownership just formalised this in the way that the business is structured.

How did Mooncup Ltd become Employee Owned?
Mooncup Ltd became an Employee Owned business back in 2014 as Mooncup founder Su Hardy had started to think about retirement. (Shout out to our lovely Su! We hope you're sunbathing on a beach, or exploring in your campervan right now)
For Su – who had lovingly grown the business from her spare bedroom into the internationally-recognised brand it is today – it was impossible to simply hand in her notice. She was thinking about retirement, but didn't want to sell the business to some external entity. She was concerned that Mooncup Ltd could not have continued to be the same company our customers know and love.
In an interview by the Guardian in 2018, Mooncup Company Director Eileen explained; "Employee ownership provided an exit route aligned with her [Su's] personal beliefs: ideologically, ethically and as a practical continuation solution for the business." Not only did it offer her a financial reward for creating the business; it also promised the personal satisfaction of leaving a legacy to the employees that helped to build the business.
The Guardian wrote: "pursuing the current model provided staff [at Mooncup Ltd] with a level of confidence about their future, and also staved off any threat of a takeover, which could have brought with it unwelcome changes."
Today, Mooncup Ltd. has three Company Directors, and the entity which holds Mooncup's shares in trust has three Trustee Directors. The Trustee Directors are Mooncup employees, elected by other members of the team on a three-yearly term. The Company Directors run Mooncup Ltd and the elected Trustee Directors ensure that this is done in the best interests of the business and all its employees.
Mooncup Ltd. has since gone on to win many awards, inluding twice being awarded the 'The Best Place to Work' at the Brighton & Hove Business Awards.
It makes perfect sense that a company manufacturing a sustainable product should adopt a more sustainable business model.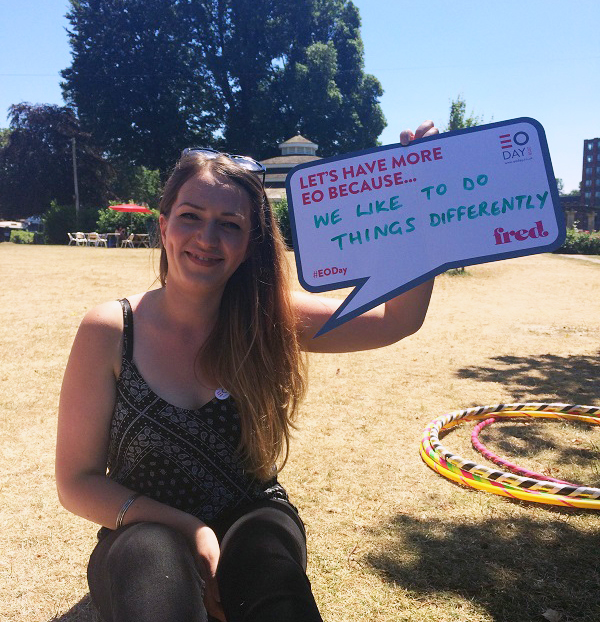 You can find out more about Employee Ownership through the Employee Ownership Association.
Discover a revolutionary way to manage your period with the Mooncup®. Find out more and get yours here.
Read more on the Mooncup Blog
From Amy Winehouse's Va-JewJew to to a horse owner offended by a menstrual cup – looking back on 18 years of the Mooncup®
How is the Mooncup® menstrual cup environmentally friendly? 10 reasons
How to choose the best menstrual cup for you
How to have a vegan period?
What kind of person uses the Mooncup?