Bold new look for Mooncup, same game-changing product
Mooncup Ltd
We're delighted to present our new look branding and packaging for the Mooncup menstrual cup. Set to roll out across all outlets over the next few months and here to stay – we really hope you like it!
Firstly, it feels important to be clear that although the Mooncup look has had a makeover, the Mooncup® menstrual cup itself has not changed.  Tried and trusted since 2002, our customers have consistently told us that they love the Mooncup® just the way it is. We know that our customers value a high quality menstrual cup that works well, is as simple and safe to use as possible and is free from bleaches, dyes or toxins.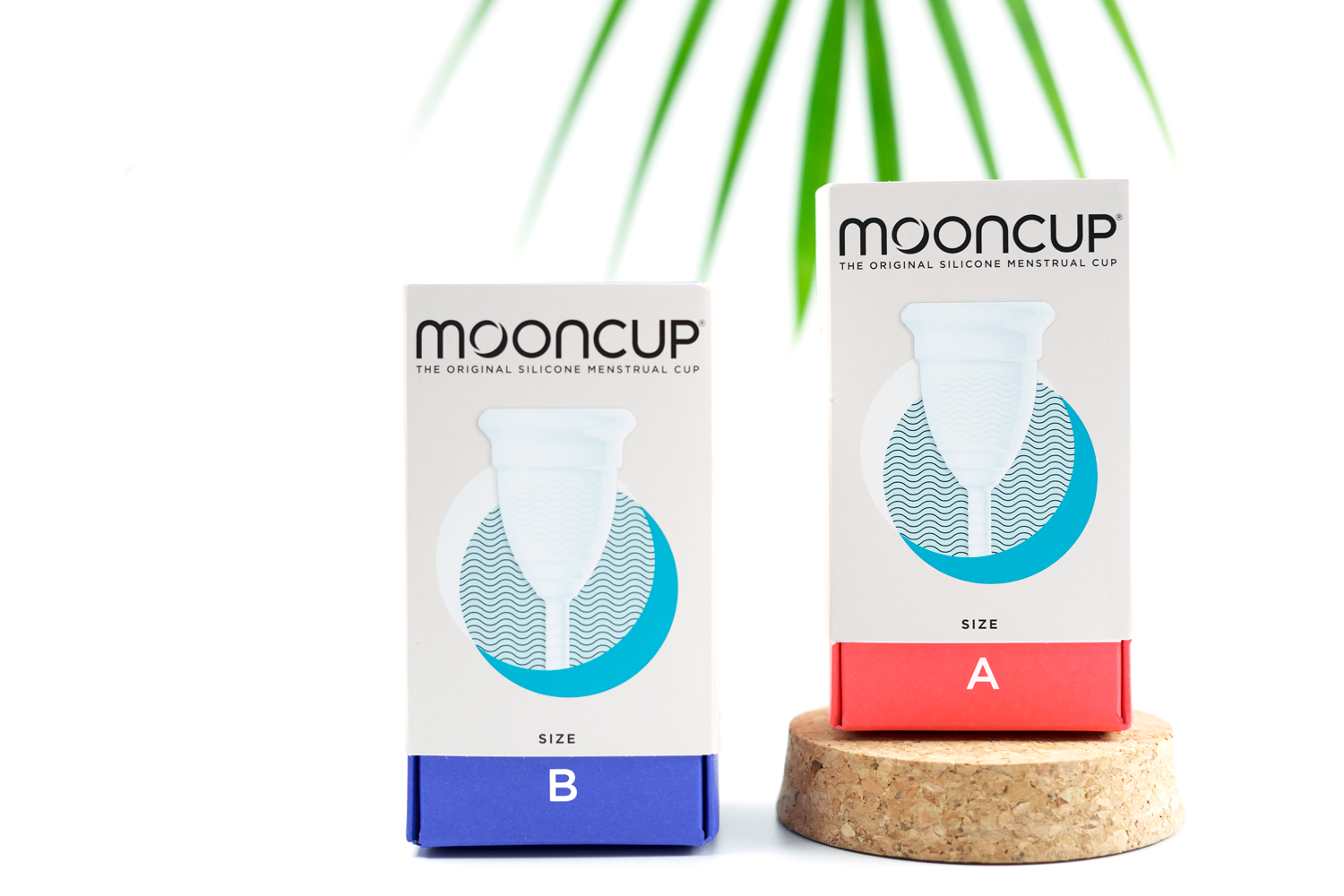 Our environmental and ethical values remain the same
True to the sustainability at our core we also continue to do the following:
Manufacturing in the UK to the highest quality standards

Being here for Mooncup® users as they make the switch from disposable sanitary products through the Mooncup Advice Service run by medical health professionals

Ensuring all packaging material is plastic free and meets the highest environmental criteria possible * (Check out all the eco-credentials at the bottom of this post)

Vegan Society registered

Supporting menstrual health and environmental education projects globally
So,why change the Mooncup look?
As you may know, the Mooncup® was the first silicone menstrual cup in the world and, we're proud to say, has played a huge part in transforming our choices around periods. 
In 2005, the original Mooncup packaging to appear on Boots shelves was designed to normalise our game changing reusable option: to sit 'quietly' next to tampons and pads on the 'feminine hygiene' aisle; to 'fit in' rather than be obviously 'alternative'.
In the last five years particularly, new companies and even some industry Sanitary Product giants, have seen the commercial opportunities in the reusable cup category. Manufacturers of menstrual cups now on the market have different motivations and values, offering products of greatly varying quality, features and ethical standards.
To continue to stand out as the pioneering ethical brand, it was important to us that the Mooncup® packaging reflected the product's position as the leading original silicone menstrual cup: highlighting the environmental and customer care values at the business' heart, as well as the product's unique benefits, while having real impact on the 'feminine hygiene' aisle, too.  It's time the Mooncup® shouts out proudly from the shelf! 
The Mooncup New Look : some of the key elements
Striking colour palette to differentiate the two sizes

Beautiful lunar and wave icons: reflecting the connection and responsibility to the environment which is at the heart of the brand.

Plastic-free and fully recyclable with all card and inks selected with environmental criteria in mind. *

Mooncup® logo: updated, to an iconic simplicity- impactful in black or white.
When can I get mine?  Rolling out new packaging sustainably
Alongside working with the stock cycles of different retailers, our commitment to reducing environmental waste means that there are still some Mooncup menstrual cups being sold in the original packaging until the new packaging comes through in the supply chain. But, rest assured, whichever packaging you get your Mooncup in, it's the same great product.  
If you have any questions at all, please don't hesitate to contact us at [email protected]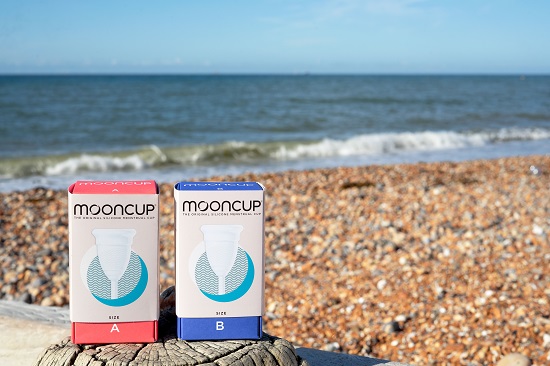 You can buy the Mooncup with its lovely new cotton bag from our Mooncup Online Shop. 
Our Eco-credentials
* Committed to minimising environmental impacts, Mooncup packaging is plastic free and recyclable.  Packaging is produced by the UK's leading environmental printer who work to internationally recognised ISO quality and environmental management standards.The box card is FSC certified with an EU ECO label Green rating of 4 – the EU Ecolabel is a label of environmental excellence that is awarded to products and services meeting high environmental standards throughout their life-cycle.
The outer sleeve is manufactured from FSC® Recycled certified fibre derived from 100% pre and post-consumer waste.
The Universal Usage Guide is made from FSC® Recycled 100% post-consumer waste.
The free storage bag provided with each Mooncup® is made from organic unbleached cotton and manufactured by a Fairtrade certified organisation.
The Mooncup® menstrual cup is a quality reusable product which lasts for years. Minimising waste and environmental consideration is at the business' heart. Not only has this informed the product and packaging, but as a company we feel strongly that we're not here to 'accessorise' periods, by creating a range of colourful cups or selling unnecessary and waste-creating products such as wipes. Our product has not changed because we know our customers want a high quality cup that is as simple and safe as possible, free from bleaches, dyes or toxins.