Official Announcement: Mooncup® acquired by &SISTERS
Mooncup Ltd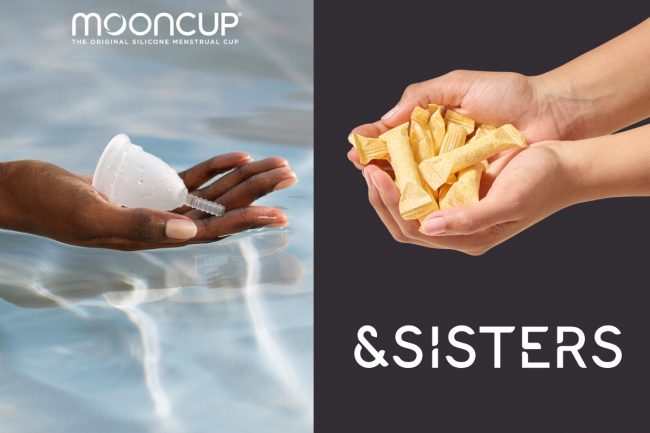 &SISTERS, a family-run sustainable period care brand specialising in compostable pads, tampons and liners has acquired Mooncup®,  the world's first silicone menstrual cup, for an undisclosed amount.
After a spate of acquisitions adding sustainable brands like TOM Organic, Thinx, Knix, Modibodi and This is L into existing mainstream plastic ridden portfolios (there are typically 5 plastic bags in a pack of mainstream plastic & bamboo pads), this acquisition represents the handing of the baton of Mooncup's founding mission to end single use plastic rather than watering down the brand's purpose to greenwash a broader portfolio. 
&SISTERS Co-Founder Lucy Lettice said "Mainstream, organic cotton topsheet & bamboo pads, tampons and liners never biodegrade, because they contain such vast quantities of an unnecessary plastic called super absorbent polymer. An average pack of mainstream pads contains the equivalent of five plastic bags and we use on average 11,000 of these products each in our lifetimes. "
"My mum & I started &SISTERS to tackle the industry's greenwashing and the lack of regulation of the irritants in mainstream period care. Our pads, tampons and liners contain no plastic or irritants, biodegrade faster than a banana and at the same time our heavy pads are twice as absorbent as the mainstream equivalent. "
"I grew up seeing Mooncup's team really lead the charge against single use plastic period care without any compromises, so it really is a full circle moment for me. We are incredibly proud to be continuing their legacy by creating sustainable period care options that work for everyone and leading the charge against plastic and irritants ridden mainstream & bamboo period care."
Mooncup Director, Kath Clements said, "With big players like Procter & Gamble (Tampax, Always) choosing to make 'pure' ranges and reusables while continuing to make their biggest profits from plastic applicator tampons and plastic-filled pads, it's time for a new approach. We're proud that &SISTERS will be taking up the mission for Mooncup, and we're excited to see what the next wave of positive change brings." 
You can find &SISTERS in Asda, Boots, Booths, Ocado and Abel & Cole. Mooncup can be found in Boots, Holland & Barrett and mooncup.co.uk.