City to Sea launches a Period Education Programme to promote #PlasticFreePeriods in UK schools
Mooncup Ltd
We are proud to announce a partnership with the wonderful City to Sea for the launch of their period education programme for schools.
Six hundred schools in the UK will receive relevant teacher training and product demonstration packs which will include the Mooncup® menstrual cup. 
"RETHINK PERIODS" provides period education in primary and secondary schools across the UK; introducing themes such as the environmental impact of disposables, taboos and culture, and period poverty. 
The programme is a huge step towards educating young people about the varied choice of reusable period products available to them and is a much-needed overhaul of the way menstrual health is taught in general. 
As part of the package teachers can download adaptable lesson plans and dynamic teaching resources for key stages 2 and 3.
With these resources, teachers will be able to equip young people with the tools to understand menstruation in an up-to-date way, so they can feel prepared and positive about the choices available to them.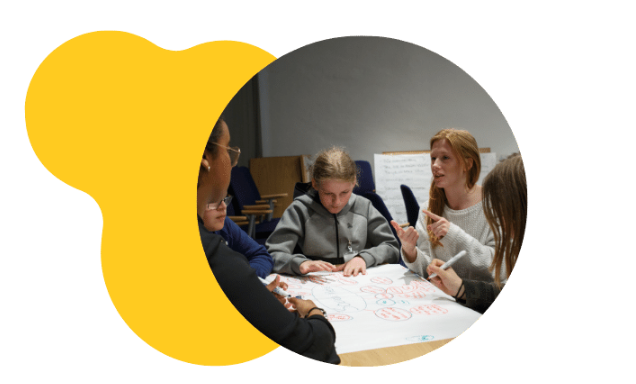 Calling all teachers!
If you are a school teacher you can book a training session or request a demonstration pack over on the City To Sea website.
An environmental issue
In the UK alone, 4 million period products are flushed down the toilet every day with many of those ending up in the sea or on our beaches. 
In a study carried out by organic tampon brand Natracare, it was discovered that large amounts of plastic were found in conventional pads, across three of the mainstream brands. 
The study concluded that there is on average* 36 grams of plastic in every packet of period pads. That's 2.4 grams of plastic per pad, and 2.5 grams for the outer pack itself: the equivalent of 5 plastic carrier bags per pack. 
An exciting finding from City to Sea's pilot programme was that students were 25% less likely to use disposable tampons and 50% less likely to use disposable pads after the lessons. 
At Mooncup we are thrilled to see the ripple-effect that the programme may have on turning the tide on plastic pollution. 
Why is this so important right now?
As Bristol-based City to Sea rightly points out: 
"the education around products that is received at a young age is likely to shape a person's whole period experience."
In a recent interview with The Guardian newspaper Mooncup Communications Director Kath Clements points out how this type of education in schools had become monopolised by leading multinational brands:
"I remember the Tampax lady coming into our school really fondly – which shows how clever they are about it," says Clements.
In contrast, most reusable menstrual product manufacturers do not have the multi-billion pound marketing spend of the disposable san-pro giants, and have therefore been unable to slip their way into the education system with the same clout… until now! 🙂
To us, it is vital that students receive information on ALL products available to them, especially when the big-players are creating plastic-laden products and unnecessary and waste-creating accessories which continue to pollute the earth.
We are hopeful that with the City to Sea project (funded via donations from Waitrose, Hubbub and Anglican Water) there is scope for a new style of menstrual health education in the UK – one which could have a huge positive impact, not only on the environment but for the wellbeing of a new generation of menstruating females to come.
How to get involved  – Time for a menstrual revolution!
If you are a teacher or a parent in the UK and would like to get involved with the scheme you can get in contact via [email protected] for more details.
To support the City To Sea campaign we've also created a Mooncup® specific 'School Education Pack'. To receive one of these, just drop us an email and let us know  a bit more about your project – [email protected].
Or you can download here:
Mooncup® Specific School Education Pack
The pack includes an educational presentation, video resources, information materials, a demo Mooncup and more.