Brighton & Hove Business Awards – Mooncup Ltd win two coveted awards
Mooncup Ltd
We are delighted to announce that Mooncup Ltd have won not just one, but two awards – 'The Green Business Award' and 'The Best Place to Work' – at the Brighton & Hove Business Awards 2017.
The sell-out event is designed to raise awareness and celebrate the 'diversity and uniqueness of Brighton & Hove', Mooncup Ltd's home since we were founded way back in 2002.
If you're interested in finding out more about how Mooncup®, the world's first reusable silicone menstrual cup came to be, you should check out Our Business Story. (A story full of passion, determination, bicycles and the Australian outback!)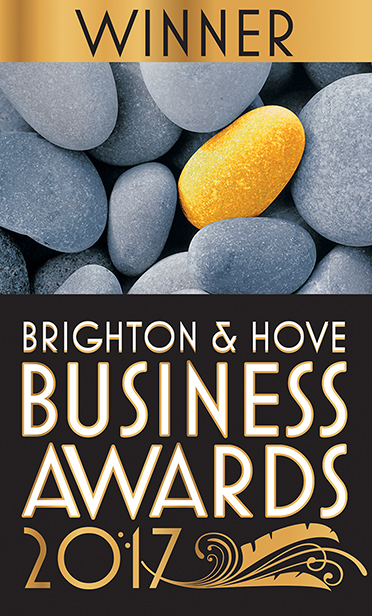 Our achievement hit the news in the same week that a national survey revealed Brighton & Hove to be the happiest city in the UK. Needless to say we're pretty chuffed at Mooncup HQ with our new title of 'Best Place To Work' in the 'Happiest City' ! (You can tell by the goofy grins on our faces..!)
Brighton & Hove Business Awards – Mooncup receive the Best Place to Work Award
It has been a massive honour to be recognised among such amazing businesses in Brighton, a place which is known for its ethical and green start-ups, as well as for its overall attitude towards well-being in the workplace. So what was it that made us stand out from the stiff competition?
Here's a sneaky look into just a few of the benefits that led Mooncup Ltd to be nominated…
How did Mooncup win 'The Green Business Award'?
In selecting 'The Green Business Award' winner, judges were looking for a "a business which is focused on supporting the green economy as well as helping the City, and in turn our Planet, to become more sustainable".
Thanks to Mooncup® users worldwide, the company have ensured that 1.7 billion fewer tampons and pads have ended up on our beaches or in landfill since 2002.
Manufactured in the UK to the highest quality standards, the Mooncup is also Vegan Society approved.
From manufacturing to printers,  our key suppliers are selected for their environmental and ethical processes.
All Mooncup leaflets and usage guides are made with 100% recycled paper, pulp or fibres, printed with vegetable inks….
The box is FSC Certified and made from ECF pulp… And the storage pouch is manufactured in an accredited Fairtrade factory from unbleached, organic cotton!
And of course, using a Mooncup menstrual cup helps to save our planet!
Just one of us will use 11,000 throwaway tampons and pads in a menstruating lifetime. One Mooncup lasts for years and years.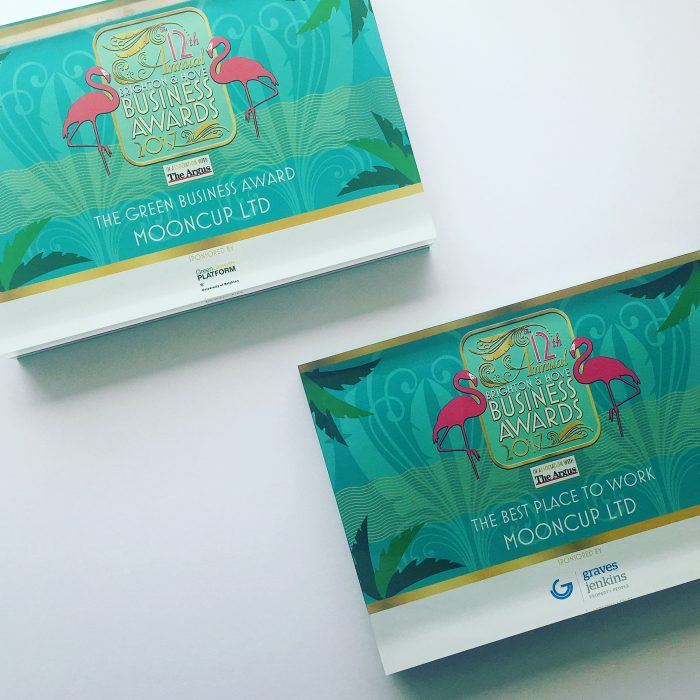 What makes Mooncup 'The Best Place to Work in Brighton & Hove'?
Meanwhile 'The Best Place to Work' award fanfares "excellence in providing an environment in which employees can develop their full potential, achieve outstanding success for their business and really thrive."
We're an Employee Owned business, which means we have a flat structure and collective engagement
Complete financial transparency among all staff
Profit-related Bonus Scheme
Ethical Pension Scheme
Team Giving and Charity Support Programmes
Training and personal growth for all employees
Wellbeing and stress prevention including our 'Trustee Surgery' for well-being issues
Daily communal vegan meals – keeping us all happy and healthy!
Weekly 'Mindful Movement' and meditation sessions
A monthly massage for all from the talented Maria Pali
As Katherine Clements, our Campaigns and Marketing Manager, expressed so clearly, we like to think we've won because…
"The Mooncup® is health conscious, environmentally savvy, and taboo-busting: I can't think of a more fitting winner to represent Brighton!  We're so proud to get this recognition- especially among all the great businesses here.  It just goes to show that people are ready to open up and make new choices. And that employee-owned, conscious and progressive business is the way forward, too."