Travelling On Your Period – Why The Mooncup Is A Backpacker's Best Friend
Lucy Stewart
A few years back I found myself planning an eight month adventure around Asia, Australia, New Zealand and Fiji.  As I smugly packed up my 40kg backpack I actually felt rather proud of myself for packing so light. There were all the usuals: bikini, camera, flip flops, water bottle, etc…
But then it occurred to me that 8 months travel = 8 months of sanitary supplies … my heart dropped. There was definitely not going to be any room in my bag for souvenirs!
After this realisation I made sure to add a Mooncup® to my essential travel kit list. It has since become the perfect travel companion, accompanying this happy solo traveller as her trusty holiday companion on all her travels, whether it's a week away in the Costa Del Sol or 6 months trekking around Asia.
Read on to find out why the Mooncup menstrual cup is, hands down, the best way to handle your period while you're travelling.
8 Reasons The Mooncup Is Perfect For Travelling
1. Less To Pack
Something I discovered on my long trip away was that there definitely wasn't much room in my bag for bulky packs of tampons and pads. The Mooncup®, on the other hand, is so small it takes up hardly any space at all. Result! It's also got a cute cotton storage pouch that fits neatly into my toiletries bag. 🙂 On top of this, it means there'll be less weight in your bag, which means less panicking at the airport check-in.
2. Less To Worry About!
Once you've got your Mooncup you're sorted. There'll be no need to hunt down tampons in the backstreets of new countries, leaving you more time to have fun. I've discovered (from personal experience) that it can be a bit of a drama trying to locate sanitary products in remote places where you don't speak the language!
Plus, you won't have to use that stray and slightly sandy tampon that's lurking at the bottom of your handbag. 😉
3. Budget Friendly
A big factor for every traveller. One Mooncup lasts for years, and costs the same as you would spend on disposables in 6-8 months. Not only will it leave you with more money to spend on that margarita on the beach – it will actually save you money for the rest of your menstruating life, leaving you more money to add to your travel piggy bank. Hooray!
4. No Bins? No Problem
Whilst travelling around some of the more remote parts of Laos, Cambodia and Vietnam I'd often find myself using little more than a ceramic hole in the ground for my toilet needs. Though I quickly perfected my squatting position, it took me a bit longer to work out how best to deal with my period. Quite often I'd find there were no bins to dispose of your tampons or pads, so I'd have to get creative by finding something (like a plastic bag – boo 🙁 ) to wrap my bits up in until I could find a bin…With the Mooncup you don't have to worry about any of this. Just pour the contents of your cup down the squat toilet, wash your Mooncup with some bottled drinking water, and voila – pop it back in and you're good to go.
No mess. No clinging onto smelly bags. No environmental waste.
5. Lasts Longer Than A Tampon
Another brilliant reason for using the Mooncup on your travels is that it holds three times more than a regular tampon. It means you won't have to worry as much about finding a toilet while you're on the move. If you're on a long boat/bus/tuk-tuk journey this is really handy! Or of course, if you just want to spend a little longer lounging by the hotel pool.
6. Better For The Environment
Leading on from the above point, using the Mooncup will mean that you're reducing the amount of waste you produce. Did you know that, on average, one person will use 11,000 sanitary products over their lifetime?! And that these disposables will end up making their way into landfill or the sea, polluting our beautiful world? This can be an even greater challenge in some of the more remote holiday destinations with limited waste management systems.
If you want to help save the planet, choosing the Mooncup will make a significant difference.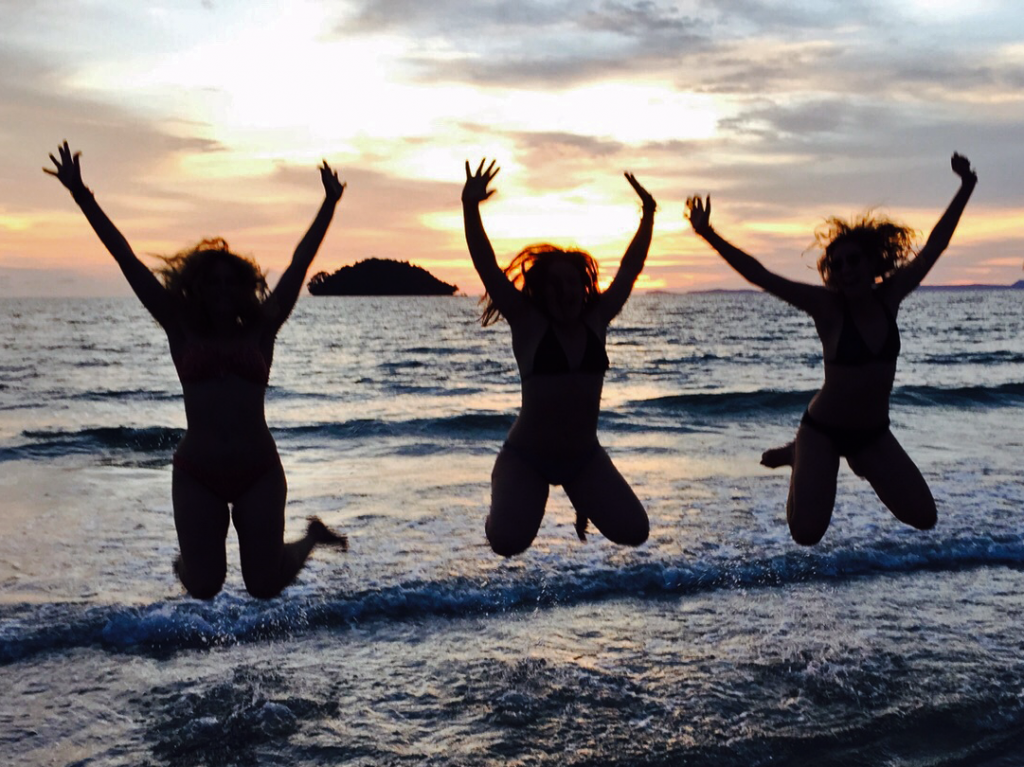 7. Perfect For The Beach
The Mooncup is worn internally, so you don't need to worry about a string hanging out, and it holds 3 times more than a tampon so you can swim for longer (depending on your flow of course). This makes it great for splashing around in the sea, swimming with dolphins, scuba diving… the list goes on!
8. Great For Long Hot Days
If you're on holiday, chances are, you're somewhere hot… here's hoping at least!
Sanitary pads, in particular, can be really uncomfortable at the best of times – add this to a baking hot day and you can feel really hot and bothered. With the Mooncup I feel much cleaner and freer.  It'll also mean no chafing in your pants, if you're the adventurous type who likes to trek up mountains!
And there you have it – eight reasons why my Mooncup is my perfect travel buddy!
Not yet convinced? Don't just take my word for it. We have hundreds of testimonials, all grouped together in the handy category of Travel for you to have a look through.
Got a Mooncup already?
TOP TIPS FOR TRAVELLING WITH YOUR MOONCUP
Going on a big adventure? Make sure you get used to using the Mooncup before you go.
Always use water that is safe to drink to wash your Mooncup.
Always wash your hands before emptying and reinserting your Mooncup. The same as you would with a tampon.
If you're going away for a long time and want to give the Mooncup a more thorough clean you can take a few sterilising tablets with you and soak the Mooncup in a small container following the manufacturer's guidelines for dilution and soak for the minimum time recommended. Check out the FAQ for more information.
Remember to empty your Mooncup just before you get on a plane journey and check the seal, and empty it again when you disembark.  If it's a long-haul flight, remember that we recommend emptying your Mooncup at least every 4-8 hours.
If you have any questions about travelling with the Mooncup you can get in contact with our Advice Team at

[email protected]