What you can do to champion films by women and non-binary people
Melanie Iredale, Director of Bird's Eye View Film
British film charity Bird's Eye View (BEV) have been carving a path towards gender equality and diversity in the film industry since 2003.
Their mission is to bring bigger audiences to films created by women and non-binary people. Spreading word of mouth and generating conversations around the films and filmmakers is key to their work. You can help by becoming one of their "influencers". Anyone can sign up to be one, and you'll even receive free cinema tickets!
We chatted to Bird's Eye View Director, Melanie Iredale, to hear the tale behind their Reclaim The Frame project. We also discuss the importance of equality and diversity in the film industry, and how you can be a part of the change.
Plus! Read on for a chance to win FREE tickets to see Bird's Eye View's next supported film, Ali & Ava.
An interview with Bird's Eye View 
What's the story behind Reclaim the Frame? How was it born? 
Birds Eye View was born in 2003 with a mission to champion and celebrate women filmmakers, which it originally did through an annual film festival over International Women's Day each March, in London.
Reclaim The Frame came from the idea that Birds Eye View could make an even greater impact and reach even greater audiences through delivering activity all year round, and across the UK. This was in 2017, when my predecessor Mia Bays started in her role as director. Under her leadership, Reclaim The Frame was born. It then grew from partnering with cinemas in four cities across the UK, to fifteen. And a membership of what we called 'Influencers' grew from 0 to 1692 by the end of 2021.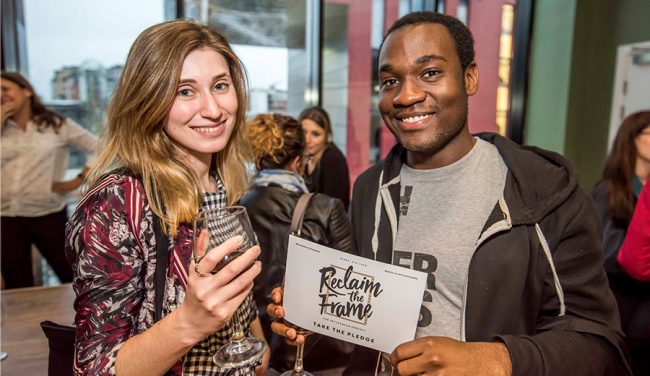 Tackling inequality in the film industry
Why are female-driven films important right now?
Broader perspectives of the world are what's important right now. From a wider range of people, representing a wider range of cultures and lived experience.
Championing female and non-binary filmmakers for us is about broadening the lens through which we view ourselves and our world. The films we show are as wide ranging as the women who direct them, but what they have in common is that they challenge the cis-white-hetero-masculine-normative worldview. Only 20% of films released in the UK in 2021 were directed by women, a percentage which is growing very slowly. Of those, only 19% were directed by black, indigenous or people of colour. This percentage is actually down on 2020 (33%), and only slightly up on 2017 (17%).

Who helms the film is just the start. Greater diversity in directors means a greater diversity in representation among the film crew, on screen, and in the audience. For us, the importance lies in the idea that everyone should be able to access representations that speak to their experiences.
Women make just over half of the cinema going audience. Why is it still so hard to get funding for films made by women?
It's hard for women and anyone of a marginalised identity to get funding because the systems are still largely run by those for whom the system works.
I see progress being made, definitely, but it's slow. Again, because those in decision making roles by and large don't see the urgency of diversifying the projects and filmmakers they support. Or they don't fully understand the cultural or financial benefits. Change is coming though because the voice of the community is becoming harder to ignore. Initiatives based around reaching '50/50' in funding for women-led projects is a huge step forward. However, it also points to another issue that we need to overcome, namely the culture of approaching gender through a binary framework.
What actions do you think are needed to make the film industry more equal? 
Addressing who is in the decision-making roles and who is being funded is a big part of it. Beyond this though, I really feel that to be more equal our industry needs to be fairer, safer, and simply more compassionate.
The number one recommendation from a recent report from Raising Films who surveyed 500 parents and carers in the sector was for flexible working. This calls for flexibility in hours and in location.


There is a lot of work being done in response to the #MeToo movement to address bullying and harassment in the workplace. This encourages organisations and film productions to uphold codes of conduct. What's being discussed less is the fetishization of long and often unsociable hours. And the idea that we should feel 'grateful' to work in film and the arts.
So, for me, it's the wider working culture that needs addressing in order for our industry to be equal. At Birds Eye View, we've been discussing between team and board how we can be a values-led organisation. And not just in what we do, but how we work and how we make decisions. One of our key values is care because if there's a word that's key to an equal future, it's 'care'.
Building community to celebrate diversity through cinema
We at Mooncup Ltd have been chipping away the menstrual taboo for almost two decades. We're well aware that to create change, you need a community. What is the role of your community in the work that you do? Any success stories you'd like to share?
I really identify with your approach at Mooncup. It's only through community and collective working that we can achieve the change we want to see.
Our core mission at Bird's Eye View is to build community for those who make, release, show and watch films by women and non-binary people. With Reclaim the Frame, what we're trying to do is to create safe spaces for conversation around the films that we programme. Between filmmakers, artists, activists, community leaders and with audiences. The first film we toured in my new role was Rebel Dykes by Harri Shanahan and Sian A Williams. It's an archive film about a scene of lesbian activists. The aim of our campaign was to bring together intergenerational audiences from the LGBTQI+ communities, feminists, and allies. Knowing how seldom our community gets to see queer joy on screen, it was really powerful to see what cinema can do in bringing people together for conversation and celebration.

Reclaim the Frame's mission is to bring bigger audiences to films created by women and non-binary people. Rather than using traditional PR and advertising, you have chosen to spread the word in a more grassroots way. Can you tell more about that? 
It goes back to the importance of community building and collective action. We do this through a network of Influencers and Super Influencers. Our Super Influencers are the freelance community engagement and outreach professionals we employ. They are based in a number of cities across the UK and their role it is to build audiences for the films we support. To build a community who advocate for those filmmakers.
That community we call Influencers – anyone can sign up to be one. Their role is key to spreading word of mouth and generating conversations around the films and filmmakers we support, both online and on the ground. There are so many grassroots organisations and collectives doing important work in this area. Together with them, our community forms part of a growing movement crying out for broader perspectives of the world through cinema.
Who can sign up to be an influencer and what's the criteria?
Anyone and everyone – all genders – can sign up to be a Reclaim the Frame member. All we ask is a few questions about yourself, including where you're based, so we can direct you to Birds Eye View events and supported films screening in a cinema near you.
Next up is Ali & Ava by Clio Barnard, a wonderful romance with a banging soundtrack, in which a deep connection grows between two star-crossed music lovers, Adeel Akhtar's Ali and Claire Rushbrook's Ava.
You can sign up here and you'll receive regular updates on Birds Eye View activity, free tickets for in-cinema and codes for online, plus a 3 month MUBI subscription – but more than that, join the Reclaim the Frame community.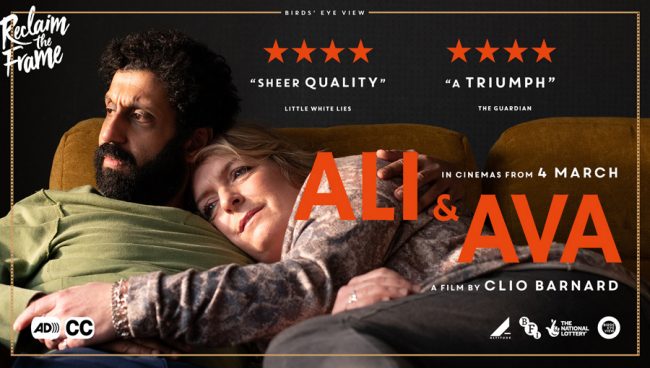 WIN free tickets to see Ali & Ava (GIVEAWAY NOW CLOSED)
The fabulous Ali & Ava film is hitting cinema screens on 4th March, and Mooncup are proud to be partnering with Reclaim The Frame to promote the release.
We are hosting a competition offering 5 pairs of tickets for select cinemas in Bristol, Glasgow, London, Manchester and Sheffield:
From 4 March (tickets available from 7 March): 
HOME, Manchester
Watershed, Bristol
Showroom, Sheffield
Picturehouse Central, London
From 11 March: 
Cine Lumiere, London
Glasgow Film Theatre (not yet on sale)
Be in for a chance of winning a cinema seat for you and a friend! Head to our Instagram or Facebook to find out more and enter the competition.
At Mooncup Ltd, we have been challenging the so-called 'feminine hygiene' industry and busting the period taboo since 2002. Own your period with the Mooncup® menstrual cup. Find out more and get yours here.
Did you enjoy this article? Head to this page's footer to sign up to our mailing list to be the first to hear about our blogs!
You might also be interested in:
Read more about 'Love Your Vagina' and more taboo-smashing Mooncup campaigns
The notorious V.A.G – in films, TV and pop culture
How to hack your cycle and own your period superpower
Why is feminism still needed today?
From Amy Winehouse's VaJew-Jew to a horse owner offended by a menstrual cup– looking back on 18 years of the Mooncup
Woman on a mission to make period products free in Scotland
What kind of person uses the Mooncup?