What if the Mooncup was sold as something as sexy as Chanel lipstick?
The Mooncup Team
Artist Lucy McKenzie on art, feminism and why she created a 9-metre tall Mooncup painting
September 2020. Gwendoline Christie, the iconic actor (and #RealMooncupUser it seems!), best known for playing Brienne of Tarth in Game of Thrones, tags @mooncupltd in the most dazzling piece of art on Instagram. A quick google reveals that it was created by Scottish artist Lucy McKenzie, and that it was on display at Museum Brandhorst in Munich.
It turns out, the painting was originally created in 2012 – How had we not come across it before?! With a little bit of detective work, we got hold of Lucy and, to our delight, she agreed to talk to us and share the story behind her 'Mooncup' triptych.
Lucy, you're from Scotland but live in Brussels now. Could you tell us a bit about yourself and how you ended up living in Belgium?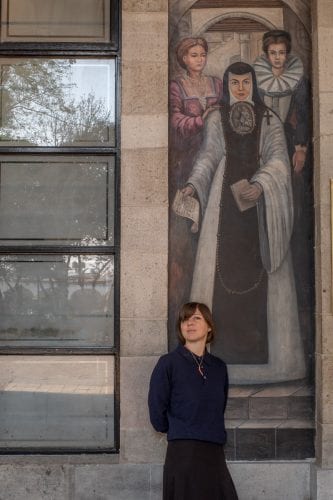 I spent my teenage years playing music and making fanzines, but then discovered at art school that I loved to paint. I studied at the Duncan of Jordanstone College of Art and Design in Dundee before moving back to Glasgow, where I grew up.
I stopped playing music, but I've always kept that love of the sociable side and have continued to organise events in my various studios. I have a small record label and love to collaborate. I also have a fashion label, Atelier E.B with a designer from Edinburgh called Beca Lipscombe, we've worked together now for 13 years.
I moved to Belgium in 2006. I was drawn by my interest and curiosity in what the country had to offer – whether that was the great fashion coming out of Belgium, in the early 2000s, to certain kinds of music, comic books, Art Nouveau and Art Deco.
There are also many things about Belgium that, as a Scot, I also find interesting. Similarly to Scotland, there is no real grand narrative, or overbearing national cultural identity that you find elsewhere. It leaves the artist the mental space to think about what that identity can be. There is something I believe that always attracts artists to be away from their hometown. It can be enriching, creatively, to be an "outsider".
I have lived in Brussels for 14 years now. I have a wonderful studio in the centre of town, it's a real sanctuary. It's also a great place to be able to travel from for work.
We're aware that you're a #RealMooncupUser yourself. What's your Mooncup® story?
I was recommended the Mooncup® by a fellow artist and friend, Bonnie Camplin. I always remember the email she sent because it looked like spam; with a subject line that read: "I highly recommend this product", and a link. That was it. It seemed very suspicious, but I soon realised that was just her dry sense of humour.
When I clicked on the link, I couldn't believe it, and wondered why I didn't know about it. It struck me as such a brilliant piece of design. It just highlighted to me another flaw in our society: that such a great product was still so unknown, while people were still using tampons, and all this throwaway, single-use material.
In Belgium at the time, the Mooncup was available in the local wholefood shops. I remember buying them for my friends back in Scotland. Everybody wanted one!
Among my network of female friends, we were already talking about issues to do with our bodies and hormones, relationships, and periods, so it all travelled through word of mouth, like a bit of a wave.
The personal is political
What inspired you to create the painting 'Mooncup'?
As a painter, I was really enamoured with the way that the Mooncup changed your relationship with blood. In fact, not only as a painter, but as a person.
It amazed me just how it was so different to the blood from a wound. Or blood seen as disgusting, shameful, and dirty, that a tampon you wrap up in toilet paper and put in the bin in a public toilet. It was completely efficient and very beautiful. You could also really see how much blood you were shedding every month.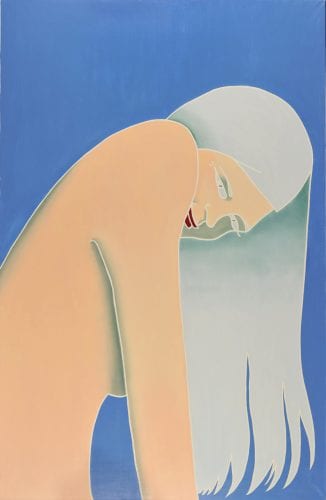 I also love how, when I poured the blood either into the toilet or into the sink, you could see what an amazing material it is. A dark, rich, wine-y red, almost blue. And then, as it diluted it would almost turn corn flour yellow, or even greenish. And it just made me think: "if only I could find some paint that behaved like this, as rich and alive as this material." So, I found that very inspiring. It was about this one-to-one relationship with my own body, and this this new thing that made me experience the blood and my periods in a different way.
But in all my work, I strive to strike a balance between a variety of elements that have a tension; masculine and feminine, rational and irrational, conceptual and instinctive. So, I wanted to address the wider question with this painting, about how the personal is political. It's an old phrase, but it's still true today. Women's experiences are still somewhat disregarded and belittled, and seen as not as important or frivolous. I believe it's so important for women to discuss these private things, and process them in their art.
There's a long-standing tension between high culture and mass culture, with one being male and one being female. There has always been an idea that there are certain topics which are considered more legitimate than others in serious art. I feel it is very important for me as a female artist to constantly hammer home that our experiences are both extremely serious and absolutely valid material for art.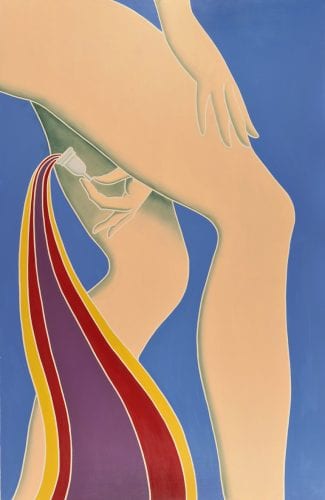 We all as women also experience our bodies and our sexuality through the mediation of the mass media. Social media and women's magazines are particularly interesting because of the complex mixed messages. On one hand, you have adverts that perpetuate unrealistic beauty and hygiene standards, but on the other hand, that was where the average woman would have read about abortion and equal pay. For us women, it's a constant fluctuating relationship between wanting to be beautiful and feminine and desirable to a standard, but also wanting to work out who we really are.
I wanted this painting to have all those elements in it. I thought, what if we got to the stage where eco products could be sold as something as sexy as Chanel lipstick? So, I decided to make this big fine art painting look like advertising.
In a way I was projecting a future where we would be so unabashed about periods that we could just display it on a massive billboard and it could be on Time Square, like the Marlboro Man.
And I think hopefully, we're heading in that direction now.
You first exhibited the painting alongside other female artists' work on the side of a former department store…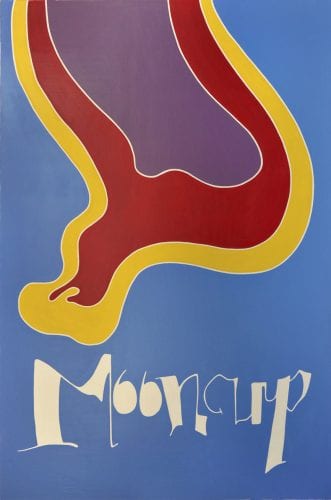 Yes, the painting was made for a very specific context, which was a group exhibition that I organised in 2012 for a Belgian museum called Muzee, in Ostend. The museum itself is a former cross between a department store and something like the Co-op Supermarket.
My invitation from the Director of the museum was to prepare an artwork for the windows. That, of course, is a great opportunity, because it meant it could be seen at night, and also by passers-by. This is something I cherish as an artist, having a direct link to a non-museum going public.
I have a network of creative women, fellow travelers who share my thoughts about belittling of women's experience, or women's work in terms of craft.  So, I asked a mixture of visual artists and designers, all good friends, to co-present a show where every piece would double up as a piece of advertising for a product.
I myself made a series of paintings which all alluded to the old history of the space as a department store. The series included this three-piece Mooncup painting, which was placed vertically between the three floors, unifying the building. And then everything was lit really carefully, so it could be seen at night.
Causing a stir
The three-piece painting 'Mooncup' is 9 metres tall in total. What was the response to the painting back in 2012? Have you noticed a change in the public's attitude since then, with its most recent exhibition at the Brandhorst?
I must say, I work in a bit of a bubble. I deliberately keep a low profile, as I just find it more useful to deal in ideas, if you're not being scrutinised like you do with a big public profile.
I know that in Munich, where the Brandhorst Museum is, the painting spiked a lot of conversations about the Mooncup®, because people didn't know what it was. I was quite shocked by this, because all my friends and I used it, I just assumed it was normal.
It also stirred conversations around periods and the Mooncup among the people that work at the Brandhorst. They had to explain to older male collectors what it was. It didn't even cross my mind that it could start that conversation.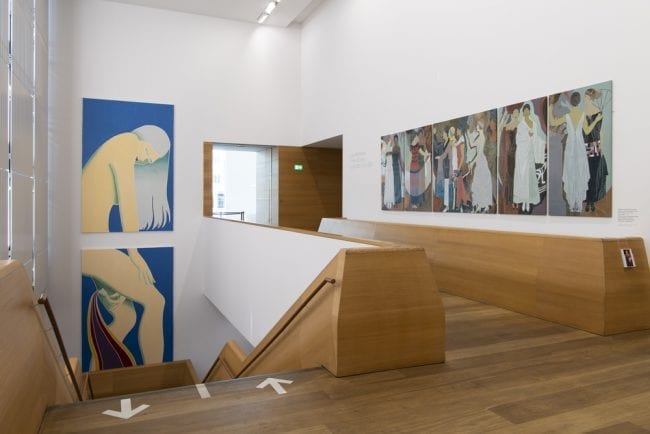 And then brilliantly, the actress Gwendolyn Christie, who played Brienne of Tarth in Game of Thrones, had seen one of the posters and she posted it on Instagram, which had a huge response. I love this, as I believe there's something about the work that should also have a place in pop culture, because that was its original inspiration, mass advertising.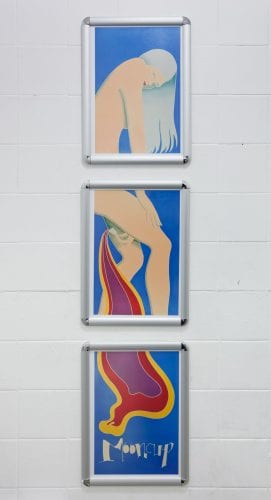 There's a great magazine in Brussels, called Girls Like Us. It's a lesbian culture magazine and every summer for the last few years, they've set up a great inclusive, queer bar called Mothers and Daughters where the beer is all brewed by women. They use my Mooncup posters as advertising in the toilets, to kind of take over the whole space. It inspired them.
To be honest, artists' work usually is met by a crashing silence, it's very uncommon to get a huge reaction. I guess artists using tools like Instagram have a much more tangible sense of that. But certainly, back in 2012, none of us who took part in the show had social media accounts. But it was still a very, very fruitful exchange with the people who saw it.
The painting was bought by an Italian collector, based in London, called Nicoletta Fiorucci, who is a great champion of unconventional work. She must have a big house! Of course, at 9 metres tall it's absolutely massive. The dream would be for it to be hung in Time Square as an advertising image, but one of the impacts that that I am most pleased about, is that you guys got in touch. In that alone, the painting has done its job.
Sustainability and art  
Can you tell us about your fashion label?
We are called Atelier E.B which stands for Edinburgh. Brussels. I met my business partner Beca, a designer, as I used to model for her in the early 2000s. I loved her clothes. When I realised that she did all the hand printing herself in her studio in Edinburgh, and how important it was for her that her things were made locally, I realised that I actually had no idea about how fashion ends up on your back.
I kind of pumped her for information. I'd learned at a special school in Brussels about techniques of decorative painting, fake marble and wood, lettering, gilding, these really traditional skills that I wanted to bring into my visual art. The idea was that we would offer products that were hand-printed by her, hand-painted by me and hand-stencilled by a stencil artist called Bernie Reid. From decorative interiors we evolved into a fashion label. We made a show looking at the history of the Scottish textiles industry and to explore that we made some clothes, and people said, "Oh, can we buy this?" so we turned into a fashion label.
How do you view the role of the arts in promoting sustainability and feminism?
I think ultimately, the role of the artist is not to supply any life improving ideas. Our role is to speak our subconscious and to do exactly what we feel, no matter how strange that is, so I will always defend the artist's right for that.
But of course, a lot of brilliant art is made through the desire to change the world. Art is a great tool to expose hypocrisy and to imagine a better world.


As far as sustainability goes, in my fashion label world, we're often asked this question. I started using the Mooncup in my mid-20s, which was just the perfect time for the Mooncup because it sparked my interest in sustainability and understanding my body better.
I've nurtured my relationship with sustainability, in fashion or sanitary products or in art, through a lifetime of making things, buying things and passing them on. And while I want the world to be sustainable, I would never want to deny for someone else the experience of trying on identities, refining their style by burning through looks. I do feel for young people these days, having to bear all that guilt and responsibility for others' actions on our planet. But hopefully, as a society, we are getting smarter in general.
The kind of work that I'm engaged in, I make this luxury product that comes as the fruit of my labour, and patience. I would rather paint some fake marble, than go and take marble from the ground and extract a natural resource.
To make a painting, you've got a couple of bits of wood and some canvas and some oil paint, that's it. From these you can make an object that could be of great value as well as being really impactful for the people seeing it. But then, of course, that work has to be stored. Or shipped to go all around the world to be shown. So there are all these kind of questions. We all have to see in our own personal lives how much we're willing to sacrifice.
But with my own work and with Atelier E.B, we really try and work as much as possible with vitrines or bits of display that the museum already has. It' not that common in the art world. They'll build a whole tent and walls and carpets for a five-day art fair and then destroy it. Art really has to sort its sh*t out. It's a really exciting time though! You at Mooncup you've done all the work. The only time I've ever had to buy a new Mooncup is because a dog nicked the other one!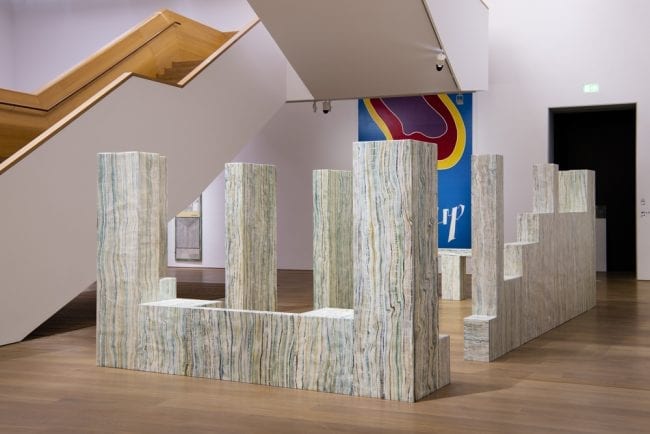 What's next for you?
I have a public art exhibition called "Art on the underground". It's actually been ready since April 2020, but because TfL is part of the government, we haven't been able to launch it. It consists of a big ceiling painting, advertising billboards, and a scale model of the station, at a wonderful underground station called Sudbury Town, in north-west London.
Again, it's advertising images, which invite you to think about representations of women, class, race or the fact that you can't show smoking anymore in in public spaces. But it's also a ceiling painting of the local area, with local places of interests.
Lucy McKenzie's work will be exhibited at Tate Liverpool, from 18th October 2021 and is currently on display at Museum Brandhorst in Munich. You can also see Lucy's public art exhibition on permanent display at Sudbury Town station in London.
At Mooncup Ltd, we have been challenging the status quo of the "san pro" industry and breaking the period taboo since 2002. Own your period with the Mooncup®. Find out more and get yours here.
You might also be interested in:
The colour of your period: what does it mean?
Love letter to my period
How to practice body positivity – top tips from Ruby Rare
Meet the teens fighting the war against plastic pollutio
Image credit for the portrait of Lucy – Mauricio Guillén