What do 18-year-olds really think about the world today?
The Mooncup Team
It's our birthday! Mooncup is turning 18 this year and to mark this coming of age milestone, we are turning to young people to get their take on the environment and the future.
We wanted to find out what young people in the UK today think about the environment and what kind of concerns they have about their future. We asked market research company Aviatrix to conduct a survey on young people and the environment. They were asked what they would be ready to give up to help the planet, and what concerns them most about the future. And the results make for a really interesting read.
In fact, the results had such an impact on us that we decided that the best way of marking our birthday was to team up with the charity YoungMinds. For the month of December we will be donating 15% of all direct website sales to this amazing charity and the incredible work they do to fight for children and young people's mental health.
Read the fascinating findings of our young people and the environment survey below:
So long fast fashion!
There are currently 776,000 18-year olds in the UK, and they are willing to take action to help the planet. Fast fashion tops the list of lifestyle choices getting the boot, with 77% of young women and 85% of young men most likely to give up 'cheap, fast fashion' to help the environment.
Half of respondents said that they would be happy to give up meat and go vegan. Half of women surveyed want to give up, or have already given up, using disposable period products. To say this stat made us happy would be an understatement!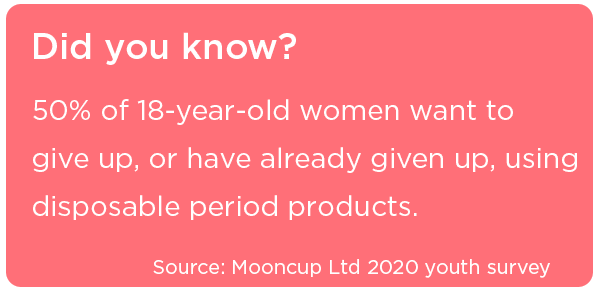 The research also illuminated a further worrying statistic for the airline industry: 43% of 18-year olds stated that they are ready to give up flying for the sake of the planet.
There was a perhaps stereotype defying gap between male and female views around cars, with young men more likely to give up owning a car (48%) compared to women (31%). The least likely lifestyle change that participants would consider is to NOT have children. Still, a third of men (33%) and a quarter of women (25%) surveyed would consider giving up having kids in the name of the environment.
What are young women most prepared to give up for the environment?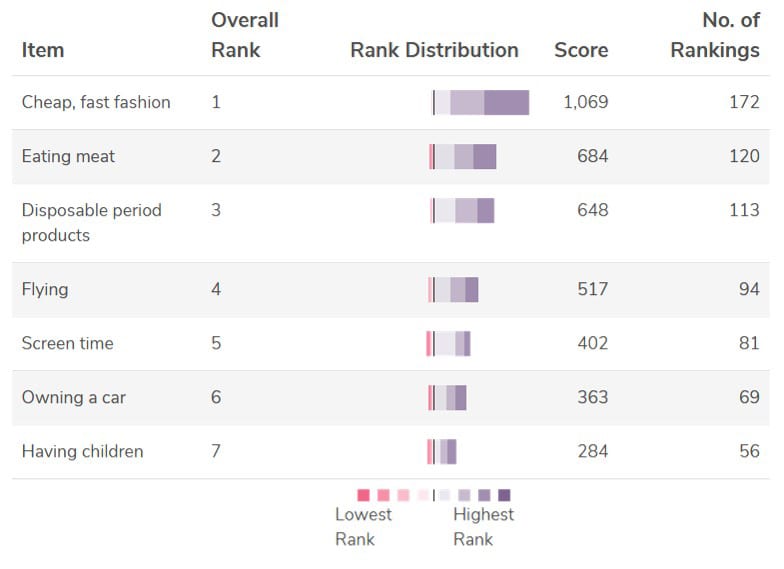 What are young men most prepared to give up for the environment?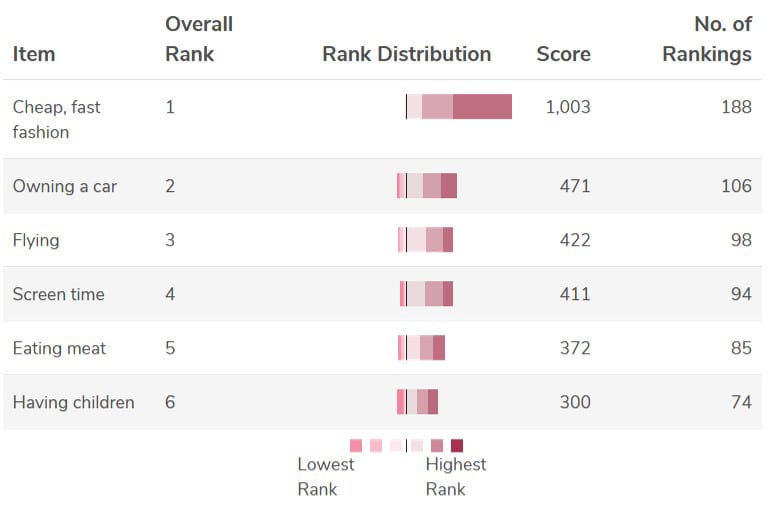 Young people fear for their health
If you read the tabloids, you might think that young people feel invincible even in times of pandemic. But what our research revealed is that 18-year olds are deeply concerned about their own physical and mental health.
Which topics concern young people most about the future?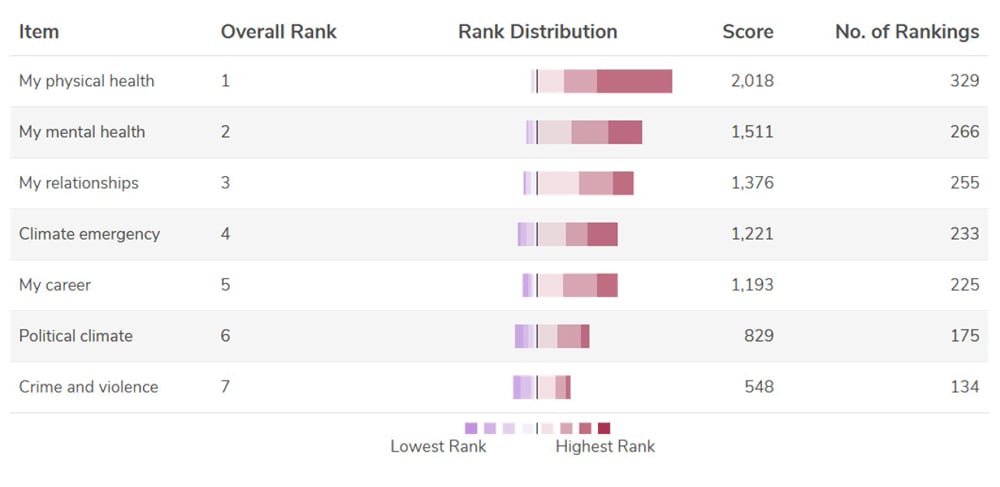 Which topics concern young women most about the future?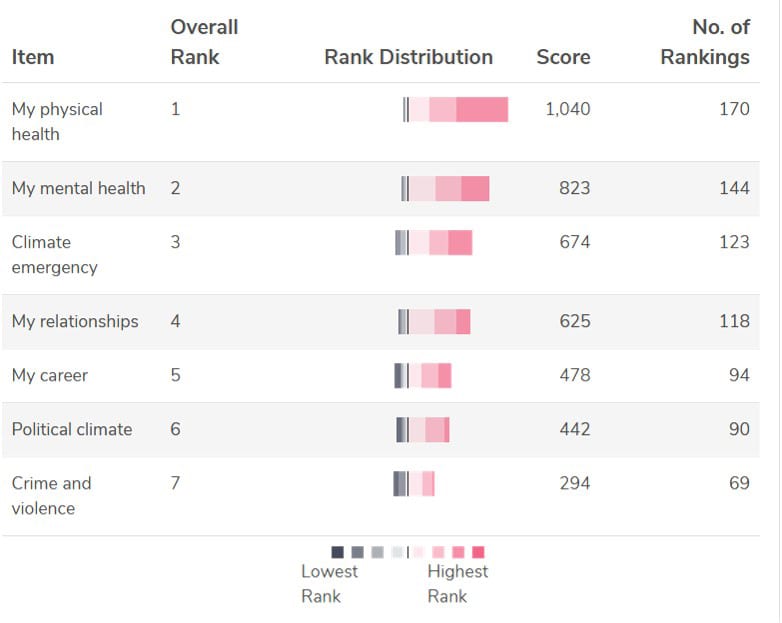 Which topics concern young men most about the future?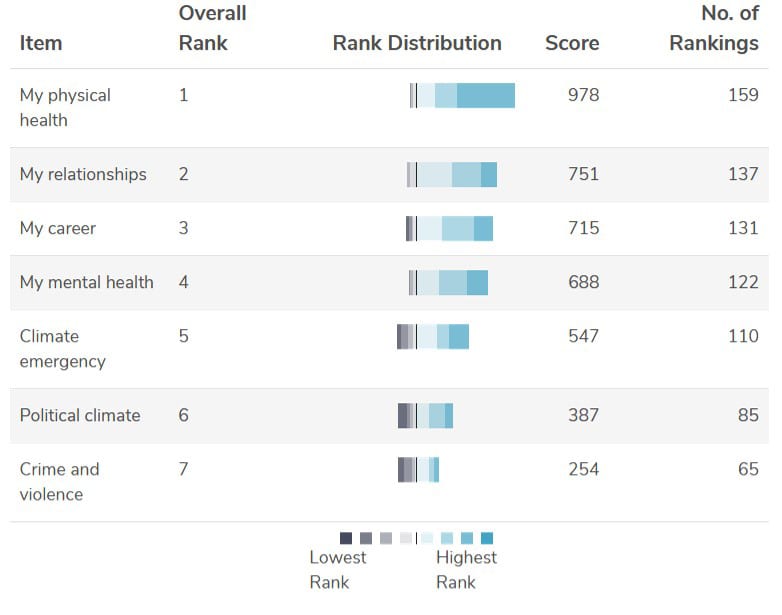 Health concerns rank above all other issues with 74% saying that their physical health worries them the most. Mental health is also a big concern for 60% of British 18-year olds, with more women (65%) concerned than men (55%).
After physical and mental health, young women worry most about the climate emergency. Perhaps it's this concern for the environment and health that has prompted young women to ditch disposable period products?
Men worry about their relationships, with 62% citing their relationships as their second biggest concern after physical health, significantly higher than women at 53%. Career prospects are a cause for concern for 59% of men aged 18 in comparison to 42% of women.
And it's not good news for the government: 84% of 18-year olds do not believe that the UK government is doing enough to stop climate change! The figure rose to 89% in women, in comparison to 78% of men.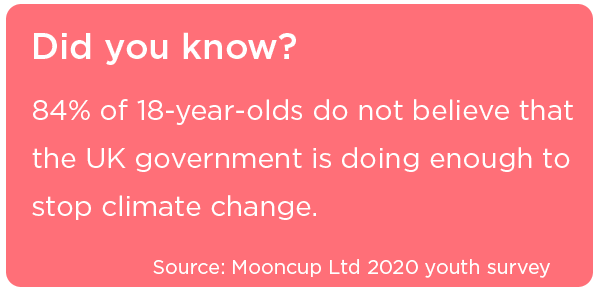 Mooncup: 18 years of environmental and social activism
The world was a different place Mooncup was founded in 2002. Hero by Enrique Iglesias was the biggest selling musical hit in the UK. Apple's second-generation iPod launched with a whopping 20 GB of storage space.
But it was also the year of the Earth Summit, organised by the United Nations to discuss sustainable development and to set targets for businesses and governments. The President of the USA, George W. Bush, boycotted the summit and did not attend.
The world also watched in horror when the structurally deficient oil tanker, Prestige, sank, spilling 60,000 tonnes of heavy fuel oil into the Atlantic Ocean. The spill is the largest environmental disaster in the history of both Spain and Portugal.
Back in Brighton, Su Hardy had had enough of the unnecessary plastic waste and health issues caused by disposable period products. She founded Mooncup in her spare bedroom and the first silicone menstrual cup in the world was born! Su started stickering public toilets with her "Healthier, greener, cheaper" slogan, and the rest, as they say, is history.
The incredible generation that we have surveyed makes you feel that there is so much to be hopeful about. They know that the time for "business as usual at the cost of our environment" is over, and they are ready to make changes, now! And they are calling on leaders- of business and government – to step up to the challenge with them.
Why we are donating 15% of our sales to YoungMinds this Christmas
The findings of our Young People and The Environment survey impelled us to do what we can to help those who need it.
Turning 18 in 2020 is definitely not the carefree experience many of us were so lucky to enjoy. It's sadly no surprise that concerns around physical and mental health are at the forefront of young people's minds in the UK. Now more than ever, young people need all the support they can get.
That is why, this Christmas, we have chosen to donate 15% of all our direct website sales to youth mental health charity YoungMinds. The crisis in young people's mental health is publicly spoken about, however that doesn't make it any less tragic.
One in six young people aged 16-24 has symptoms of a common mental disorder, such as depression or an anxiety disorder. One in 12 young people self harm.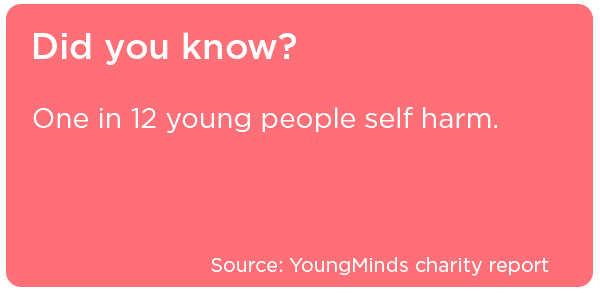 Behind every statistic is a real young person, in urgent need of help. Help which often arrives too late, if at all. Under 1% of the total NHS budget is spent on children and young people's mental health services. The average median waiting time for children in 2017/18 was five weeks to receive an initial assessment, and nine weeks to receive treatment.
Through their work, YoungMinds are changing this. They know that the earlier young people can access the correct support, the more chances there are to avoid it reaching crisis point.
Whether the individual needs specialist mental health support, a reassuring conversation, or even just to know that they are not alone in their feelings, YoungMinds' mission is to ensure that all young people get the help they need, as quickly as possible.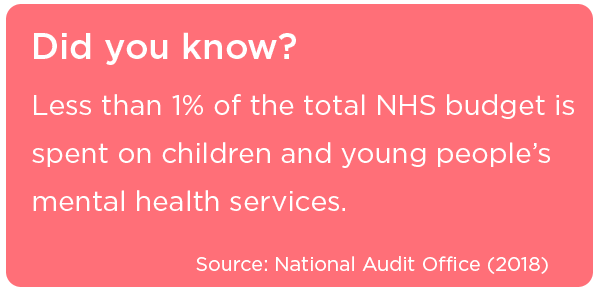 The donations from:
15 Mooncup sales will pay for information packs to raise awareness and break down the stigma of mental health in schools
45 Mooncup sales will ensure 10 Helpline Volunteers are on the end of the phone to provide information and support to distressed parents
90 Mooncup sales will support training for Young Activists to have the skills and confidence to speak about mental health issues
121 Mooncup sales could help 10 parents and carers get the advice and support they need to improve their child's mental health through the Parents Helpline.
If you are not looking to purchase a Mooncup® or if you have one already, not to worry – we have set up a GoFundMe page so that you can donate directly to YoungMinds without having to buy anything. 
15% of all direct website sales, from Tuesday 1st December – Friday 25th Dec, will be donated to YoungMinds.
Buy your Mooncup menstrual cup.
*447 participants took part in this research, 49.7% male and 50.3% female population sample. This is a representation sample of 776k 18-year-old population in the UK creating a 4% margin of error with a 95% confidence level. Research conducted independently by the market research company Aviatrix.
You might also be interested in:
Did someone say free periods?
What kind of person uses the Mooncup?
Meet the teen activists fighting against plastic pollution