What causes spotting? Learn the signs and what is normal
Nicky Sadofski, Mooncup Advisor
The term 'spotting' has been bandied around for some decades now, certainly as far back as we can remember. But what is spotting exactly? What causes it? And is it normal? Suffice to say, as with most of our bodies' fascinating bodily mechanisms, it's not always straightforward.
Read on as Mooncup Advisor, Nicky, explores what spotting is exactly as well as touching on some of the potential causes of spotting.
Spotting: the causes, the signs, and how to handle it
While it may sound like a small, insignificant word, for some of us, spotting can cause concern. For others it's simply a curious incident or a nuisance.
But, what is spotting? And what does it mean?
Spotting, also referred to (in more medical terms) as metrorrhagia, intermenstrual bleeding or break through bleeding, is a small amount of vaginal bleeding that happens outside or between your period or withdrawal bleed. The latter being the period you have in a pill free week when taking the combined contraceptive pill.
The amount of blood shed when spotting usually only requires using a panty liner. Spotting doesn't usually last longer than a couple of days. That said, there is wiggle room here: for some, the spotting might be more persistent or sporadic. You may not even feel the need for a liner and only notice it when wiping with a tissue.
Spotting can also happen at other times and for other reasons – like during pregnancy or after sex. We will delve into this a bit deeper further down.
Spotting is usually considered separate from our "normal" period, which is when we shed our uterine lining.
Where does spotting blood come from?
When we catch sight of our newly bloodstained underwear, maybe it's the unexpected surprise that hits first. Followed by "but my period finished last week?" so where on earth is it coming from? Spotting can travel down from our uterus. In the medical world, it's often referred to as the upper reproductive tract. Alternatively, it can come from the lower reproductive tract, such as the neck of the womb (cervix) or the vagina.
Heavier spotting is often from the uterus, but lighter spotting may be from either the upper or lower tract.
Should you get your spotting checked?
Although spotting isn't necessarily cause for alarm, it is always advisable to check out any unusual bleeding or spotting with a medical health professional.
As with any gynaecological condition, we would recommend you discuss spotting with your doctor before starting to use a Mooncup menstrual cup.
What causes spotting?
As with much of our body's natural functions, hormones play an important role – and vaginal spotting is no exception. The menstrual cycle is triggered by signals from the powerful and renowned hormones that are oestrogen and progesterone.
Oestrogen and progesterone are responsible for a plethora of jobs. They are incredibly busy during the menstrual cycle; paramount during all stages of pregnancy; influence bone and heart health and can affect mood and mental health in many of us.
However, our hormones do not always behave harmoniously, the results of which can be overwhelming or simply inconvenient. Or maybe a mixed bag of both!
There are a variety of hormone-related causes of spotting:
Spotting on the pill and other birth control
Due to the nature of hormonal contraception, bleeding times or patterns can differ from your usual cycle. Spotting or "breakthrough bleeding" (as it's most accurately described in this context) is not uncommon when starting on hormonal contraception. This usually happens within the first three months but should settle soon after.
Occasional spotting can also be caused by a change from one contraceptive method to another. However, again this should resolve itself after approximately three months. If spotting continues after those three months are up, it is best to go back to your contraception provider for further discussion and review.
Missed pills – don't forget!
It is important to try and stick to the regimen. Although easily done, missing doses of the oral pill can cause spotting or breakthrough bleeding. This is due to the drop in hormone levels.
To mimic the menstrual cycle, taking the combined pill usually includes a pill free week. This is when you usually will have a period or a withdrawal bleed. This is again caused by a drop in hormone levels – the result is your period bleed. The ins and outs of taking the oral pill is something to chat with your doctor about. However, if you lean on the side of forgetfulness – perhaps pills aren't the best fit for you.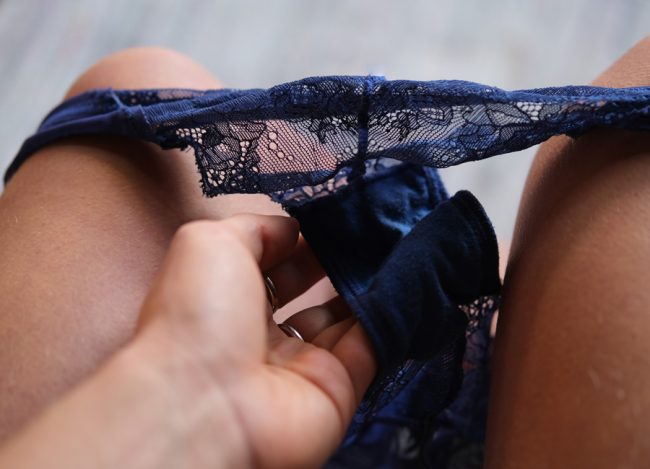 Hormonal Emergency contraception
Previously known as the morning after pill, hormonal emergency contraception can cause spotting. The significant change in hormone levels means spotting is a known side effect of taking emergency contraception. You may also get your next period early or late.
Perimenopause and menopause
Perimenopause is the time leading up to menopause. It lasts for around four years on average. However, the range is far and wide: while some of us will be in perimenopause for a few months, others can reach a decade. You are then considered menopausal after 12 months of not having a period.
During perimenopause your hormone levels will fluctuate from month to month and interfere with ovulation. This can cause irregular bleeding or spotting. Although spotting is not uncommon during perimenopause it should always be investigated by a doctor or gynaecologist to rule out a more serious condition or a specific gynaecological cancer.
Hormone Replacement Therapy (HRT)
No surprise here! Oestrogen and progesterone being involved in HRT, spotting or light bleeding can be experienced, usually in the first four to six months. In any case, you should discuss any spotting during your HRT consultation as tweaks in the therapy regimen or type may be needed.
Ovulation spotting
On the other hand, this one may come as a surprise. You might think you're high and dry in the middle of your menstrual cycle. However, a small percentage (approx. 3-5%) of menstruating people do see a little spotting during ovulation!
In the lead up to ovulation, your oestrogen levels rise steadily. Once the egg has been released, oestrogen levels dip, and progesterone levels begin to increase. The shift in balance between oestrogen and progesterone may cause the inner lining of your uterus to shed. This can cause spotting or a light bleed, sometimes accompanied by a little cramping – often on the side of your stomach the egg was released. Time to hug that hot water bottle!

Spotting in pregnancy
Pregnancy is generally a blood free zone for the nine-month stretch. So, understandably any bleeding in pregnancy can be worrying. There are many different causes for spotting depending on the stage of the pregnancy. However, the important message to take home is to check out any spotting or bleeding with your doctor or midwife immediately.
Let's explore a few causes of spotting during pregnancy:
Spotting in early pregnancy – implantation bleeding – One of the many amazing things that take place in early pregnancy is the developing embryo attaching to the uterine wall. This is called implantation. During this time – usually close to when you would have been expecting your period, some may notice a light bleed or spotting. This can sometimes be accompanied by pelvic cramping, similar to period pains. A light bleed in the first trimester of pregnancy is not uncommon, however it is important to alert your doctor or midwife as soon as you notice it.
Ectopic pregnancy – spotting can be one of the signs of an ectopic pregnancy. It usually happens around the sixth week of pregnancy but can also be a little later. This is when an embryo attaches outside of the womb, such as in one of the two fallopian tubes. Ectopic pregnancy is considered a medical emergency so urgent care is essential.
Miscarriage – light bleeding or spotting can happen at the beginning of a miscarriage, though it usually soon turns into heavier bleeding with clots. Early medical evaluation is always advisable.
Why are you spotting after sex?
This is a fairly common question with a few possible answers. One of the first things to rule out is a sexually transmitted infection (STI), such as chlamydia or gonorrhoea.
Your local sexual health clinic would ordinarily be able to offer appointments for screening. However, particularly in the strange times we find ourselves in, other options such as home testing kits are easily available and actually rather convenient! Other reasons why you might see spotting after sex include:
Damage to the vagina, such as tears to the skin caused by childbirth or dryness caused by friction during sex. Lubricants can help with the latter.
Vaginal dryness – the decline in oestrogen can reduce the natural lubrication of the vagina after menopause. This can make your vaginal skin fragile and vulnerable to tearing, and bleeding or spotting can sometimes happen as a result. Your doctor or menopause specialist should be able to recommend or prescribe specific topical treatments, that can help moisturise the skin.
Cervical Ectropion, or sometimes also referred to as a cervical erosion or eversion – bad choice of words, medical folk! Personally, I prefer the term ectropion – I guess I just I just don't like the thought of my cervix falling away like parts of a coastline… Joking aside, this is a fairly common condition though considered harmless. Cells that line the inside of your cervix grow on the outside. These cells are extra sensitive, which is why spotting or a bloody discharge can be seen either between periods or after sex.
A cervical ectropion can occur when hormone levels change, such as during puberty, pregnancy or when using hormonal contraception. An ectropion can usually be detected during a routine smear test or more closely during a colposcopy examination. In some cases, where chronic or heavy spotting is a problem, treatment may be offered under colposcopy.
Endometrial or cervical polyps – these are benign or non-cancerous growths in the womb or the lining of the cervix. Either can cause irregular bleeding or spotting and should be monitored by a specialist.
Gynaecological conditions
Research suggests that Polycystic ovarian syndrome (PCOS) affects 8-13% of women of reproductive age. Conditions like PCOS can bring about hormonal imbalances and these fluctuations can make a mockery of the term "bleeding pattern". Often there is no resemblance of a clear pattern at all, but instead unreliable, undesirable and unscheduled bleeding, which can also include spotting between periods.
Fibroids also belong to this list. Whilst they can cause spotting in between periods, there is a stronger association here with heavy and prolonged menstrual bleeding known as Menorrhagia. This can be significantly challenging to say the least, but you are not alone and there is help out there, so do reach out!
Gynaecological cancers
Spotting in between periods, or in menopause especially, is a common symptom of more than one of the five gynae cancers. However, let's silence the alarm bells for a second, there's a new dawn on the horizon with the exciting news, hot of the press, in the Lancet. A new study has found that 'the HPV immunisation programme has successfully almost eliminated cervical cancer in women born since Sept 1, 1995.' Whoop whoop!

However, even with these comforting tidings, we must not rest on our laurels. Rather than filing that envelope between a pizza takeaway leaflet and water bill – simply book that smear test when the invitation drops through the letterbox. Don't wait for the reminder! It's a team effort, the linchpin to preventing cervical cancer is also down to the ongoing cervical screening programmes.
In the meantime, if you have any concerns regarding a gynaecological cancer, please make the call and seek medical advice straight away!
You can read more about the five gynaecological cancers – and the symptoms to be aware of, here.
Spotting and using the Mooncup
Because the Mooncup® collects your flow rather than absorbs it, it can be great for both heavy and light period days. This can include the really light flow you may experience towards the end of your period. However, because period cups are only designed to collect menstrual flow, we don't advise using it to collect any spotting you might have during the rest of your cycle.
A quick summary: how to handle spotting – 5 simple ways:
First things first – Grab that re-usable panty liner to keep your underwear stain free!
Self-assess and evaluate – Feel empowered: knowing your own body, try and find out the cause yourself. You might not find the answer, but there's no harm in just getting the mirror out and having a good look and feel!
Determine the cause Think about what you have been doing and how you have been feeling in the hours and days before you notice the spotting. Then try and piece the puzzle together.
Record and document – Make a note of when the spotting happened, the type and amount of blood; what it looked like and whether you experienced other symptoms such as pain or discomfort.
Report – Don't procrastinate – make an appointment to see your doctor or gynaecologist to discuss your findings and experiences. Time is of the essence!
Fingers crossed, you will receive the relevant help and support you need. So, remember to reach out folks!
Did you enjoy this article? Head to this page's footer to sign up to our mailing list to be the first to hear about our blogs!