'Under Her Eye: Women and Climate Change'
Kath Clements
It was a real honour for Mooncup to take part in 'Under Her Eye: Women and Climate Change', an international Summit and Arts Festival at the British Library.   Being cast among such eminent players from a huge range of disciplines, all single-mindedly focussed on addressing climate change was both humbling and exhilarating: from policy making, science and technology to art, law, economics, business & manufacturing, design, and of course writing – with the event culminating in a brilliant conversation with the remarkable (and mischievous) ambassador, climate change activist and writer, Margaret Atwood.
The summit filled the British Library to the brim with content and connections that there's no way I could possibly do justice to in a short blog. There's still work to be done here at Mooncup HQ to keep playing our part in reducing that litter after all! – though, while it's fresh, I thought I'd share a few of the insights from some of the brilliant speakers for those who couldn't make it.
Christiana Figueres, Former UN Climate Chief, who delivered the ground-breaking Paris climate change deal in 2015 set the bar extraordinarily high in her opening conversation with Swaga Pattanaik, Global Economics Editor at Reuters.   While the enormity of the threat of climate change, as well as its disproportionate impact on women, can leave you feeling paralysed, this day was clearly going to help us move into the conversation with humour, humanity and hope.
We were soon let into Christiana's world, serving "her boss, the Atmosphere", a world in which perhaps humans would respond to the call for behavioural change with the urgency needed if we could only make the invisible visible (one of the central organisational purposes of the day's event organisers, Invisible Dust). As Figueres imagined, if we could only 'paint each molecule of CO2 in incandescent colours so they could be noticed day and night'.
Christiana is a self-professed relentless optimist.  When asked how she set the space for the positive outcomes that she helped to broker between so many players with divergent agendas at the UN Climate Change Conference in Paris, she spoke of first transforming the language that we use in negotiations and discussions around the subject:  calling for the use of constructive rather than combative language. Not a 'fight' or 'battle' against climate change, but 'addressing' climate change.  She brought a 'listening quality' to negotiations, truly hearing the individual needs from the representatives of each country participating, rather than the 'speaking quality' that tends to dominate.   In a moment's compelling candour she spoke of events in her own life having helped her to understand the journey from victimhood to healing being asked of participants in negotiating the agreement at large, particularly for those countries that had contributed least to today's global warming.
Yet mid the optimism and dedication to recognising our collective common ground, Figueres had bite.  To a questioner asking about why there was such an insistence on the possibly unrealistic target of a 1.5 degree temperature increase (relative to preindustrial temperatures) only, Figueres made it unequivocally clear that only that benchmark could give those in the developing countries worst affected by (and least responsible for) climate change a 50% chance of survival.  How could anything less be acceptable? Would you get on a plane with only a 50% chance that it would land?
The day, of course, was to swing between pessimism and optimism, with dystopian realities pitted against creative solutions.  In the gap there was a prevailing hope.
We were steeped in facts about the impact of climate change: on our air, water, soil degradation, food security and its potentials of mass migration and impacts on peace and security.
Why women? 80% of the dead registered in climate disasters are women.  In many countries, women are at the frontline: fetching water, caring for families and producing food, often on land prone to flooding, without Early Warning Systems in place or the ability to swim.  Why the inaction? At one point, MP and Green Party co-leader, Caroline Lucas, spoke of the maddening possibility that we could become the "only species to have spent all its time monitoring its extinction while not doing anything about it".
Each breakout session presented intriguing intersections between disciplines – across traditional silos like art/ science or policy makers/artists.  Such as one panel with an international lawyer, the CEO of a Renewable Energy Association and the CEO of a charity supporting artists to act on climate change.  In the mix, international lawyer Ana Stanič provided fascinating insights into the fossil fuel companies she's represented as well as where human rights and environmental law converge with energy law.
It was a privilege to talk about the environmental impact of disposables as well as Mooncup Ltd's work with charities and Not-For-Profits globally and in the UK, joining a panel with the brilliant interdisciplinary artist Maria Arceo and Gaby Edlin of Bloody Good Period, working to support refugees.  Waste Labs shared their beautiful design work and process, with design as material activism, repurposing waste glass to create the most exquisite, high-end interior materials from bar surfaces to tables and tiles.   There was the outstanding artwork of Kasia Molga, creator of Human Sensor, responding to breath and pollution. The scientific insight of Professor Joanna Haigh.  The visioning of Future Cities…. I could breathlessly go on. In every direction you turned, there was an enriching conversation to be had that would open up a new way of seeing things.
And Margaret Atwood's closing conversation with journalist & broadcaster, Samira Ahmed? How could it be anything other than compelling!  In exploring the reflections of society in the MaddAdamm Trilogy and The Handmaid's Tale, Atwood was cautionary, mischievous and inspiring, calling out the importance of writing as a cris de coeur for the future, with each act of writing one of optimism: from imagining that you can do it, to the fact that someone will read it, let alone like it.  Her love of birds and science seeped through the conversation, as did a rational, razor-sharp wit and instinct for imaginative, lateral-thinking solutions.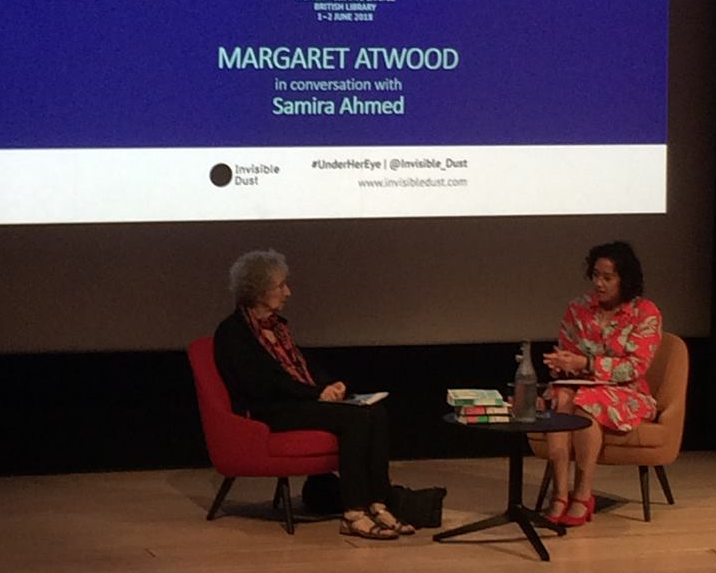 To close, Nikky Norton Schafau sealed the magic with a spoken word performance lacing together soundbites and insights she had picked up throughout the day.  I can only thank Invisible Dust that I and, those who were fortunate enough to be there, will be ruminating ideas shared with such open-hearted  intent at Under Her Eye for some time to come.
Find out more including the full programme of speakers at Under Her Eye
Read more on the Mooncup Blog
How is the Mooncup® menstrual cup environmentally friendly? 10 reasons