Top tips for an eco-friendly kitchen
Mooncup Ltd
The kitchen is sometimes called the heart of the home. But kitchens are also big energy gluttons, and it's the room where we're likely to produce most of our household waste. From shopping, to cooking and cleaning, there are lots of simple, small changes we can all make in our kitchens to be more eco-friendly. We've teamed up with Author and Journalist Karen Edwards to bring you some top tips for a planet-friendly kitchen – plus two yummy vegan recipes!
The "Grow Your Own" movement has really exploded in recent years. Many of us seek to avoid (where possible) supermarkets in favour of allotments, orchards, and local food markets – a clear positive step for our planet. We've even seen the launch of new initiative `AllotMe`, the Air BnB of the gardening world!
But other than sourcing local fruit and veg, there is a long list of ways to make your kitchen more planet-friendly. Karen's new book, `The Planet Friendly-Kitchen', is full of straight-forward tips to making small steps in your kitchen that will have a big and positive impact on our world. We're thrilled to be featuring an extract of Karen's book, where she explores all the top tips and healthy hacks for buying, cooking and eating more sustainably.
Planet-Friendly Kitchen – how to shop and cook with a conscience – by Karen Edwards

Effortless kitchen hacks
Establishing a planet-friendly kitchen is easy when you know how. Here is how to make the most of your produce, save energy and reduce food waste…
Top ten food storage tips
Place a paper towel in salad bags to soak up moisture and prevent spoiling
Store potatoes in a cool, dry place to prevent fast sprouting
Keep citrus and apples separate from other fruits as they can cause them to ripen quickly
Don't throw out overripe bananas – they are delicious in banana bread and smoothies or frozen to be blended into a dairy-free ice cream
Keep grains in airtight containers to maintain freshness
Garlic will last longer if stored in an open basket or paper bag
Store dairy at the back of the fridge, where the temperature is cooler
Store meat on the bottom shelf of the fridge to avoid juice dripping down and spoiling other foods
Keep cheese fresh by wrapping in a porous material to allow air in and moisture out
Fill your freezer. It will operate with more energy efficiency when full
The food waste dilemma
1 and 2 billion tonnes of food is wasted annually. That is around 30 to 40 per cent of our food.* And it isn't just the product that ends up in the trash – the water and energy used in the production process also goes to waste. In fact, the equivalent of 552 million Olympic-sized swimming pools' worth of water is lost annually through wasted food.**
Food is wasted when:
Edible fruit and vegetables don't meet strict physical characteristics set by supermarkets – usually size, shape and colour
It is damaged during transport and handling
Incorrect use-by dates are assigned
It remains uneaten after overbuying

Tips to reduce food waste
The art of planning ahead
A meal plan is a simple and effective way to prevent food waste:
Decide how many meals you will enjoy at home over the week, factoring in takeaways and leftover nights
Select planet-friendly recipes based on the time you have to cook. Choose meals that:

You already love
Share common ingredients
Are big enough to allow leftovers you can store and eat another day

Note the ingredients, then cross off what is already in your cupboards
Add basic planet-friendly ingredients such as rapeseed oil, unsweetened plant milk, potatoes, tomatoes, and dried herbs and spices. Finalize the list
Shop only for what you need to avoid overbuying
What a pickle!
Developed as a method of preservation, pickling prevents food from spoiling quickly and allows storage for months if refrigerated.
Shop at local markets for fresh fruit and veg that don't meet the aesthetic requirements of supermarkets.
Top ten energy-efficient cooking tips
Consume fruits and veggies in their natural state where possible – for example, rather than roasting carrots, grate them in a salad
Soak pasta and pulses before cooking to soften, reducing cooking time
Save on energy by steaming veggies in a colander over a hob already in use
Defrost produce naturally
Use microwaves for heating – they use less energy than stoves
Electric hobs are more energy-efficient than gas hobs. Boil water in a kettle rather than in a pan – it uses less energy
Turn off appliances – toasters, kettles and microwaves – at the plug when not in use
Use the appropriate-sized pan for the volume of water you need
Ovens use more energy than hobs – batch-bake to avoid daily use
Cook as much as possible in one swoop – and freeze the leftovers
Karen's planet-friendly recipes
Bean burger with carrot fries
Don't fall for the myth that all hearty burgers must be meat-based. This protein- and vitamin-rich vegan alternative to the classic burger and fries is the perfect go-to dinner on a lazy night in.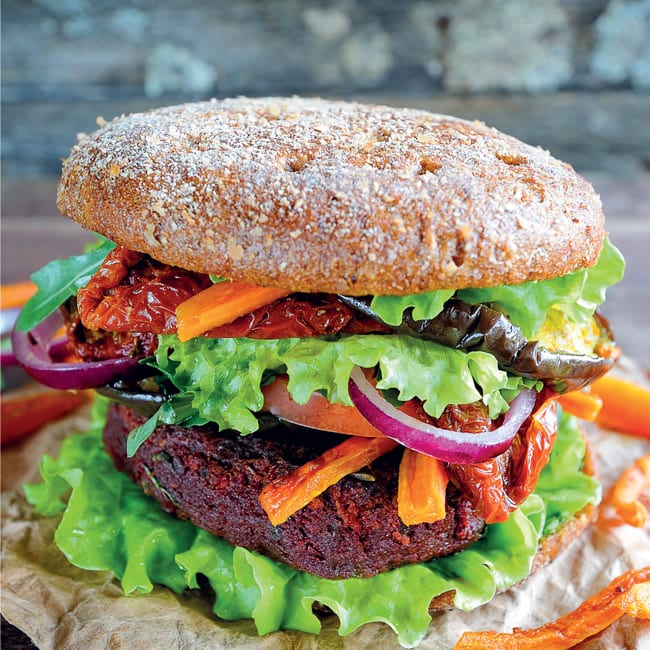 Serves: 2 • Preparation: 15 mins • Cooking: 30 mins
Vegan
Ingredients
250 g peeled carrots
2½ tbsp organic olive oil
½ red onion
2 peeled garlic cloves
1 deseeded red chilli
400 g drained kidney beans
½ tsp oregano
5 g chopped parsley
1 stale wholemeal bun
2 wholemeal buns
Handful of lettuce
¼ sliced cucumber
170 g pickled cabbage (see page 110)
Method
Preheat the oven to 220°C/425°F/gas mark 7. Chop the carrots into chips and spread over a baking tray, drizzling with ½ tbsp of oil. Season and roast (approximately 30 minutes). Meanwhile, fry the onion, garlic and chilli in 1 tbsp of oil, until soft. Pulse with the beans, herbs and old bun in a food processor (not a blender) until smooth. Shape and fry two 2-cm thick patties using leftover oil, until crispy. Once the carrot chips are cooked, slice two buns in half and place open in the cooling oven for 5 minutes or until lightly toasted. Build the burger: lettuce topped with a patty, cucumber and pickled cabbage. Serve the carrot fries alongside.
Crispy potato-peel chips with sweet butternut squash dip
A fantastic way to combat food waste, plus the potato peelings can be swapped for sweet potato, carrot or parsnip peelings if needed. This yummy chip and dip recipe can be served as a snack or a side.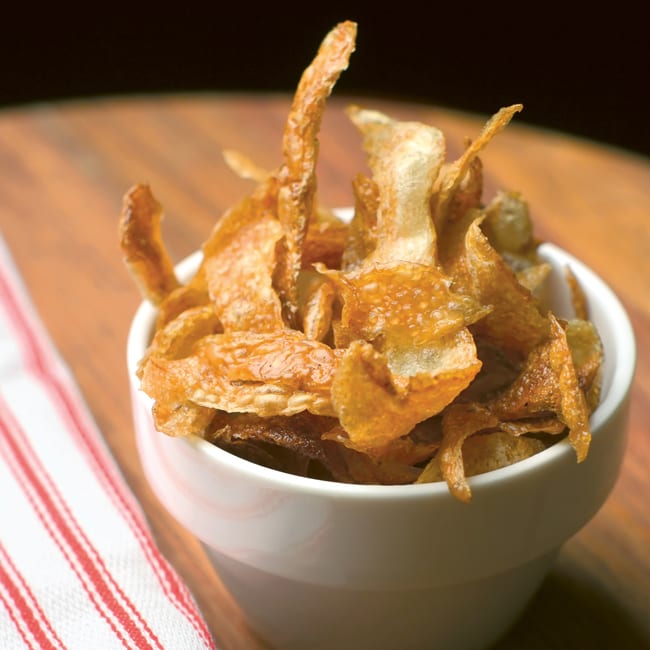 Serves: 2 • Preparation: 5 mins • Cooking: 15 mins
Vegan, gluten-free
Ingredients
For the dip:
250 g peeled, deseeded and chopped butternut squash
½ tsp coriander seeds
½ tsp cumin seeds
115 ml apple cider vinegar
100 g sustainable sugar (from beets)
Salt and pepper
50 ml water
For the chips:
Leftover potato peelings
Sunflower oil
Method
To make the dip, add all the ingredients into a small saucepan and simmer. Once the squash is tender, pour the mix into a food processor and blend until smooth. If too thick, add a little water and blend further. If too weak, return to the heat and simmer to a sauce consistency. Store the cooled dip in the fridge for up to 10 days.
To make the chips, wash leftover peelings and pat dry with a clean tea cloth. Add 1 cm of oil to a frying pan on a medium heat and fry the peelings until crispy. (Tip: Fry in smaller batches to avoid sticking.) Drain the chips on a paper towel. Season and enjoy with the squash dip.
Buy Karen's book
The Planet-Friendly Kitchen by Karen Edwards is published by Summersdale Publishers, £8.99. Get yourself a copy Bookshop.org to start greening up your kitchen.
Have a planet-friendly period with the Mooncup menstrual cup. Find out more and buy yours here.
If you have any questions about the Mooncup®, please feel free to contact us here.
Read more on the Mooncup blog:
How to have a vegan period?
10 bathroom swaps to reduce your plastic waste
Eco-friendly tips for a greener home
How is the Mooncup® menstrual cup environmentally friendly? 10 reasons
How to choose the best menstrual cup for you
What kind of person uses the Mooncup?
Statistics sources:
*Source: Food and Agriculture Organization of the United Nations.
**Source: National Geographic, "365 trillion gallons of water thrown away with our food every year" (September 2010).