Mooncups in Nepal: Working with the Blind Women's Association and NERF
Mooncup Ltd
At Mooncup we're proud to support many charities and not-for-profit programmes all over the world.
We have a charities team who meet up regularly to discuss the many applications we receive from passionate individuals and organisations – keen to get Mooncup® menstrual cups to people in desperate need.
As an ethical business we are very interested in partnering with different charities, whether they be larger, more well-known charities such as The Marine Conservation Society or smaller, lesser known projects run by grass-roots organisations…
That's why when Alba Gomez got in contact with us a few years ago, to tell us about the charity she co-founded, The Nepal Earthquake Recovery Fund, we were intrigued to explore how we could help.
After the Nepal Earthquake in April 2015 the charity was set up to assist the many Nepali people who were suffering as a result of the disaster. There were over 9,000 reported deaths, more than 22,000 injuries, and hundreds of thousands people left without shelter. On top of this there were subsequent landslides, outbreaks of illness, and an influx of sex traffickers preying on female survivors.
It is a sad reality that natural disasters in very poor and politically paralyzed nations often result in a drawn out aftermath of disastrous effects. And unfortunately, due to the country's economic hardship as well as the political issues within the country, Nepali people are still severely struggling today years after the earthquake hit.
On-going projects run by NERF
The Nepal Earthquake Recovery Fund have been working tirelessly to raise funds for on-going projects for those who have suffered personal and economic hardship following the earthquake. They pay particular attention to rural areas, women & children, and marginalised groups.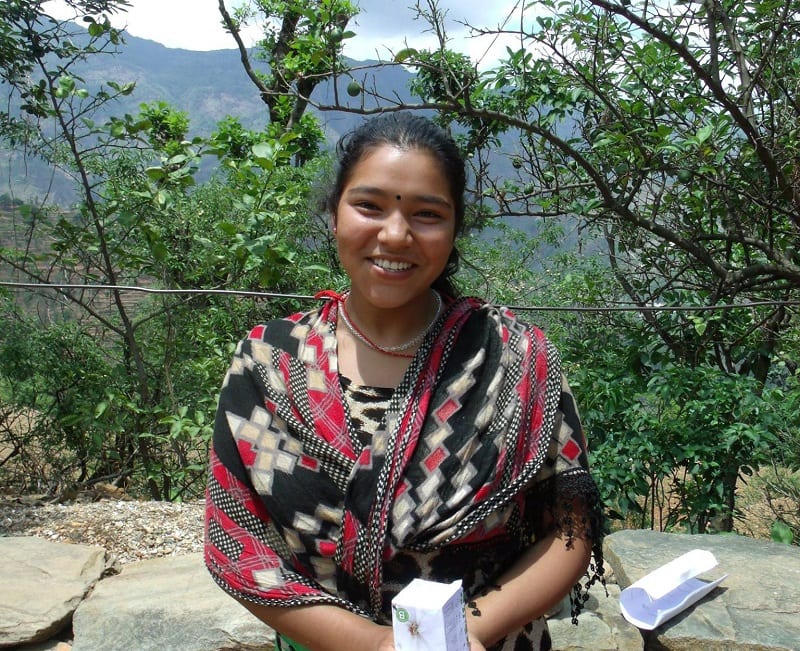 You can find out more about the different Mooncup Female Health projects NERF have been running since March 2016 over on their website. Projects have taken place in multiple remote villages with local women, as well as with drug affected and trafficked women in Kathmandu. NERF also set up a menstrual health team based in Kathmandu who provide education and information to local women.
You can read more on the Charity Support section of our site.
Pilot Project – Mooncups for Blind Women in Kathmandu
Our Marketing Assistant and avid traveller Lucy, wanted to visit Nepal and see the great work NERF were doing. Along with the other co-founders David, Geraint and James, Lucy hatched a plan to visit blind women in Nepal – running a pilot project to introduce them to the Mooncup® menstrual cup…
Blindness in Nepal
Blindness is a massive problem in Nepal due to the lack of basic healthcare available to so many. It is generally estimated that about 1% of the population Nepal falls into the BPS (blind & partially sighted) category, with the population currently estimated at approximately 28.9million. Cataracts are the leading cause of blindness, accounting for over 80% of all avoidable blindness. Mooncup menstrual cups were identified as a healthier option for the blind women at the Blind Women's Association Hostel who were previously using rags for their menstruation.

The Mooncup workshops ran alongside the experienced Nepali staff of BYAN including psycho-social counsellor, Parvati.
Read on for an extract from Lucy's travel journal to see how she got on in Nepal…