Mooncup education pack brings period education into 21st century
The Mooncup team
Mooncup creates an inclusive and stigma-busting free resource for primary and secondary school teachers in the UK
Education about periods only became a compulsory part of the school curriculum in England in 2020. This is a step in the right direction, but it's only the start.
Feedback from teachers, parents and pupils has been clear: there are many gaps in existing menstrual health education. So, we at Mooncup reached out to Terri Harris and Lily Hatcher, experts in inclusive menstrual and sexual health, with a big task: to develop a fresh, engaging and relevant curriculum-related resource for teachers to use in classrooms across the UK.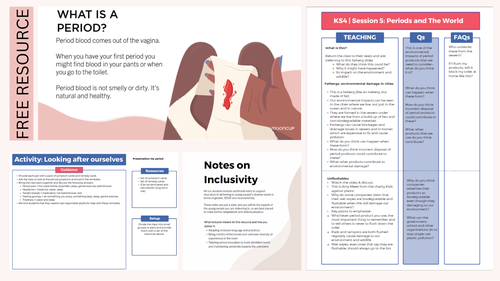 Period education needs to move beyond biology
A ground-breaking Let's Talk Periods project from charities Plan International and Brook looked into young people's experiences of period education.  And the message was loud and clear. Young people felt like their current education was focusing too much on the biological elements of menstruation.
Anyone with periods knows that menstruation involves so much more than knowing your 'follicular' from your 'luteinising phase'. Young people participating in the Let's Talk Periods survey said that they want to learn about the embodied experience of periods, like cramps and hormonal changes, as well as how to deal with them.
Knowing your cycle can be a key to knowing yourself. It can be a real ally in understanding and working with the different mental, emotional and physical changes your body goes through throughout your life.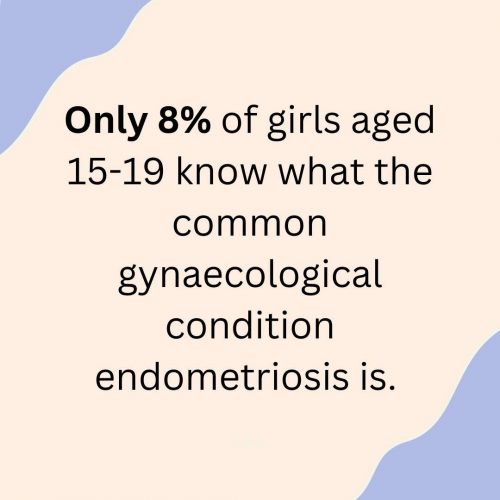 Learning what is normal, and when to seek help
Talking openly about the menstrual cycle and learning about aspects like period pain, flow and duration can encourage young people to seek help when needed. It will also help them to recognise possible menstrual health conditions.
Young people want to learn. But only 2% of young people aged 16 and 17, said they have enough information about gynaecological conditions according to the survey commissioned as a part of the government's Women's Health Strategy for England.
Tackling period poverty through education
Period poverty is caused by a 'toxic trio': the cost of products, a lack of period education, and stigma around periods. If we believe in a culture and environment that supports girls, women and people with periods, we need frank and stigma-busting menstrual health education.
The best way to debunk these taboos is to encourage an open dialogue and unashamedly talk about these topics. Our Period Education resource includes many opportunities for discussion about our society's attitude towards periods. Myths about periods are also busted in standalone activities.

Periods and the environment
Each of us uses around 11,000 disposable periods in our menstruating life. This number comes with a huge environmental impact.
Our Period Education pack is designed to help young people understand the environmental impact of different products and make informed, individual choices.
We do not want to foster climate anxiety, but we believe that equipping young people with key facts about all of their period product options will empower them to make informed choices that are right for them.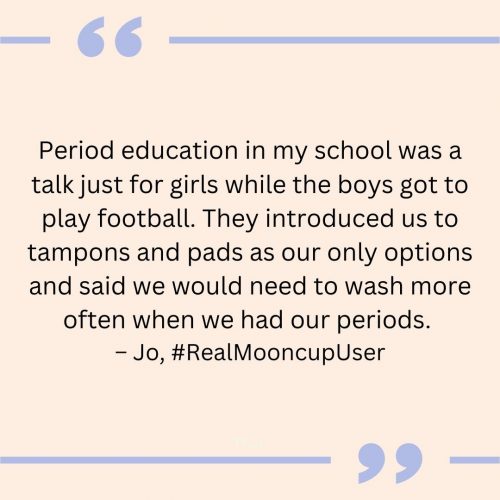 Inclusive period education
We have designed the resource to flex to support learners' diverse needs including gender and cultural inclusivity, SEND  and neurodiversity.
Historically students who have SEND (Special Educational Needs and Disabilities) or are neurodiverse have been left behind in terms of menstruation education. We believe that menstrual education belongs to everyone and we have done our best to create materials that are accessible to SEND and neurodiverse young people too.
All the lesson plans include additional notes to support educators in delivering to young people's diverse needs.
The primary and secondary school Period Education Pack by Mooncup includes:
Three key stage (KS2, KS3 and KS4) related resources built around a spiral curriculum.
We have made this resource as practical and easy to use as possible. Each key stage resource will include a set of six sessions including classroom presentations, teaching guidance and lesson plans. The classroom presentations and activities use a variety of content from TikTok, Instagram, YouTube and podcasts.
Standalone activities
Further reading lists relevant to each topic
Teachers are able to download the Period Education Pack here (only available for educators).
Read more on the Mooncup blog:
Top menstrual cup tips for a first-time Mooncup® user
How is the Mooncup® menstrual cup environmentally friendly? 10 reasons
The four seasons of your menstrual cycle & how to make the most of them
Olympian Lauren Smith: we need to break the taboo around periods and sport & her tips for training around your cycle