From Amy Winehouse's VaJew-Jew to a horse owner offended by a menstrual cup – looking back on 18 years of the Mooncup®
Mooncup team
No two days are the same when you work for a trailblazer like Mooncup Ltd. We sat down with Mooncup Directors, Eileen Greene and Kath Clements, to look back on 18 years of changing the "sanitary product" industry and smashing the period taboo.
How and why was the Mooncup menstrual cup born?
Eileen: I first heard about reusable menstrual cups in 1999 at a Critical Mass Bike Ride. These early cups were made of tough rubber, hard to come by and strictly for the adventurous.
In 2000, I met Su Hardy who was travelling around Australia with her husband, young daughter, a bucket and stash of washable nappies. I shared the menstrual cup 'secret' with Su. The environmental and practical advantages of a reusable menstrual cup struck a perfect chord with her and in 2002 Su started Mooncup in her spare bedroom.
Since then of course, the Mooncup® secret has spread like wildfire, and the menstrual cup has moved from a 'hippy' alternative to the go-to period product.
Our (then) Marketing Coordinator Lucy talks about the Mooncup on 'First Dates' in 2017.
Mooncup annual beach clean in Brighton with the Marine Conservation Society. 2019.
In 2020 the state schools in England are given are budget to offer free period products to their pupils, including the Mooncup!
Every year since 2002 we've set up our stall at Glastonbury, stickered the toilets and chatted with thousands of curious people about periods, vaginas and environment.
In 2013, we decided to take the battle to the toilets- our natural habitat! Watch the Mooncup crew take on team Tampon in a rap battle for periods everywhere.
It's not only the menstrual product market that has come a long way, our packaging has too...
The Mooncup Period Drama campaign, 2017. The owner of the horse originally casted, didn't want his animal associated with "such a product".
Comedian Lily Phillips sings about her love for the Mooncup in a giant Mooncup cocktail glass in 2017.
In 2020 we invited six #RealMooncupUsers to Brighton to chat about their experience with the Mooncup - and all things period!
The UK is encouraged to Love its Beaches and vaginas in 2011.
Mooncup re-branded in 2019 to reflect the product's position as the leading original silicone menstrual cup.
Due to popular demand, Boots starts stocking the Mooncup in 2005. The new packaging was designed to normalise our game changing reusable option: to sit 'quietly' next to tampons and pads on the 'feminine hygiene' aisle.
Our "Love Your Vagina" campaign in 2010 caused a stir! It saw massive posters around the London Underground featuring names we use to lovingly describe our vaginas.
What was the initial reaction from general public / media?
Kath: Of course, there were some people who got it straight away and were curious to give it a go, but there were certainly a lot more reactions that involved revulsion – even a fair few shudders. Not only were we wanting to talk about periods , but explore the practicalities of dealing with them!
The Mooncup community has played a big role in spreading the word about the revolutionary new way of managing your periods. Who were the first real Mooncup users? And how has that demographic changed over the 18 years?
Kath: The first customers were 'deep green', environmentally minded.  There were a lot of eco-focussed mothers too. Their periods had stopped during pregnancy, they'd had time to reflect and then consider their choices for their babies: whether they felt they could use reusable nappies or flannel wipes. Many had moved to choosing more natural baby lotions and products. When their periods returned it was like they had been given a second chance to start their periods on their own terms- and they weren't going back!
Thankfully, over the years, environmental concerns, interest in health and wellbeing, and a questioning of our consumer habits have all become more mainstream. The spell of the period taboo has been shaken up. And so has the idea that we only have one option: to spend money every month on throwaway period products.
There are no stereotypical Mooncup users. Our community is one of all ages, races, and gender identities. They have all decided to take the leap for different reasons that are in line with their views: from health, to wanting life to be more convenient, or needing to save money.
It's really exciting to see more and more younger Mooncup users too. And knowing that our beaches are being saved from their lifetime's waste, and their bodies from the pesticides in conventional cotton….
Let's talk about the period taboo! What role has Mooncup (as a company and users) played in challenging the menstrual stigma?
Kath: Our early work was all about chipping away at the taboo around periods, playfully challenging the 'yuck' factor, and raising awareness of the issues with disposables. We wanted people to make an informed choice about their period products.
As a small ethical business selling a one-off purchase, we haven't got the multibillion-pound marketing spend of disposable sanitary product giants. Right from the start we've been committed to not buying into the shame, secrecy or embarrassment of old-school feminine hygiene advertising, either.
Our first campaign, Love Your Vagina, caused a massive stir, and looking back it's easy to see that it marked a real shift in the industry and its approach to communications and advertising. The aim was to transform the conversation and break the taboo around talking about vaginas (and how we look after them), periods and sanitary protection.
How has the period product industry changed over 18 years?
Eileen: In the last five years new companies, and even some industry san-pro giants, have seen the commercial opportunities in the reusable cup market. However, it is clear that many don't operate with the same environmental or customer care ethics as we do.
It's vitally important to us to continue to manufacture in the UK, to ensure the highest quality standards and reduce environmental impact. Our product has not changed because we know our customers want a high-quality cup that is as simple and safe as possible, free from bleaches, dyes or toxins.
Over two million Mooncup users around the world swear by their trusted cup companion. We can't wait to meet the next generation of #RealMooncupUsers, saving the world, one period at the time.
What's your favourite Mooncup memory/proudest Mooncup moment?
Kath: I like the ones where we came across resistance and have known quite how far we still have to go! An early one was not being allowed to use an illustrated image of a tampon in a print ad we'd made for the London Underground.
Another one was, when we were casting for our Period Drama advert- which involved a horse in classic period drama style. Once the horse owner discovered the 'kind of ad' his proud steed was going to appear in, the owner pulled the horse – he didn't want period products to sully his horse's reputation! Luckily, we found a more open-minded horse to fill his shoes/hooves!
Amy Winehouse getting involved in our Love Your Vagina campaign has got to be one of the highlights too… as were winning the Best Green Business and Best Place to Work too!
Eileen: It's always been a privilege chatting to people and hearing their period stories at festivals and exhibitions over the years. I don't think I'll ever forget introducing the Mooncup to Vivienne Westwood when she visited our stall at Glastonbury in 2014!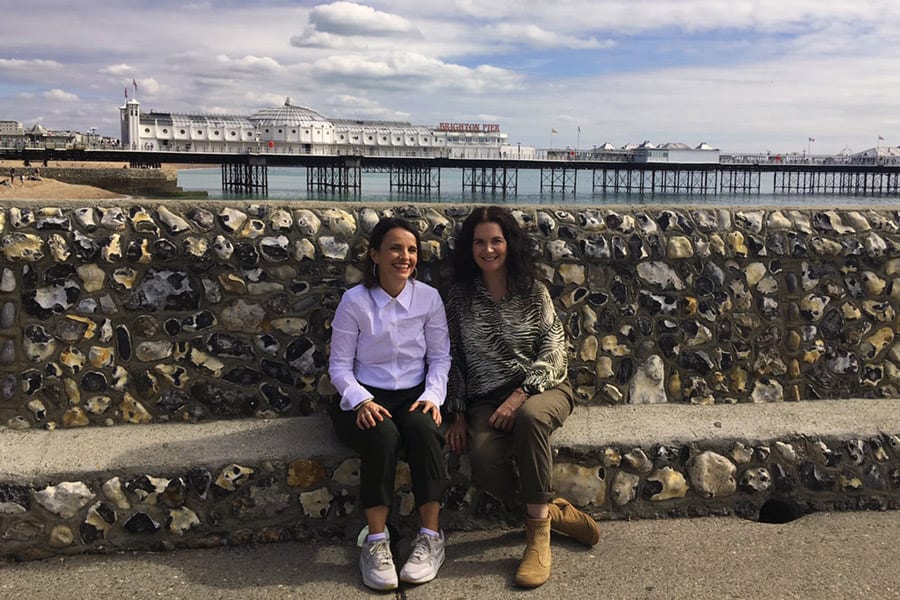 How does being an ethical business impact the ways Mooncup operates?
Eileen: As a company, we have always been motivated by sustainability not exponential profit at all cost. For 18 years, Mooncup has been transforming the period product industry and breaking the menstrual taboo. We're proud to manufacture and sell a top-quality product which is better for our bodies and the planet.
We're proud to support many menstrual health projects globally. We are working with several programmes, charities and not-for-profits both in the UK and globally and are actively involved in educational programmes changing the way primary and secondary schools in the UK teach young people about periods.
Mooncup Ltd has also been an Employee Owned business since 2014. It makes perfect sense that a company manufacturing a sustainable product should adopt a more sustainable business model too.
Why do you think Mooncup has been such a popular product?
Kath: How could it not be? It's an authentic must-have product that just keeps doing its job for you. It's empowering, healthier, saves you money, is freeing and convenient….
In a world with so much demand to keep buying more and more, it's just so positive to step out of that cycle in at least one part of your life. And knowing that you're buying from an ethical British business, run by women, with the customer at its heart – it just makes sense.
Find out more about the Mooncup menstrual cup and buy yours here.
Head to our reviews page to check out what #RealMooncupUsers have got to say about their experience with the Mooncup.
If you you have any questions about the Mooncup, please feel free to contact us here.
You might also be interested in:
How to choose the best menstrual cup for you?
What do 18-year-olds really think about the world today?
What kind of person uses the Mooncup?!?
Why we're going to miss Glastonbury so much this year!