Meet the teen activists fighting the war against plastic pollution
The Mooncup team
Here at Mooncup Ltd, it's been our mission since 2002 to turn the tide on period plastic. Nothing has made us happier than seeing a new generation of eco-activists rise up and join the fight against single use plastic. They are fierce, they are smart – and they are sounding an alarm. We got in touch with Amy Meek, co-founder of Kids Against Plastic to learn more. 
The story behind Kids Against Plastic
At what age did you become aware of the importance of reducing our plastic consumption, and what was the tipping point that made you launch Kids Against Plastic?
I became aware of just how great of an issue plastic pollution is when I was 12 years old, back in 2016. At the time, my parents were homeschooling me and my sister while we were travelling around Europe, and as part of our 'road-school' curriculum we studied the UN's Sustainable Development Goals. It was through these goals that we discovered plastic pollution, and the devastating impact our plastic habits are having on the environment. This was quite a few years ago, almost two years before Blue Planet II and the media explosion around plastic pollution that was brought along with the series. We were shocked by the little coverage and widespread public knowledge there was regarding plastic pollution, and we decided we needed to do our bit to make a difference on the issue – so we did, and founded Kids Against Plastic!
What would you say has been your biggest "win" in the time you have been running Kids Against Plastic?
That's always a hard one! From a personal perspective, some of my biggest wins are definitely being able to speak at locations like TEDx Exeter, the UN headquarters in Geneva (always a dream of mine!), and the Houses of Parliament – I love public speaking, and being able to speak to such a range of people and at so many incredible places is definitely a highlight of campaigning for me.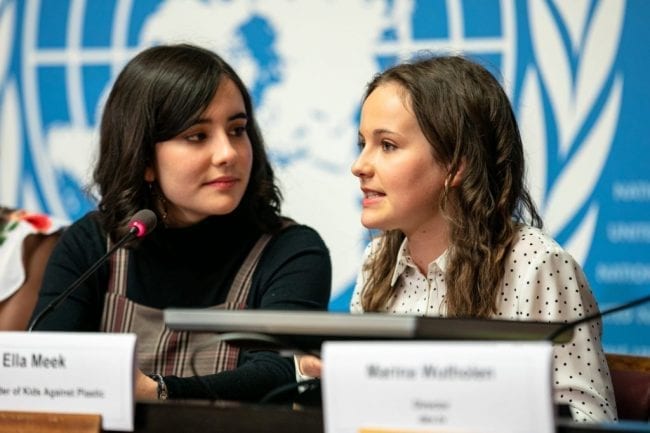 From a charity perspective, getting over 900 schools signed up to the Plastic Clever schools initiative is a win for us – we spent a lot of time working on the initiative to make it the most achievable and useful scheme for schools possible, so it's amazing to see that paying off. Having over 50 young people as part of the Kids Against Plastic team is also something we're really proud of, as working with young people to help them make a difference is such an important part of what we do, and certainly the most rewarding!
The Plastic Problem
You have done a lot of work with schools through your 'Plastic Clever Schools' campaign. What items have you found are the "worst offenders" in schools in terms of plastic pollution? Are there any easy fixes that can be made?
The worst offenders when it comes to plastic tend to be the same in pretty much any sector – it's reflected in the fact that they're in the Top 10 of ocean pollutants despite being predominantly used on land! We call them the Big 4 plastic polluters – plastic cups and lids, straws, bottles, and bags. The good news is, it's pretty easy to cut these items out of our lives!
We always encourage the use of reusable items instead – so, just fill a reusable bottle with tap water instead of buying it in bottles from the school canteen (often, the water in bottles is just glorified tap water anyway!). Or, avoid bags by bringing your own reusable one. They're simple, cheap ways to reduce the amount of single-use plastic you use, and yet they can actually make a big difference in the long run, especially if more people did the same!
As you are both now in your teens, do you find there is much awareness amongst your peers about plastics in period products, or is there still a lot of work to be done on that front?
There's definitely more awareness on plastic pollution widely among people our age, and a recognition of how we should be reducing the amount of plastic we all use. But I think that with regards to plastic in period products, there's still a long way to go. Plastic in disposable sanitary items is a hidden menace, similarly as it is in teabags or chewing gum – if you aren't actively aware of the plastic you use, it's hard to spot the plastic in these products. There's a growing movement away from the obvious single-use plastics, like bottles or straws, and I hope that with increased education, we'll see similar action with regards to reducing usage of plastic period products.
At Mooncup Ltd, we've been fighting against single-use plastic since 2002 by offering a plastic-free alternative to tampons and pads. However, we know that disposable menstrual products are still the fifth most common item found on Europe's beaches. What do you feel is the biggest obstacle for young people when switching to sustainable period products?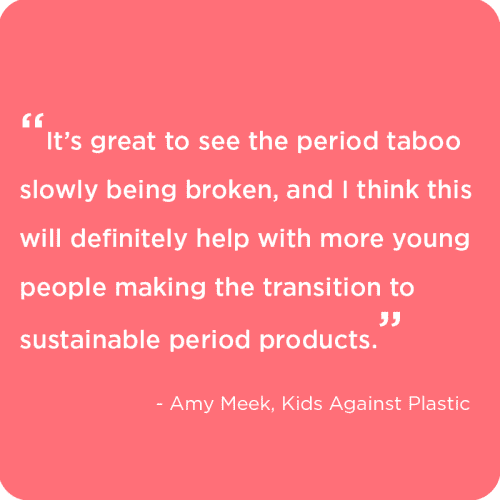 Probably the unknown. Changing to reusable period products isn't normally as easy as just picking up a plastic bottle to refill – it's about finding a suitable alternative that suits your lifestyle. It doesn't help that periods (plastic usage in periods in particular) are not something that is widely talked about, a problem that certainly needs to, and is starting to, be addressed. It's great to see the period taboo slowly being broken, and I think this will definitely help with more young people making the transition to sustainable period products – the more that we talk about the alternatives that are out there, the better.
Plastic Clever Periods for Plastic Clever schools
In January 2020, a free period product scheme was launched in state schools and colleges in England to tackle period poverty. For the first time ever, the Mooncup menstrual cup and reusable pads are now also available free of charge alongside disposable pads and tampons. To date, over 60% of schools have still not signed up to the scheme, even though it is free!
You have instigated a lot of change through your school campaigns, do you have any tips for kids, parents/guardians, and teachers for getting through to the schools and convincing them not only to engage in the free period product scheme, but to make sure they offer reusable products too?
Student voice is something that is really powerful, and I think that the most potent change in schools comes from young people. Especially with an initiative such as the free period product scheme, which directly affects and benefits young people, having the students demand the change is definitely the most powerful way to engage with schools. It also means that proper behavioural change will take place, and shows that pupils are engaging with the initiative – it's not just something that is being forced upon them.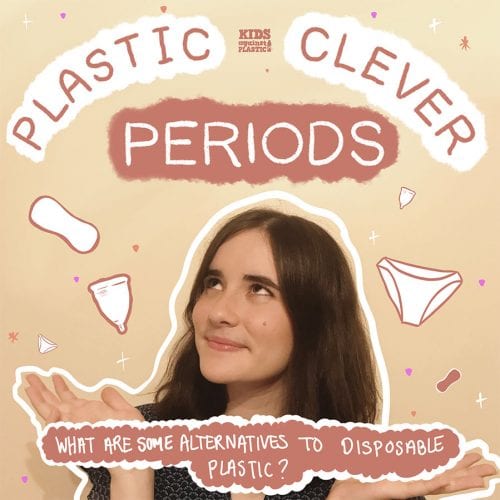 In order to get the school's buy in for going plastic clever, you need grown-up allies. Have you got any tips for finding the right people for this in your school?
Think about what action you want to see taken at your school, and work from there. When we were working with our school to help them reduce their plastic usage, we knew that we wanted to see less plastic being sold in the school canteen – so, we arranged to speak to our school's business manager, who had the potential to make a difference on this issue.
Now, this can be a bit daunting and sometimes hard to arrange, so you could also consider speaking to your form tutor, or another teacher that you speak to on a regular occasion, to help you find who to speak to. Otherwise, you could go straight to the top and write a letter or email to your headteacher! The key thing to remember is that even though it might seem a bit scary to speak to or arrange to meet with your teachers, they work in a school for a reason – to support young people! You'll often find that your teachers are happy to see students taking initiative and making a positive difference for what they're passionate about.
From your campaigns, how would you rate kids' environmental awareness versus parents'?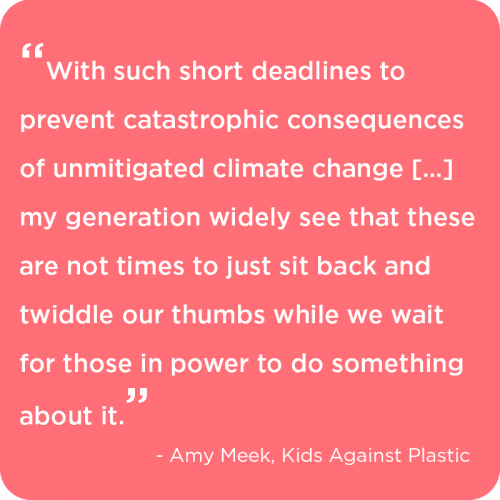 I think that there's a high level of awareness in all generations – after all, campaigning to protect the environment is far from a modern concept! But, I think that awareness is particularly high at the moment due to the tool that we pretty much all have at our finger tips – social media. Particularly for people in my generation, the rise in social media has helped to raise awareness on environmental issues, and the more people that are aware and shouting about something, the more it spreads.
But, one of the distinguishing factors between generations with regards to environmental issues is the urgency shown by younger people. With such short deadlines to prevent catastrophic consequences of unmitigated climate change, and with millions of tonnes of plastic entering the oceans every year, my generation widely see that these are not times to just sit back and twiddle our thumbs while we wait for those in power to do something about it. We see that our futures will be directly impacted by the actions we take now – or, rather, the lack of them – and that really drives the rise in the number of young people making their voices heard on environmental issues that we see in current times.
From your own personal experience and the work you have been doing, are there any thoughts you would like to share with parents about raising an environmentally-conscious child? Or a child raising an eco-minded grown-up??
Education is so important. Read books and watch films together about the environment, take long walks in a local park and see how many species of bird you can spot – if you don't grow up understanding and appreciating the natural world, how can you be expected to care about protecting it?
Also, don't feel like you have to take extreme steps, such as going completely plastic free, in order to make a difference at home! Feeling the pressure to go from one extreme to the other can end up making you do nothing at all, and it's definitely more beneficial to start small and make manageable changes to be more eco-friendly. Work together, discuss ideas (young people have some of the most creative ones, so listen to them!) and build up from there.
Other than the schools themselves offering plastic free period products, do you have any tips for small steps individuals can take to create change in their school?
Start by raising awareness; put up posters, or do an assembly. In order to encourage people to make a change, they need to understand why and what you're passionate about!
Get support! Whether it's from teachers or fellow students, having other people supporting you on your mission helps you to make a bigger change – it also means you're not on your own. Getting your school eco-council involved is a great place to start.
Have a clear focus in mind of what you want to achieve. You can start small, but having a goal to work towards gives you a focus to help you take the first steps to making a difference, and is something to pitch to any teachers/decision makers you want to get involved.
If you could say one thing to convince kids, parents, teachers, and their schools to go plastic clever, what would it be?
Ultimately, we're all a part of the plastic pollution problem, through our daily lives and habits, so we all have an important part to play in clearing it up. And we all need to do our bit to address this issue urgently, even if it's just by taking small steps to make a difference. The most important thing is not doing something huge to help the planet – it's about doing something now.
Get more plastic clever with your periods – Buy your own Mooncup® menstrual cup
Read more on the Mooncup Blog:
Pandemic is no excuse to give up our fight against single-use plastic
How Mooncup is Turning the Tide
Did someone say free period?
Government backed scheme offers free access to period products in schools – including the Mooncup®