How to keep your vagina and vulva happy & healthy
Nicky Sadofski, Mooncup Advisor
Top 10 tips on how to take care of your vagina & vulva
Lady garden, minnie, vajayjay and muff are just a few of the affectionate names we may use. But do we all know which 'bits' we're actually talking about? And could all this beating about the bush mean we may not be fully clued up on how to properly take care of our vaginas?
According to the survey by UK gynaecological cancer research charity, The Eve Appeal, only half of the women interviewed were able to correctly label the vagina. 65% said they had a problem using the words vulva or vagina. And nearly 40% of 16 to 25-year-olds resorted to code names like 'lady parts' or 'women's bits'.
How familiar are you with your genitalia? Get ready to get up close and personal as Mooncup® Advisor Nicky gives us the low down on what's what down there. Nicky also shares her top tips on how to properly take care of your vagina and vulva.
Know your vagina from your vulva
Interestingly, we often hear from new Mooncup users who say that say the experience of learning to use the Mooncup menstrual cup is also an insightful and enlightening self-anatomy lesson. Time to get the map out and explore the female form in all its glory! You might want to get a mirror out for the next bit.
What is the vulva?
Despite the many metaphorical nicknames we use for our so-called parts, there is a clear anatomical distinction to be made between the vulva and the vagina.
Plainly speaking, the vulva refers to the outer or external parts of the female urinary tract and reproductive system.
Before we can best care for down there, surely it helps to know what's what, and where? Lets take a minute to examine the vulval order of things from top to bottom.
Mons pubis – This mound of fatty tissue is usually covered with pubic hair from puberty, and provides a little padded protection over your pubic bone.
Clitoral hood – A fold of skin covering and protecting the clitoris, a bit like the male version of the foreskin.

Clitoris – Rich in nerve endings, the sensitive clitoris may look like a small bud, but there is more to it than meets the eye, with most of the clitoris being internal and hidden. When stimulated, the clitoris fills with blood and is likely to be a big contender in the sexual pleasure arena.
Urethra – Commonly known as the pee hole, the urethra is a small opening just below the clitoris. Connected to your bladder, it's basically the tube that carries pee outside the body when duty calls.
Labia majora – Also known as the outer lips. Long folds of skin surrounding the vulva, usually covered in pubic hair, starting from the mons pubis down to the vaginal opening.
Labia Minora – Also know as inner lips. You'll find these folds of skin between the labia majora, starting from clitoris and extending down to the vaginal entrance. Remember, each of us looks different. Labial skin will vary significantly from person to person, some are long and protrude beyond the outer lips, while on others they do not. Each is unique, and neither is more 'normal' than the other.
Vaginal opening – Below the urethra is the vaginal opening and entrance to the vagina.
Vagina – A flexible and muscular tube-like structure which connects to our cervix (neck of uterus) and uterus and is where we menstruate and give birth from. The vaginal canal has a mucus membrane lining which is similar to the tissue inside your mouth. Layers of elastic tissue allow the vagina to expand during sex or giving birth. During the menstrual cycle there is a lot of hormonal activity which is why we might notice changes to our vaginal discharge.
Perineum – This is basically known as the area between your vagina and anus.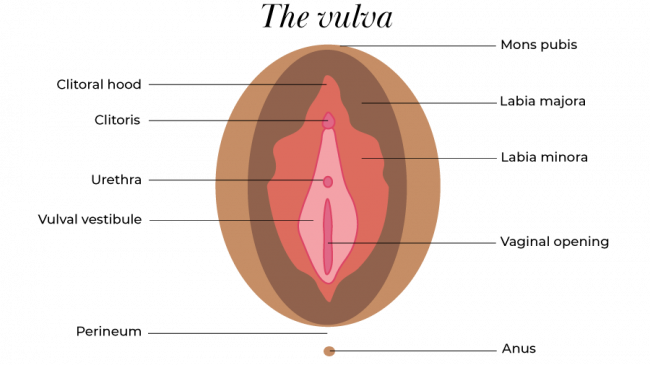 Celebrate vulva diversity
It should go without saying that just like any other part of the body, our vulva comes in different shapes, sizes and skin colours, some covered with more pubic hair, some less. We're all just different variations of unique.
Now we're on first name terms, the question is – how can we properly take care of our vaginas and vulvas? From working in sexual and reproductive health for over two decades, my experience is that we all have different approaches. The temptation to buy the latest highly-scented vaginal wash, panty liner, or even toilet paper is very popular now. Powders, fragranced wet wipes and 'intimate' deodorants are presented with the notion that they are necessary for "freshness". Who doesn't like to smell good? But at what cost, and are we actually doing more harm than good?
How to take care of your vagina & vulva – 10 ways
1. Let the vagina self-clean
It may not always feel like it, but the vagina has a sophisticated and complex self-cleaning mechanism. Viva vaginal secretions! Our vagina maintains a fine balance of healthy bacteria that makes for a healthy ecosystem of its own, without interference from us. Sure, we all love a daily morning shower to feel fresh for the day, or look forward to that relaxing evening bask in the bath, but do we always need to focus such a fuss of cleaning 'downstairs'? Probably not, is the answer.
Did you know that the desired vaginal PH level is between 3.8 -and 4.5, which is on the acidic side of things? To keep our vagina healthy, the PH balance needs to stay on track. To do so, try to steer clear of perfumed products, such as scented panty liners, pads and toilet tissue. And give vaginal deodorants and powdered talc's a wide birth. These fancy fads can tip the PH over the edge and, in some of us, trigger vaginal infections such as bacterial vaginosis (BV) or a yeast condition such as thrush.
Strike a balance, keep it plain and simple, go fragrance free. Rinsing with warm water alone can be enough to clean the vulva.

2. Ditch douching inside the vagina!
The concept of washing out the vagina originated in France and dates back to the 19th century. Perhaps it was with good intentions- the thinking that vaginas needed to be flushed out with water, antiseptics, fragrances or vinegar, using an apparatus similar to a turkey baster (!!). We may laugh or gasp at the thought, but surprisingly douching is still widely practised, often passed down by mums and grandmothers.
Try and remember that some vaginal odour and discharge is normal and good. Once you have an understanding of vaginal discharge and what is considered normal, you will be more able to clock any unusual or increased vaginal discharge, as well as a different odour. It might, again, be due to a common vaginal infection such as bacterial vaginosis, in which case it's advisable to see your doctor or local healthcare provider for further assessment and possible treatment.
3. Managing your periods
Choose the right menstrual product for you and your vagina. With a plethora of period products out there, it can take a while to find what works for you. This can also depend on your feelings about environmental impact, what stage of your menstruating life you are at, internal versus external products, and your lifestyle. The Mooncup menstrual cup is a great alternative to tampons as it respects your natural balance. The Mooncup collects your menstrual blood rather than absorbing it. Tampons, on the other hand, absorb other beneficial vaginal secretions alongside menstrual blood.
There are a few things to be mindful of when managing your periods. Being vigilant with hygiene is especially important when using any internal products such as tampons and menstrual cups. Toxic shock syndrome is rare but can be very serious, so don't forget to empty and rinse your Mooncup every 4-8 hours, or to change that tampon after a night on the Moonshine!


4. Self-examinate and know when to seek medical advice
Stay tuned in. Don't be scared or hesitate to take a good look and have a feel. For this you will need to find a good comfortable position, excellent lighting and a mirror! It's a good opportunity to get to know yourself and spot any changes if they occur.
5. Use a water based lube
Your vagina might suffer from dryness from time to time, which is why a water based lube can be your best friend. Vaginal dryness can happen at any age, and it can cause discomfort and often pain during sex. YES YES®, the organic intimacy company behind the award-winning waterbased lube, frankly discusses reasons and potential causes of vaginal dryness in one of our previous guest blogs.
6. Pee after sex & wipe from front to back
This can be helpful, especially if you're prone to urinary tract infections (UTI's). The urethral tube is short in females, and although having sex does not necessarily cause a UTI, it may increase the chances. Emptying your bladder after penetrative sex can help to flush out bacteria before it has time to travel up through the urethra to other parts of the urinary tract, bladder or kidneys.
The other UTI precaution to bear in mind is how we wipe after going to the loo. Chances are, the bacteria that causes a UTI inadvertently comes from our own poo. Although the motion of wiping from front to back may not feel the easiest or natural to handle, once we know why, it should become second nature.
7. Carefully consider pubic hair removal
From Brazil to Hollywood, we all have personal preferences or ideals in the depilatory department. The question is, are we doing more harm than good in our quest to be hairless? Not to put too much doom in the groom but, generally speaking, the skin to our vulval area is delicate. So, applying chemically ladened hair removal creams or solutions might be asking for trouble. Waxing and plucking can bother the hair follicles and potential side effects can include pain, swelling, rashes and for some – longer lasting conditions such as inflammation of the hair follicles known as folliculitis and ingrown hairs.
8. Choose cotton and be aware of tight clothing
Underwear made from natural fabrics such as organic cotton offer breathability and chemical-free attributes making them the knicker winner in my books! Cotton is absorbent by nature, whereas synthetic materials that contain plastic can cause moisture to linger on the skin and potentially lead to yeast infections such as candida, aka thrush.
And BREATHE! Don't trap your vulva for too long in tight clothing and try to avoid outfits that cause chafing. Something to watch out for when doing physical exercise. The combination of figure-hugging gym wear and sweat can also be a recipe for fungal infections.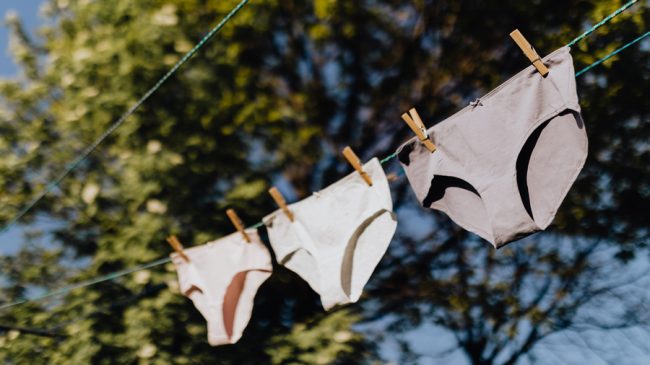 9. Practice pelvic floor exercises
Is it a case of out of sight, out of mind? Just because our pelvic floor muscles can't be seen in the same glory as a well-toned six pack doesn't mean they should be ignored. Pelvic floor tone does of course gradually change with age, pregnancy and childbirth, but there are plenty of exercise tips and mini work outs there to help maintain good core strength. The good news is that many of these simple exercises can be done while waiting for the bus or standing in any queue. Think that – when done regularly, this simple routine can help prevent pelvic organ prolapse and urinary incontinence in the future.
10. Safer sex
Last but by no means least! I know that it should go without saying, but I think the reminder warrants a place on this list. Using condoms reduces the risk of getting a sexually transmitted infection. Sexual health check-ups are beneficial and can be reassuring, especially if changing partners. Remember, sexually transmitted infections, such as chlamydia can be symptom-free. Chlamydia is one of the most common STI's around and if left untreated can be serious, potentially affect fertility, and have complications in early pregnancy.
Be it vaginal secretions, unruly bikini-lines or a distinctive odour, aren't these intended? So before we next walk, scan and ponder the so-called 'feminine hygiene aisle', we could instead pause and say to ourselves "why mess with mother nature"? Perhaps less is sometimes more!
The Mooncup® respects your natural balance
Toxins can be absorbed through the vagina. We have known this since 1918. Yet traces of chemicals, dioxins and insecticides have been known to be found in 5 of 11 disposable period products tested.
The non-absorbent Mooncup menstrual cup, however, is made from soft, medical-grade silicone, is hypoallergenic and contains no dyes, BPA, bleaches, phthalates, plastic, or toxins.
While tampons absorb 65% menstrual blood and 35% vaginal moisture, the Mooncup won't dry you out or leave fibres behind. The Mooncup respects your natural balance.
Switch to a healthier period with the Mooncup®. Find out more and get yours here.
Did you enjoy this article? Head to this page's footer to sign up to our mailing list to be the first to hear about our blogs!
Read more on the Mooncup blog:
Top tips for a first-time Mooncup® user
What causes spotting? Learn the signs & what is normal
What are the different types of vaginal discharge and what do they mean?
The colour of your period: what does it mean?
How did the vagina become the new commercial frontier
Period sex: pros, cons & pregnancy
How to choose the best menstrual cup for you?
How to manage PMS naturally
Exercising on your period: the do's and don'ts