Eco-friendly Christmas Gifts
Mooncup Ltd
Shop Local and Ethical This Festive Period With These 8 Eco-Friendly Christmas Gifts
This year has given many of us the chance to take a step back, re-set and re-think the way we carry out our daily lives. With that in mind, let's re-set our festive gift list this year. After all, sustainability isn't just for life… it's for Christmas too!
If 2020 has highlighted anything it's the importance of community. The boundaries of our own individual worlds have got a little narrower. It's been a tough year for small businesses across the board, and it's become clear for many that supporting local is the way forward.
This is why this year we've partnered up with some fellow British brands making gifts that are better for you, for our world, and for our future. All the present ideas on the list, like the Mooncup, are made in the UK.
Eco-friendly Christmas Gifts Made in the UK
If you're looking for green Christmas gift ideas, look no further! Make sure that when you're dishing out that dose of TLC to your loved ones, you'll also be helping small, ethical businesses to weather the storm. Choose gifts that make you feel good, but that do good too!
1. Bramble & Blossom all-natural sleep well kit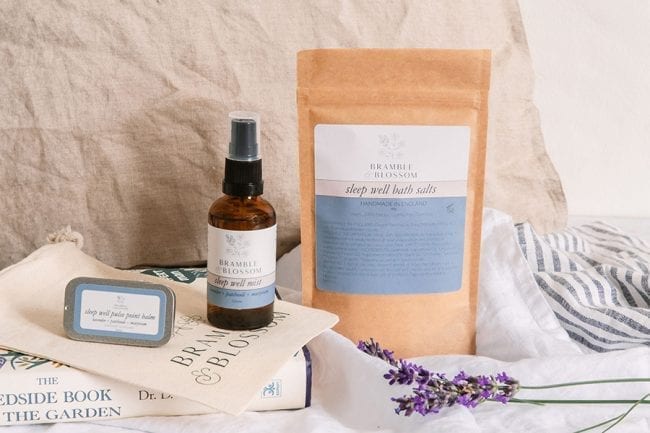 With all the trials and tribulations that this crazy year has brought, sleep doesn't often come easy. Karen Anderson, founder of Bramble & Blossom, has come up with the perfect recipe for a good night's rest. Bramble & Blossom sleep well kit includes a sleep well mist, bath salts and a pulse point balm, that all come bundled in a fair trade cotton bag, making it an ideal eco friendly christmas gift.
Bramble & Blossom grew from Karen's lifelong love of lotions and potions into a successful beauty and homewares business offering ethically sourced products, made with the highest quality natural ingredients around, all carefully packaged and made for you, here in England.
2. Booja Booja organic, vegan chocolate truffle selection box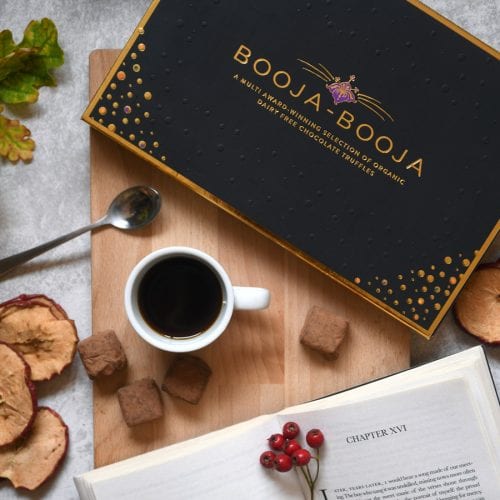 Multi-award-winning chocolatiers, Booja Booja, are inspiring advocates for taking the boring out of "free-from" and creating indulgence with a conscience.
Making their goodies right here in the UK, Booja Booja brings together a handful of simple, organic ingredients, that are all vegan, dairy-free, gluten- and soya-free, to create a chocolatey heaven for all to enjoy! A perfect eco-friendly christmas gift for vegans and foodies alike.
3. Great British Porridge Company no-nasties, vegan instant porridge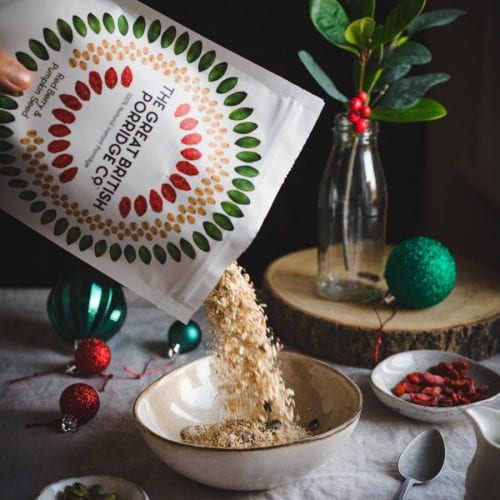 There ain't nothing like a warm bowl of porridge to kick-start the day. And the Great British Porridge Company has added a touch of luxury to this breakfast (or even lunch if you ask around the Mooncup office) of champions.
Driven by a mission to create healthy breakfasts that leave you feeling good, the Great British Porridge Company porridge combos are naturally sweetened, dairy-free, gluten-free bowls of fibre. The perfect combination of 100% British-grown oats and 100% natural ingredients makes for instant oats that taste instantly good.
4.Tabitha Eve 100% biodegradable, organic cotton bath pouf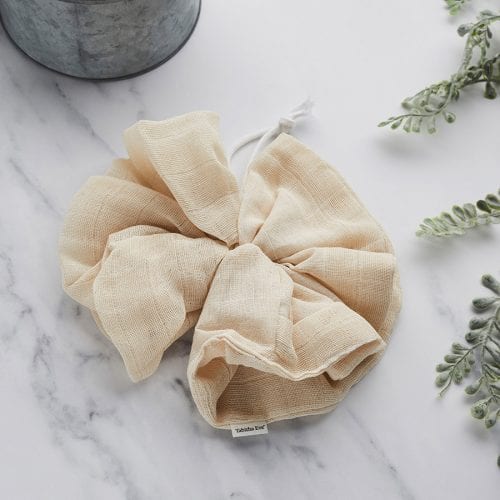 This wonderfully simple invention is a true bathroom essential. Made from GOTS (Global Organic Textile Standard) cotton, this bath pouf provides another easy solution to knocking that bathroom plastic on the head. On top of this, when the bath pouf needs a clean, it can be popped on a cool wash, hung out to dry, and used time and time again. It's a perfect gift for anyone looking to reduce plastic in their life.
Tabitha Eve's products are sewn at their lovely studio in South Wales. Tabitha Eve's founder, Debbie, waged her own personal war on waste and plastic after travelling and diving in Borneo, and began to create plastic-free alternatives to her own home essentials. As demand grew from others wishing to follow suit, Tabitha Eve was born.
As the brand has grown, Tabitha Eve's mission has remained the same – to offer earth-friendly alternatives to single-use everyday items. Their ultimate objective is for reusable to become the new norm. And here at Mooncup, we can definitely get on board with that!
5. By Sarah London vegan, organic facial oil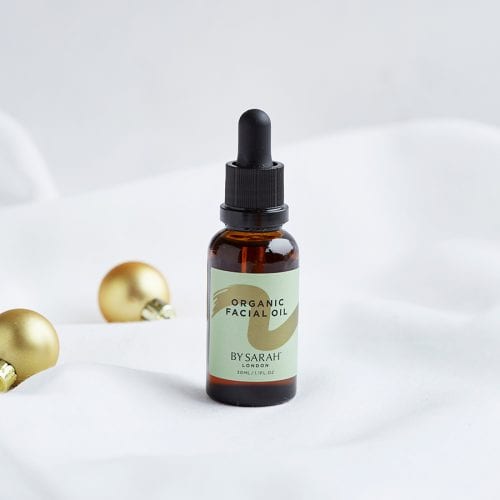 Changing seasons and staying in can take a toll on your skin. Multi award-winning plant-based skincare brand, By Sarah London, have created just the solution: just a few drops of their Organic Facial Oil morning and night, will strengthen your skin's barrier function and its ability to hold moisture in.
The multi award-winning and cult favourite Organic Facial Oil is a vegan face oil for all skin types, with a full ingredient list on the front label. By Sarah London is the only UK skincare collection with full front label transparency – presenting the full list of ingredients on the front label across all of their products, showcasing each of the 100% natural, organic, plant oils used. All Sarah London skincare is hand-blended in England.
6. VENT for change notebook made from 100% recycled & sustainable materials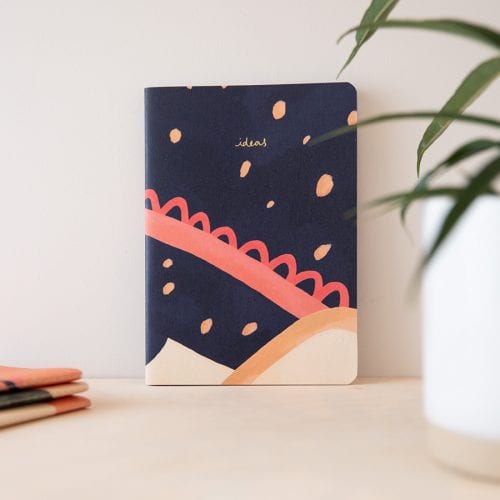 Stay sane and plan for a positive 2021, for you and children around the world! 10% of the sale of VENT for change pencils and stationery goes to supporting children's education globally.
VENT for change is a Bristol-based giving enterprise. It was set up by environmental entrepreneur Evan Lewis to donate proceeds of the sale of additional stock of the recycled pencils he was fabricating towards supporting existing education projects around the world.
Proceeds from every VENT product sold go towards global education projects getting children back in to school. The note and sketchbooks are ethically made from 100% recycled and sustainable materials (including 30% citrus pulp!).
7. Isabel Manns reusable, charitable face mask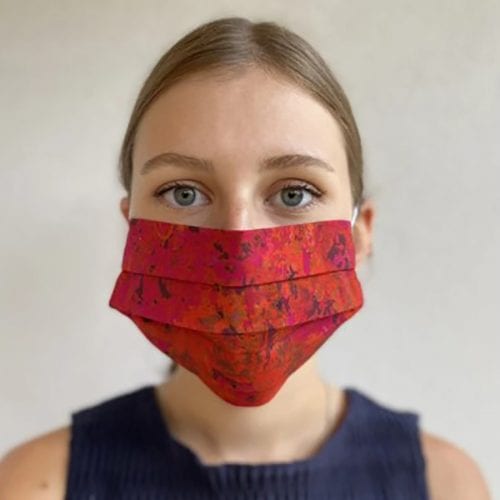 Would it even be 2020 if you didn't gift someone a face mask for Christmas?
With the unfathomable amount of waste generated this year by throw-away PPE, we know that reusable, washable masks are the way to go.
Sustainable, circular-fashion label Isabel Manns create reusable face masks. They are printed with patterns inspired by the English countryside and 100% of the mask profits are donated to the vital work of Maggie's cancer charity.
8. A gift that keeps on giving: the Mooncup® menstrual cup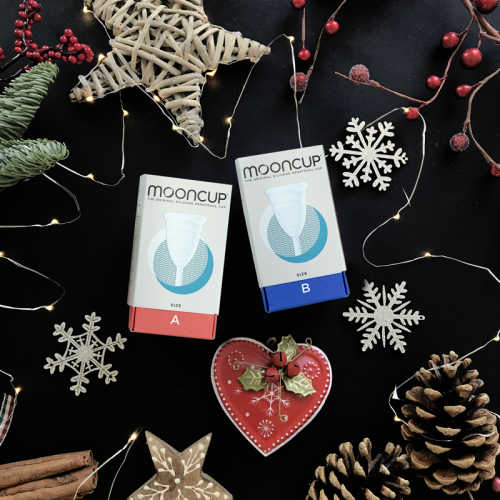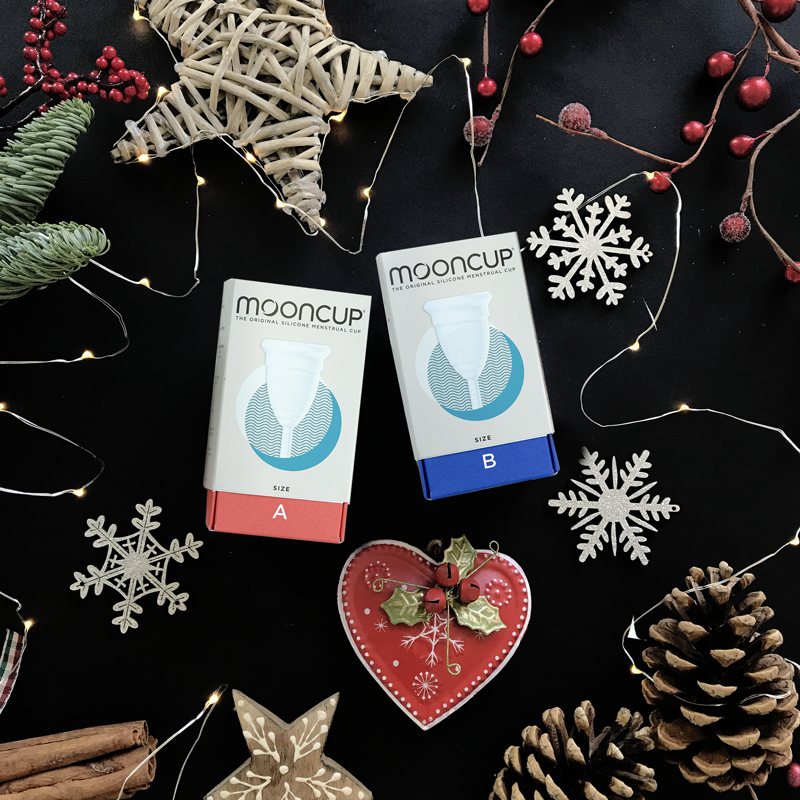 Gifting a menstrual product to a loved one might not be your first port of call, but if you're a real Mooncup user yourself, you'll know that it truly is a gift that just keeps on giving. A Mooncup will last for years and years, and not only is it better for our health but for the health of our planet too.
You may well have begun spreading the Mooncup love to a few friends and family members already. If you know someone that is ready to make the switch, why not gift them a Mooncup and wish them a happy festive period!
Buy a loved one a Mooncup menstrual cup this Christmas or find out more about the Mooncup here.
This Christmas we are supporting youth mental health charity YoungMinds
In the lead up to Christmas, 15% of all direct website sales of the Mooncup will be donated to youth mental health charity YoungMinds. Their mission is to ensure that all young people get the help they need, as quickly as possible. Find out more about why we are supporting YoungMinds this Christmas here.
⭐Self-care & shop local Christmas giveaway⭐
Who couldn't do with a bit of a treat this year? Head over to our Instagram for your chance to win a hamper full of the above-listed goodies. Our self-care & shop local giveaway is now live!
Contact us
If you have any questions about the Mooncup, please feel free to contact our team here.
More on the Mooncup blog:
10 bathroom swaps to reduce your plastic waste
How is the Mooncup® menstrual cup environmentally friendly? 10 reasons
How to choose the best menstrual cup for you