8 mums share their experience with the Mooncup menstrual cup
The Mooncup Team
How does becoming a mum change your relationship with your periods?
Pregnancy or having a baby can change our relationships with our bodies – and our periods.
Some are grateful for the pregnancy related pause from their periods, while others will be keen for their normal menstrual rhythm to return.
During and after pregnancy, we get to know our bodies (and vaginas) in a whole new way. We might even question the period products we used to use. This can be triggered by the waste created by disposable nappies and wipes, or the change in our bodies. Or it can be that moment when we kiss our children goodnight and realise things need to change to protect our Mother Earth.
We asked eight #RealMooncupUsers about their experience with becoming a mum and using the Mooncup.
The Mooncup® came to the rescue after I'd had children
Like your body, your periods may feel a little (or a lot!) different after giving birth. For most people, their cycle will eventually settle back into more of a normal rhythm for them. However, some people do report that their periods can permanently change. Hear from Beki:
"I'm a church Reverend and mum to three young children. After having my kids, it seemed that I became allergic to tampons and sanitary pads! It was a nightmare every 3 weeks, and as a busy mum with a job that required me on my feet and in front of congregations – it began to affect my quality of life.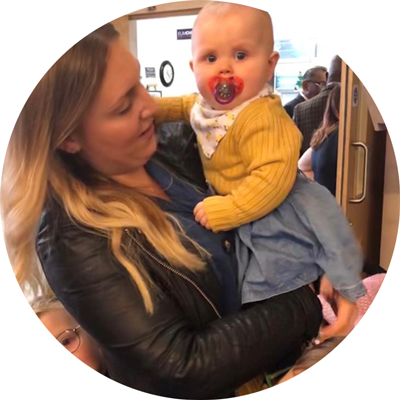 I began testing out organic pads and tampons which were more expensive and not as protective against leakage. This wasn't working either, but they were slightly more comfortable than my original products.
One cycle, when going to the sustainable shelf in boots, I was panicked to find no organic tampons or pads left. By accident I came across the original Mooncup®, the only item that seemed an option for me. I was desperate so purchased it (size A- for those that had given birth vaginally).
I did some research by watching vlogs trying to find the catch. It all sounded a bit too perfect, and I couldn't understand why no cons were associated with the product. The only negative seemed to be that it may take a few months to learn how to use it. So that was it, I psyched myself up for the first go, realising I may need to be patient for a few cycles and voilà. Just like that it worked… and it worked a dream!!!!
And it all went smoothly on the first cycle and has been this way since. No more reactions or irritations, no more constant daily changes, period hauls and a beautiful bonus for everyone including the planet – no more waste, (as who knows that once you have kids, space in the wheelie bin is sacred).
Now I tell anyone who is willing to listen. I can't understand why no billboards or shop windows are boasting about the Mooncup. Most women I speak to have issues with tampons, so the thought of a Mooncup is considered an even bigger leap that seems way more invasive.
The Mooncup was a new-found freedom for me and it still is refreshing. Due to this, I'd love to see even more education, advertising and testimonials of this essential product!"
(image description: This is me at work with my kids on my period! I thought my chins made this photo more realistic)"
Beki, #RealMooncupUser


Save money, one period at a time
Nursery fees, nappies, clothes, toys, furniture – many of us can feel the pinch in our finances after becoming parents. Those with an 'average' menstrual flow use around 300 disposable period products a year. So, switching to the reusable Mooncup® can really save you money (if you're interested in figuring out how much, do check out our savings calculator).
"This little baby is gonna save me a fortune! I'm mid 30s and have had 2 kids… I had to cut almost all the stem to make it comfortable but it's still easy to place and remove. Been using a few months now – no leaks whatsoever, even at night!! Can't feel it anymore than a tampon… I have a heavy flow (orange Tampax, normally) but I can wear this for a full day at work with no issues. Just takes a couple of cycles to get used to it. Definitely recommend!"
Victoria, #RealMooncupUser
The Mooncup menstrual cup is the best product for busy mums
The last thing you want as a busy mum is to be lugging around all the different absorbency tampons and pads for different flows. After all, your bags probably already full of snacks, toys and spare clothing! Only needing one Mooncup® that covers both light and heavy days, was a definite plus for Alannah:
"Real game changer. For someone with PCOS it really has helped with monitoring blood loss. And as a mum of 4, means I don't have to think or worry about packing anything for days out when it's that time of the month. Have recommended this product to family and friends over and over. On my second Mooncup now!"
Alannah, #RealMooncupUser
Do I need to size up my Mooncup after a C-section?

As the Mooncup sizing is related to your pelvic floor tone, this is a question existing Mooncup users might have in mind. You can use the same size Mooncup for as long as it works for you. You don't usually need to size up your Mooncup® after a C-section, although the effects of pregnancy, childbirth and hormonal changes can all affect our body in different ways. If you're uncertain about it, it's best to get in touch with our Mooncup Advice service.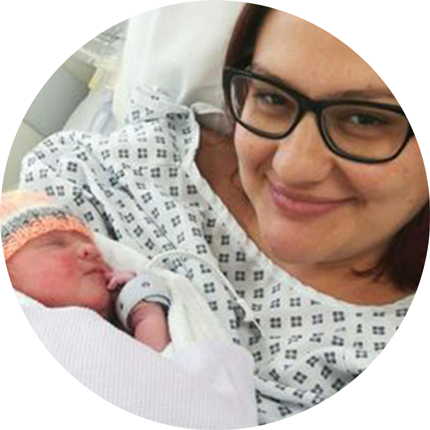 There's no such thing as TMI – all our Mooncup® advisors are medically trained and used to work as midwives or nurses.
This was Hannah's experience:
"I have been very, very lucky. My periods returned to normal very quickly after having my daughter. As I also had a C-section it meant I didn't need to get a different size cup, so that was an even better win!!! Have loved my cup for almost 3 years. Have also converted some friends over."
Hannah, #RealMooncupUser
Don't get caught out when your period return post pregnancy!
The return of your periods can be a bit of a shock after a long break! How long it will take your period to return post pregnancy is different for everyone. So it's good to be prepared. You might even be tempted to reset your period experience, and give a new product ago. This was the case with Klara: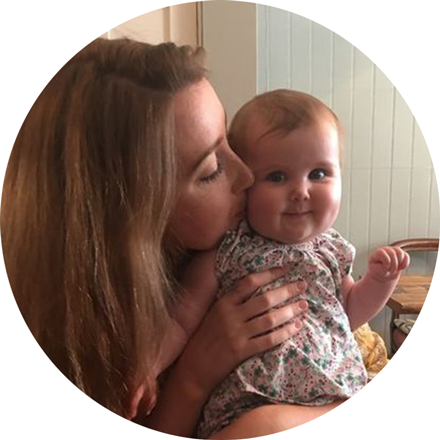 "My daughter was born December 2017. I hadn't thought much about breastfeeding before I had her but, luckily, she took to it no problem.
Our feeding journey was pretty straightforward. She exclusively breastfed day and night, so I was really surprised that my period returned around 6 months, I remember thinking it was unfair!
Before my daughter was born my periods were regular and I used tampons. I had heard of the Mooncup and was interested because of the environmental factor but was scared to try it! So, once they returned, I decided I would give the cup a go. Definitely, becoming a mother had given me a new-found confidence in myself and my body!
My period hadn't changed much from before and I really got the hang of the cup after a couple of periods. I was definitely a cup convert! I have since had my second baby, she is a year old and so far my period has not returned but I have my Mooncup ready for when it does!"
Klara, #RealMooncupUser
Getting used to the "new normal" of post pregnancy periods
When your periods do return after childbirth, they may be irregular for some time. This is your body getting used to regulating your cycle again. You may have one period and then a gap of several months before the next. Your period may also be heavier or lighter than before.
This was Cat's experience: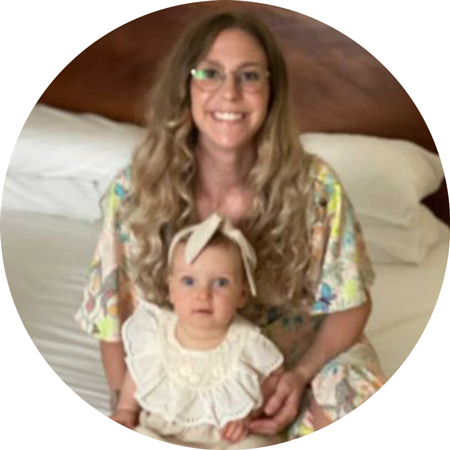 "I've been a Mooncup user for about 4 years. I've always been so happy with my Mooncup and had two sizes. Since having my first baby during lockdown, I've found my periods to be less frequent and slightly heavier. I am still breast feeding, so often this changes when your period comes. For the first few cycles, I found my Mooncup felt uncomfortable and I went to pads for a few months. I HATE sanitary pads. A few periods after birth, I managed to start using my cup. Initially, when I first inserted it was uncomfortable, but once in was fine.
As my periods have been heavier I did have a few leaks, so I used a thin panty liner during those days. All in all, my Mooncup is still working and making my monthly cycles so much more comfortable and less icky than it needs to be. Thank you, Mooncup"
Cat, #RealMooncupUser
Using the Mooncup® should be a comfortable experience so discomfort may mean that your body needs more time to heal. If in doubt, you can always reach out to our Mooncup® Advice team.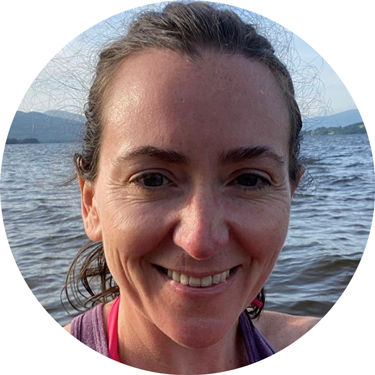 Mel's periods came back much heavier than before and she found the Mooncup a total game changer:
"After my third baby, when my periods returned, they were incredibly heavy – I was flooding through super tampons in a couple of hours. I was on a night out with other mums, and one was talking about menstrual cups and how great they were.
So I had to give it a go. It was a total game changer! I had no trouble using it for the first time, found it immediately easy to use. My periods are much more manageable now and shorter. I wish I had known about Mooncup sooner and would totally recommend!"
Mel, #RealMooncupUser
You don't need to rush back to internal period products
If your period comes back quickly, or you have had a difficult birth, you may still have some tearing, swelling or discomfort in and around the vagina. In that case, we advise that you wait until any discomfort has fully resolved before you think about using any internal period product again. Hear from Natalie:
"I used a Mooncup for a few years before pregnancy and it changed my periods massively, made a huge difference, no leaks, significantly less pain, shorter periods etc. However, I had a very complicated delivery with my son which resulted in a long and difficult recovery. And by recovery, I mean getting to as healed as I was going to be post birth. Not back to before, sadly, that was not achievable. Since, I've been
unable to wear a Mooncup or even a tampon and I miss it. I use reusable pads which are great but not the same as a cup that's for sure.
❤️ Picture of my beautiful kids who are worth all the scars on my body I gained bringing them into the world."
Natalie, #RealMooncupUser
Did you know that we offer a unique Advice Service run by medical health professionals? They can be contacted with any more questions about using the Mooncup menstrual cup for post-pregnancy periods and any usage queries. Here to help you make the switch.
Click here to find out more about the Mooncup menstrual cup or to buy yours here.
You might also be interested in:
Post-pregnancy periods
What to expect from post-pregnancy periods – Obs & Gynae Doctor answers frequently asked questions
How to manage heavy periods?
Top tips for a first-time Mooncup® User
What are the different types of vaginal discharge and what do they mean?
How to reduce period pain and cramps
The colour of your period: what does it mean?