10 Eco-Friendly Gifts For A Green Christmas
Mooncup Ltd
Minimalism over consumerism 
With Christmas fast approaching, we're thinking about how we can combat the culture of consumerism and create a more ethical experience this year. (Because, y'know we really do like to think about these things here at Mooncup HQ!) 
Of course, we know that gift-giving has become synonymous with Christmas, and for many it's difficult to shun the tradition entirely. So how can we aim to make the season a more sustainable one, while still finding presents for the people we care about?
We think that by taking the time to think of a thoughtful gift, which avoids unnecessary waste, we can create a positive and meaningful experience for our loved ones and our planet. 
That's why our ethical Christmas gift guide is packed full of sustainable ideas to ease the stress and increase the joy! 
But before we get started, let's keep in mind these top tips for ethical gifting…
Always research the ethics of the brand

Support local & independent businesses when you can

…and always value quality over quantity!
10 Ethical Christmas Gift Ideas
By the way, all the handpicked, sustainable gifts on this list are available to WIN over on the Mooncup Instagram page. We'll be giving one away every day in the lead up to Christmas Day. Go follow us now, so you don't miss out!  
1. Eco-friendly Razors: Bam Baw Safety Razor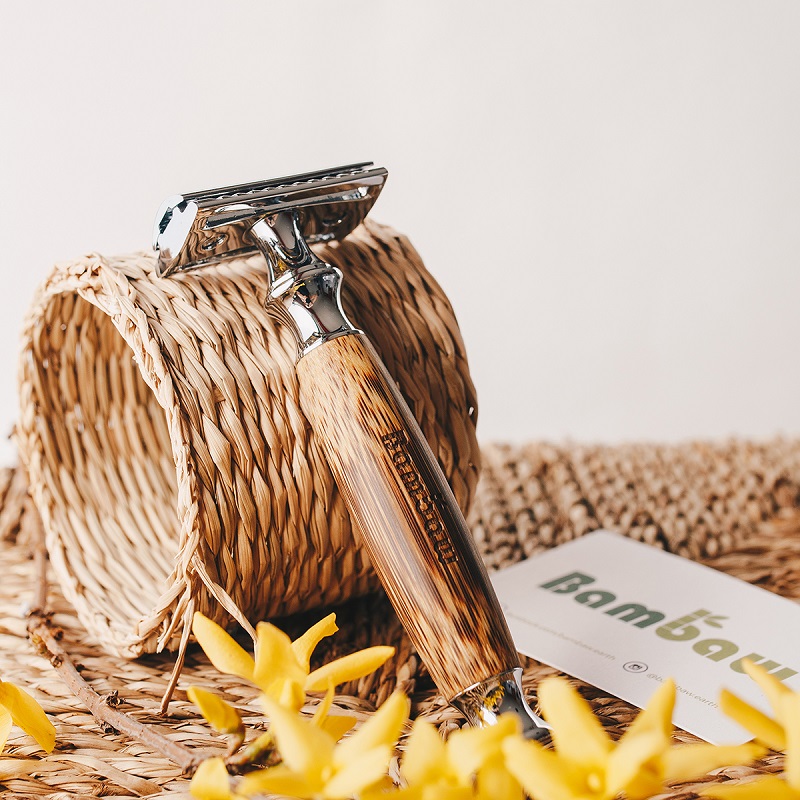 Belgium based company Bam Baw are rocking the status-quo of consumerism by developing a whole range of sustainable alternatives to single use products. They offer durable alternatives to wasteful products crafted with the lowest eco-footprint possible. 
Zero-waste swaps available in their online shop range from health & beauty products such as reusable bamboo toothbrushes, to products for the home including bamboo bed sheets and pillows. The Bambaw safety razor, for example (pictured above) will make a high quality gift that will divert billions of plastic razors from landfill. 
Another reason to choose Bambaw is that the company support plastic pollution research campaigns, are conscious about their carbon footprint, and ensure their production processes meet high ethical standards. 
2. Vegan Chocolate: Booja-Booja Organic Chocolate Truffles


Ethical brand Booja-Booja is one of the UK's leading 'free-from' confectionery brands. The multi-award winning chocolatiers at Booja-Booja offer a delicious selection of organic and dairy free chocolate truffles, which is sure to be a perfect gift for any chocolate lover this Christmas. 
The Norfolk company has been making dairy free, organic chocolate truffles for 20 years and its melt-in-the-mouth, handmade delights are adored by vegans, foodies and chocolate aficionados alike. 
All products are vegan and organic; holding accreditations by both the Vegan Society and The Soil Association (UK).

3. Specialist Loose Leaf Tea From Bird & Blend Tea Co.

Bird & Blend Tea Co. is an independent, award-winning, tea company on a mission to reinvent the tea experience. Their loose teas are not only utterly delicious, they also offer a zero-waste alternative to what is, let's face it, a daily necessity for so many! With many tea bags often containing plastic and with the majority of them being non-biodegradable, making the switch to a loose tea is a far better choice for the environment.
Bird & Blend packaging is designed to be as eco-friendly as possible: takeaway cups, lids and straws are 100% plastic free and fully compostable and their loose teas are sold in reusable metal tins which you can take back to the store to be refilled (with a 10% discount if you do!) 
One more reason to love Bird and Blend Co. is that every quarter they support a cause via their ChariTEA giving scheme. You can purchase their ChariTEA blend in store, which they describe as "a strong, builder's brew sort of cuppa". Perfect!
4. Plant-Based, Alcohol-Free Spirits: Three Spirit Drinks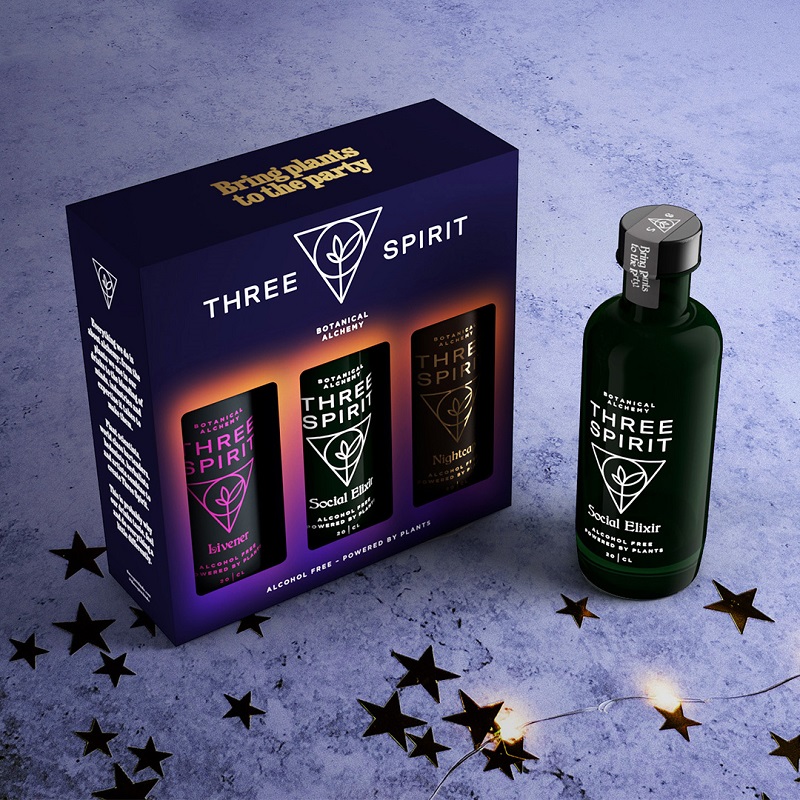 Three Spirit is an innovative vegan brand which aims to make boozing a more natural and virtuous experience. Their non-alcoholic drinks are designed to enhance the night from start to finish, mimicking the effects of alcohol that people tend to enjoy. The three tasty concoctions on offer are the Livener, the Social Elixir and the Nightcap.
Three Spirit drinks combine plants and science by using ingredients that have been used for centuries to stimulate the palate, mind and body. Their flavourful, complex alternatives to alcohol not only taste good, they also target specific receptors in the brain to heighten positive feelings.  
100% vegan and gluten free they come in premium quality recyclable glass bottles. 
5. Eden Perfumes: Natural, Cruelty-Free Perfume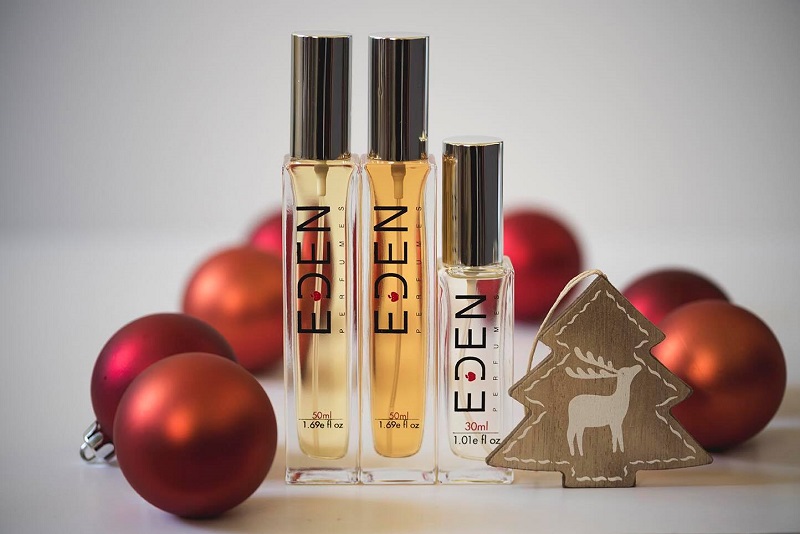 Certified by the Vegan society, cruelty-free and ethically sourced, Eden Perfumes are the sustainable choice for anyone who wants to smell enticing this Christmas. Their top quality fragrances are handmade in the UK with natural essential oils, which can be made to mimic the expensive designer perfumes you already know and love. We particularly love their scents in No.17 and No.83 (copies of two well-known brands!)
Eden are an independent British company and have no association with any organisation that conduct animal testing or uses animal derived ingredients (such as musk, civet or other animal secretions). Eden are very passionate about increasing awareness on the animal suffering that can take place in the mainstream perfume and aftershave industry.  
What's more, the simple and stylish glass bottles are refillable to minimise waste. Win-win! 
6. Bamboo Clothing: Asquith Yoga & Active Wear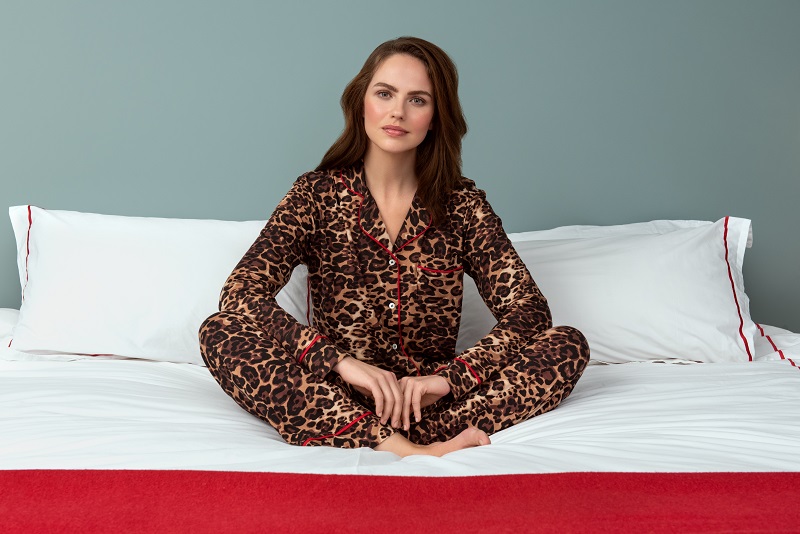 A love of nature and respect for the environment is central to the Asquith ethos. They are committed to working with sustainable fabrics that have limited environmental impact, but also feel super soft against your skin and are very comfortable to wear.
Their leopard print pyjama set (above) is made from their signature bamboo fabric and is naturally breathable and sweat wicking. Their collections are ethically made and designed to last with quality as a top priority.
Ethical fashion is at Asquith's heart and their founders promise to focus on 'people before profit'. For this reason, their clothes are made in Europe in a factory that has its own roof terrace garden and provides healthy canteen lunches for its workers. 
We've partnered with Asquith to give customers a 10% discount on the Mooncup menstrual cup using promo code: "ASQUITHMOON".
7. Vegan Bags: The Unfold Backpack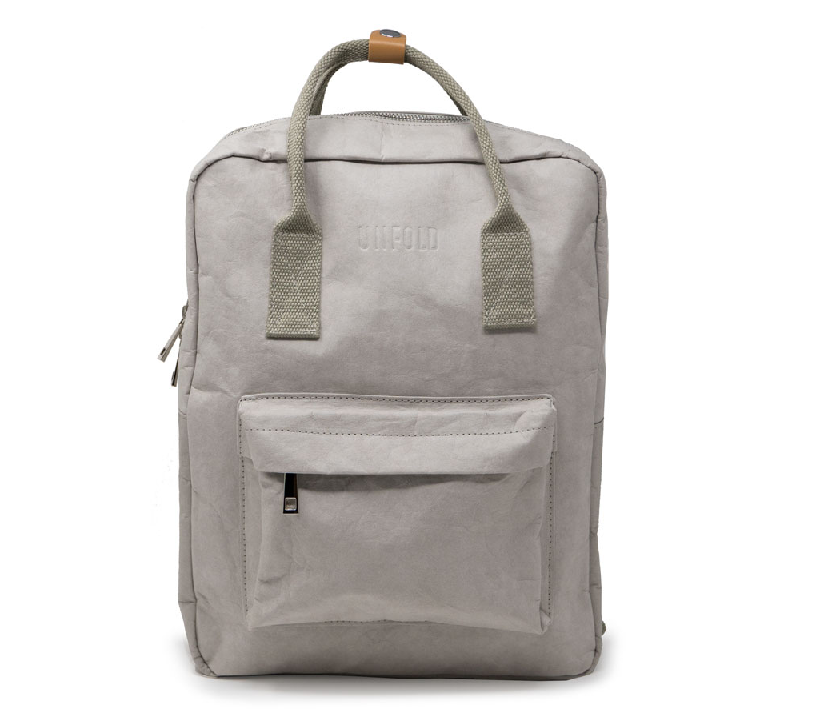 UNFOLD is an experimental fashion accessory brand from Camden Town, London, inspired by Scandinavian fashion designs. UNFOLD specialise in creating carry goods and bags with jacron paper and other sustainably-sourced materials. Minimalist, ethical and vegan-friendly their products are often made from Jacron paper (a 100% renewable cellulose polymer) or natural cork. The plastic-free backpacks have the pleasantly surprising benefit of being totally waterproof. They have a wide collection of unique, minimalist designs including wallets, bags, backpacks & more.
The Nord backpack pictured above has an inner compartment for a 13-14 inch laptop which makes it super handy for doing admin on the move. 
8. Sustainable Living Books:
How To Save The World For Free by Natalie Fee, Founder of City to Sea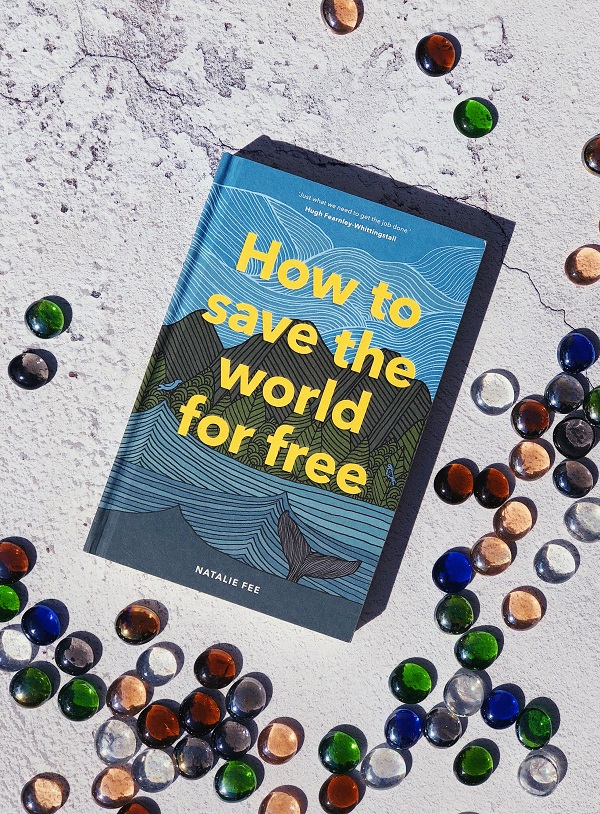 Natalie Fee shows us that when it comes to protecting the world we love, there's an extraordinary amount we can do without breaking the bank in her new book How To Save The World For Free. Covering all key ares of our lives, from food and clothing to politics and sex, this book is the perfect gift for anyone who cares about the environment and wants to do their bit to help. 
Natalie Fee is an award-winning environmentalist, author and speaker and founder of the wonderful charity City to Sea. She works on campaigns to stop plastic pollution at source. Fee's writing style is always accessible and friendly, whilst being packed full of fascinating hard-hitting facts. 
9. Lush Zero-Waste Products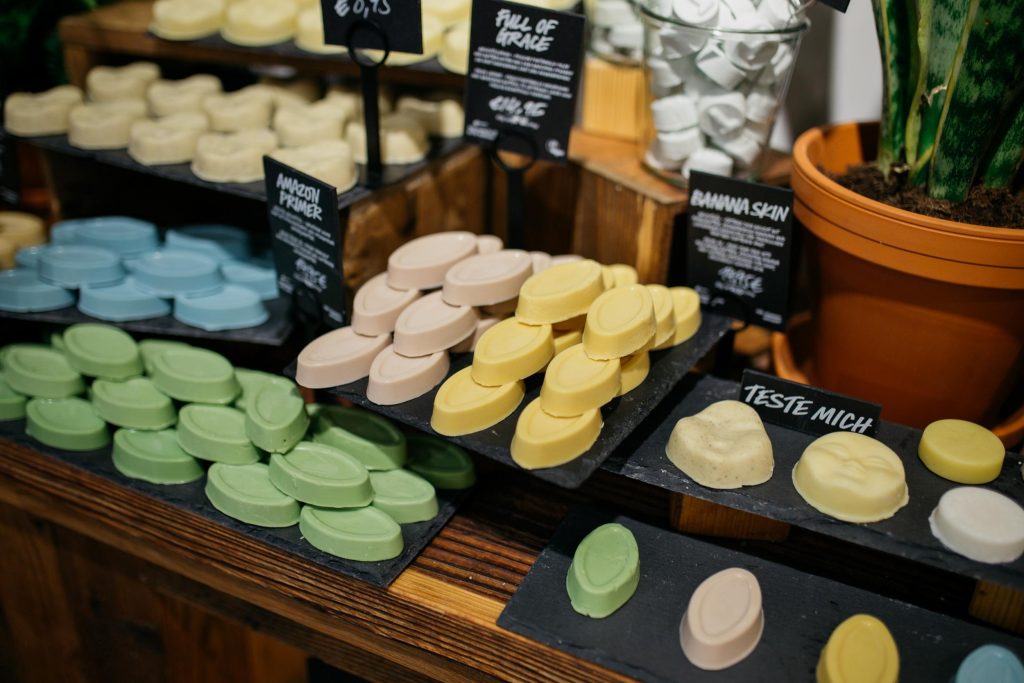 Pamper yourself without the packaging! Lush have a huge range of 'naked' products and even have dedicated stores for their zero-waste products in Berlin, Milan and London. Lush hope that these concept stores will inspire consumers to make more sustainable choices when shopping. Our top ethical gift ideas from Lush include their zero-packaging shampoo bars, soaps, moisturizers and shower gels.They also have a whole range of zero-waste makeup, including lipsticks, concealers, foundation and highlighters. 
Though Lush are a large-scale, international brand (the only one to make it onto this list), we value their commitment to ethics and the environment. Profits from the sales of certain Lush products are donated to environmental, animal welfare and humanitarian groups and no Lush products are ever tested on animals. A good choice if you're shopping on the high street!

10. A Mooncup menstrual cup for Christmas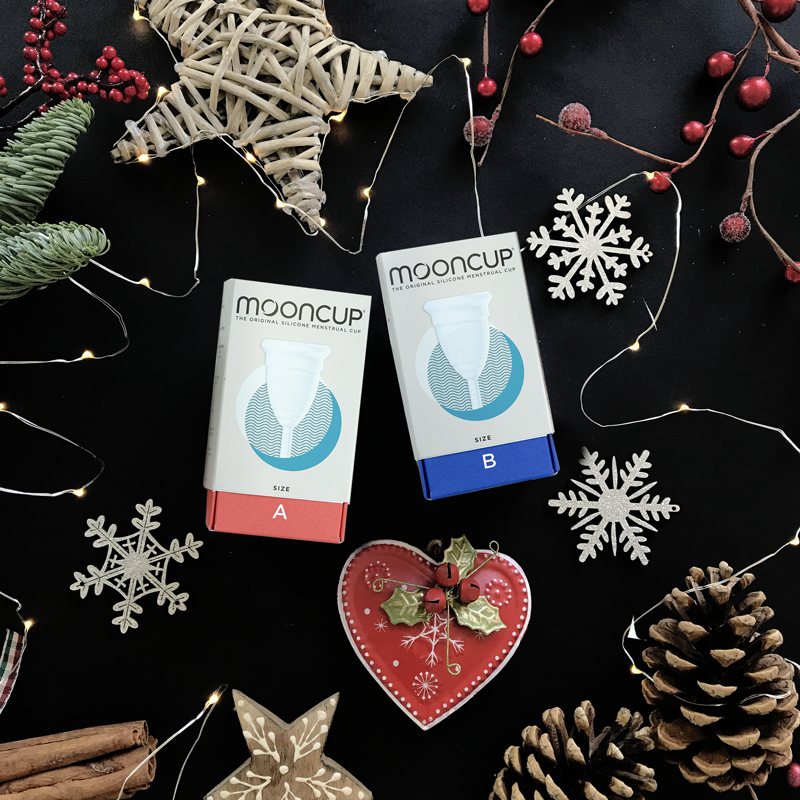 A Mooncup is for (your menstruating) life, not just for Christmas!
Although menstrual products may not be the first thing that springs to mind when it comes to Christmas, a Mooncup has a good chance of becoming a beloved belonging for years to come. 
At our office we've bought Mooncup menstrual cups for many a friend, who go on to thank us again and again. As one Mooncup can last for many years it's a gift that will save a lot of money for the person you care about – a unique gift for your mum or sister perhaps?
If you already own one you'll know what we mean, and if you don't, why not buy one for yourself as well so you can head into new year as Mooncup buddies?!
If nothing else, a gifted Mooncup is sure to mix up the conversation a little at the dinner table this year!
Head over to the Mooncup shop to buy one now.